Beijing responds forcefully to Trump's escalating threats, raising risks of all-out trade war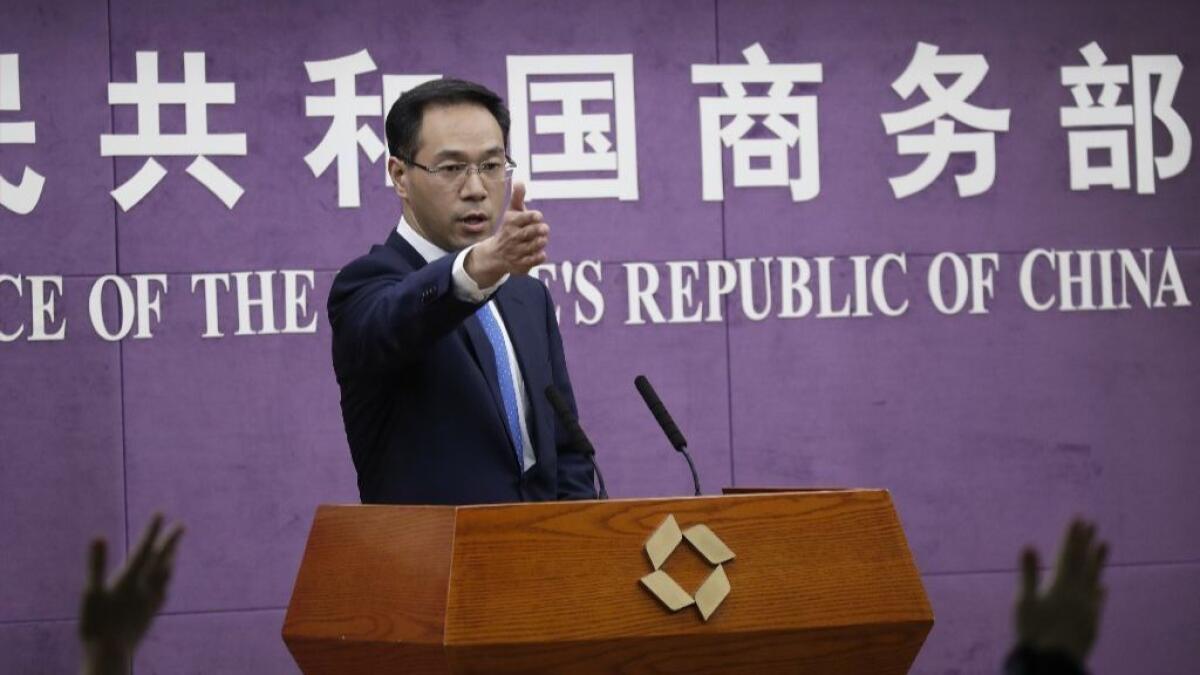 Reporting from Washington —
With President Trump upping the ante in his trade fight and Beijing showing no signs of backing down, the two nations entered a new phase of escalated tensions that already have rocked financial markets and set off deepening worries of a trade war that could undermine global growth.
In what has become a high-stakes game of economic poker, China on Friday responded defiantly to Trump's threat the previous night to slap tariffs on another $100 billion in imported Chinese goods on top of $50 billion in products announced earlier. China's Commerce Ministry quickly vowed to fight the new tariffs "at any cost" with a full slate of unspecified counter-measures.
It was the sharpest and latest in a series of tit-for-tat actions that, so far, have been mostly threats and warnings of retaliation. And officials on both sides left open the possibility of negotiations that could avoid tariffs and other protectionist measures from being erected.
But Treasury Secretary Steven T. Mnuchin on Friday acknowledged the potential of a trade war, and Trump's top economic advisor, Larry Kudlow, said that "Trump is not just using tariffs as a negotiating card" and is prepared to use them.
"I don't like to use tariffs, but sometimes you have to use tariffs to bring countries to their senses," Kudlow said, even as he sought, unsuccessfully, to calm markets and individuals by emphasizing that the U.S. is still months away from enacting the tariffs against China and that there were "all kinds of back-channel discussions going on" between the two nations.
Trump said Friday that investors might feel "a little pain" because of his trade actions against China, and the stock market quickly proved him right.
The Dow Jones industrial average plunged 572.46 points, or 2.3%, the Dow's worst percentage drop in two weeks and, at its low Friday, the blue-chip average had plummeted 767 points, or 3.1%.
It ended a seesaw week on Wall Street in which prices gyrated widely as investors grappled with how much the trade dispute could escalate and thus hinder economic growth, corporate earnings and consumer spending.
Trump administration officials insisted that the American economy remained on strong footing, but job growth moderated in March and a trade conflict will almost certainly prove costly for both the U.S. and China, as well as the world economy.
The year had begun with major economies hopeful about what analysts saw as a rare period of synchronized global growth, but there have been recent declines in world manufacturing confidence, noted economists at Barclays Bank.
"Ongoing trade-war uncertainty leads us to recommend shifting away from risk assets," the economists said.
Trade tensions have been building for weeks, slowly at first with Trump imposing tariffs on Chinese solar panels and then on roughly $4 billion of Chinese steel and aluminum, the latter penalties justified in the name of U.S. national security.
Earlier this week, the Trump administration issued a list of about $50 billion in Chinese products such as semiconductors and machine tools that would be hit with 25% penalties for alleged intellectual property theft and unfair technology transfer policies.
Beijing reacted swiftly by announcing its own list of American-made goods, including cars, aircraft and soybeans, that would be subject to import taxes of a similar amount.
Trump, apparently angered by Beijing's dollar-for-dollar threat of retaliation, said "China has chosen to harm our farmers and manufacturers."
In a statement, he added, "China's illicit trade practices — ignored for years by Washington — have destroyed thousands of American factories and millions of American jobs."
Trump's economic team piled on the criticisms Friday.
"The problem here is China, not Trump," said Kudlow, complaining of what he called decades of "illegal practices" by China that violate World Trade Organization rules. "They're a first-world country now and they have to act like a first-world country and they have to play by the rules," he said.
U.S. Trade Representative Robert Lighthizer said the president's proposal to increase China tariffs was "an appropriate response," although he made clear that any additional tariffs, like the earlier ones announced, would not take effect immediately. The tariffs would first be subject to a 60-day public comment and hearing period.
Even so, the intensifying rhetoric and threats from both sides have left many exasperated.
"Hopefully the president is just blowing off steam again, but if he's even half-serious, this is nuts," said Sen. Ben Sasse (R-Neb.). "He's threatening to light American agriculture on fire. Let's absolutely take on Chinese bad behavior, but with a plan that punishes them instead of us. This is the dumbest possible way to do this."
House Ways and Means Committee Chairman Kevin Brady (R-Texas) called for both sides to resolve their differences in talks. "The deliberation period announced by the president gives the U.S. and China a long-overdue opportunity to resolve this serious trade dispute,'' he said in a statement. "It is in both of our countries' interest — and frankly, the world's — to find a new path forward on unfair trade practices."
Businesses and investors remained hopeful of negotiations but were nonetheless bracing for a potentially long standoff.
"As both China and the U.S. try to gain concessions from each other in the ongoing trade talks, the back-and-forth between the two countries on tariff threats is not likely to end soon," said the Fung Group, a Hong Kong-based firm involved in trading, logistics and retailing.
Including Trump's latest threat, China could end up being hit with tariffs on $150 billion of goods, or about 30% of all Chinese exports to the U.S. China will be hard-pressed to match tariffs on that level of goods because it's more than 100% of what China currently imports from the U.S. in merchandise.
But that apparent advantage for the Trump administration could end up being a Pyrrhic victory, especially for U.S. companies that have production or sales in China.
For all of the difficulties and obstacles operating in China, many are there because of the country's large and growing market, and a trade war would do serious damage to their business, particularly if Beijing pulls out its full arsenal by tightening regulations, increasing inspections, and just making life very difficult for them.
Some of the biggest losers Friday were giant multinational companies with considerable sales to China. Caterpillar Inc. fell 3.3%, Boeing Co. dropped 3.1% and General Electric Co. lost 2.8%.
But the selloff was across the board, with particularly big losses in the aerospace and defense, financial, healthcare and retail industries. The NYSE/FANG+ index, which tracks the market's largest technology stocks, fell 2.4%.
Trump earlier had noted "the market's gone up 40%, 42% — so we might lose a little bit of it — but we're going to have a much stronger country when we're finished."
He apparently was referring to how the Dow Jones industrials had soared 45% from election day, Nov. 8, 2016, until it hit a record high 26,616.71 on Jan. 26.
But the Dow now has fallen 10% from that peak, the point at which Wall Street calls a pullback a "correction."
Lee and Puzzanghera reported from Washington: Peltz reported from Los Angeles.
Follow me at @dleelatimes
---
UPDATES:
3:30 p.m.: The article was updated with more market reaction and analysis.
12:10 p.m.: The article was updated with comments from White House economic advisor Larry Kudlow and afternoon trading figures from Wall Street.
8:40 a.m.: The article was updated with comments from GOP lawmakers.
The article was originally published at 8:35 a.m.