China's Xi can make life tough for U.S. companies, from Apple to Walmart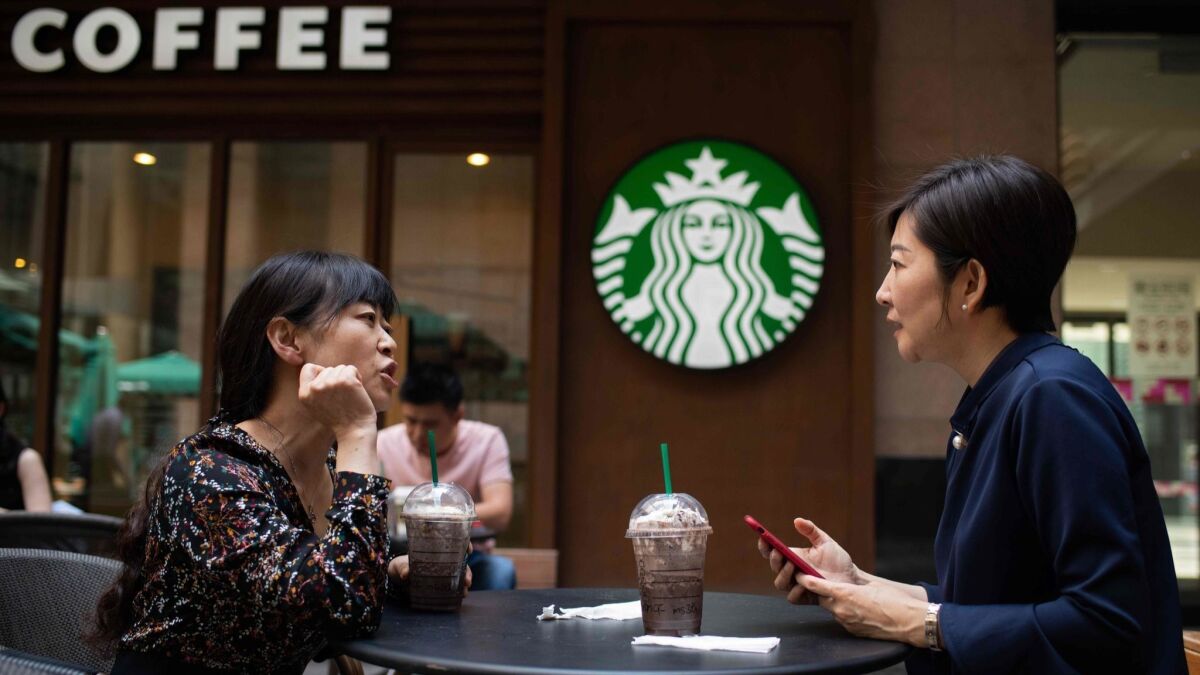 China doesn't import enough from the U.S. to match President Trump's tariffs dollar for dollar, but President Xi Jinping can still retaliate by squeezing American companies in other ways.
American businesses including Apple Inc., Walmart Inc., Boeing Co. and General Motors Co. all operate in China and are keen to expand. That hands Xi room to impose penalties such as customs delays, tax audits and increased regulatory scrutiny if Trump delivers on his threat of bigger duties on Chinese trade.
The total amount of U.S. goods exported to China only amounted to $130 billion last year, meaning Trump's potential tariffs on $250 billion or more of Chinese imports can't be matched, at least directly. But if you measure both exports and sales of U.S. companies inside China, the U.S. has a surplus of $20 billion with China, according to Deutsche Bank AG.
Pressuring companies through bureaucratic means "is a practice that the Chinese have used for a long time and our companies are on guard," William Zarit, chairman of the American Chamber of Commerce in the People's Republic of China, said on Bloomberg Television. "This is definitely a concern."
South Korean and Japanese companies have all felt this effect, with their businesses in China hurt as part of a dispute between states.
In 2017, following the Seoul government's decision to deploy an anti-missile system that China opposed, China forced South Korean retailer Lotte Shopping Co. to suspend operations at many of its hypermarkets in the country for alleged violations of fire-safety rules. The company eventually decided to pull out of China, but still can't sell all its units and continues to rack up losses. In total due to the dispute, Lotte Group lost an estimated $1.8 billion in the year from March 2017, according to Yonhap News Agency.
The backlash also led to boycotts, with consumers shunning cars from Hyundai Motor Co. and cosmetics from Amorepacific Group. Chinese tourists canceled Korean vacations, forcing airlines to scrap flights and hotels to slash rates. The Bank of Korea estimated that 0.4 percentage point was cut from 2017's gross domestic product.
Japanese automakers suffered major declines in their China sales in 2012 after the fight over disputed islands in the East China Sea worsened.
"The Chinese government can organize a boycott very quickly," said Nicholas Lardy, a senior fellow at the Peterson Institute for International Economics in Washington. "We've seen it repeatedly with the cases of Japan and Korea: They whipped up the propaganda machine and suddenly no one was buying Toyotas anymore."
Even before Trump's latest threat, some U.S. companies in China were feeling the pressure.
"We're already beginning to see some increased regulatory scrutiny against U.S. companies operating in the market, whether it's increased customs enforcement, local emissions inspections at our companies' factories, stricter enforcement of the advertising law," said Jake Parker, vice president of China operations for the U.S.-China Business Council in Beijing.
One advantage of this tactic for Xi is that this time the numbers are on his side, as U.S. investment in China is far larger than the reverse. American companies had $627 billion in assets and $482 billion in sales in China in 2015, compared to just $167 billion in U.S. assets and $26 billion in U.S. sales for Chinese companies, according to a report published Tuesday by China International Capital Corp. analysts Liu Liu and Liang Hong.
One sector that's at risk is autos, especially considering the historical precedents from Japanese and South Korean companies. Like other foreign automakers, GM and Ford Motor Co. have invested heavily in local production in the world's largest auto market. China contributed about a quarter of GM's profit last year and about 12% of Ford's, according to Bloomberg Intelligence.
China is also the biggest market for electric vehicles, and heightened hostility from Beijing could further complicate efforts by Elon Musk to conclude negotiations between Tesla Inc. and Chinese regulators over a proposed factory in Shanghai. The 15,000 vehicles Tesla sold in China last year brought in more than $2 billion, about 17% of total revenue.
Starbucks Corp. wants to more than triple its revenue over the next five years from China, which is on track to become the company's largest market within a decade. Starbucks has 3,300 outlets, compared with about 12,000 in the U.S.
The U.S. has a huge surplus in aerospace trade with China, largely because of Boeing, the biggest U.S. exporter. That gap could narrow if Beijing expands its levies on Boeing's 737 jetliner, the largest source of profit for the plane maker. China so far has said it would target only smaller versions of the jet and the country's options are limited since competing planes from Europe's Airbus SE are largely sold out for the next several years.
Apple, which hires companies in China to assemble the iPhone, might have been penalized by the U.S. but so far has avoided tariffs. The New York Times reported that Trump told Apple that the U.S. wouldn't place tariffs on iPhones, although Peter Navarro, the president's top trade advisor, said he was unaware of any such exemption.
One thing that may cause Xi to hold back from a full-scale attack on American companies is concern about the impact it would have on the domestic economy.
"China has been trying to avoid an ugly outcome of the U.S.-China trade conflict," said Lu Ting, chief China economist at Nomura Holdings Inc. in Hong Kong, adding that the country left some "wiggle room" for future negotiations. "This year is tough for China as the country will face greater downward pressure on growth in coming months due to the deleveraging campaign and slowdown in some major export destinations."