Chipotle hopes free burritos and new food-safety efforts will bring back customers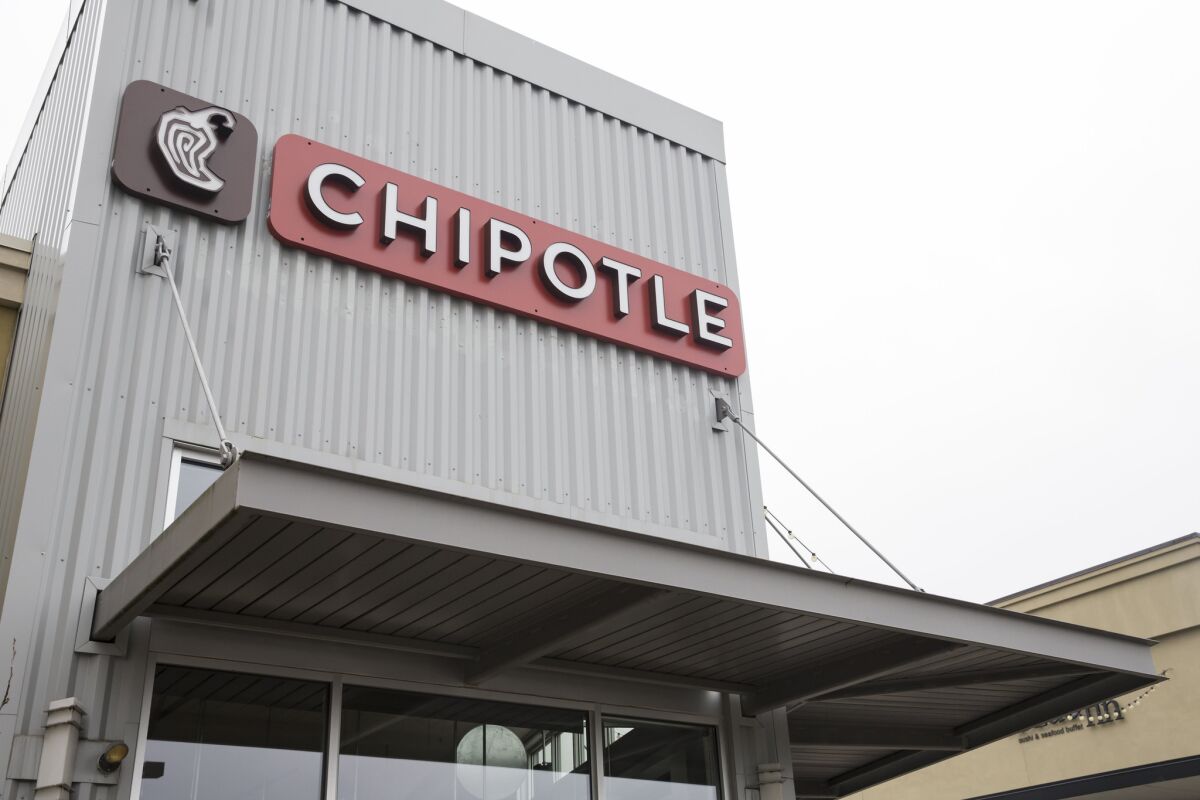 Chipotle Mexican Grill Inc. is pulling out all the stops to win back diners, including $10 million in food-safety spending for its small suppliers — plus free burritos.
The Denver-based chain, plagued by a sales downturn after food-borne illnesses sickened customers, closed all of its 1,971 U.S. stores for part of Monday so employees could attend a national team meeting. By way of apology, Chipotle offered customers who texted in "RAINCHECK" a free coupon for a burrito, but only for a limited number of hours on Monday.
Founder and co-Chief Executive Steve Ells said the chain will spend up to $10 million to help its smaller suppliers produce safer meat and vegetables. The money will be used to provide help with education and the implementation of Chipotle's new food-safety standards.
It's all part of a comeback effort by Chipotle, whose image as a purveyor of fresh and healthy foods has been severely tarnished after E. coli and norovirus outbreaks were linked to its restaurants.
After such a disastrous series of events, "2016 is going to be the year for Chipotle to try to win back consumer confidence," said Andrew Alvarez, industry analyst at market research firm IBISWorld. "It's still an uphill struggle for the company."
Chipotle has launched an all-out campaign to woo customers.
The chain has rolled out new food-safety procedures, including DNA testing before ingredients are shipped to restaurants, blanching some produce and new protocols for marinating chicken and steak.
Some parts of food preparation previously handled at the individual store level, such as dicing tomatoes, will be moved to centralized kitchens, the company said.
At the Monday meeting, company executives also urged employees to take advantage of a new sick pay policy; some of the outbreaks, the company said were due to employees who worked despite being ill.
Ells reiterated that the Centers for Disease Control said last week that two outbreaks tied to the chain appeared to be over, according to the company's twitter account, which live-tweeted the meeting.
"Deeply sorry that some people became ill after eating Chipotle," one tweet said. "Committed to make sure it won't happen again."
In Simi Valley, at the Chipotle at the center of a norovirus outbreak in August, employees refused to answer questions about Monday's training. The restaurant opened at noon, just an hour after its usual opening time.
Some customers, such as Fillmore resident Larry Felix, said they aren't worried about food safety — not at the Simi Valley location or any other. Monday's lunch of a chicken burrito with everything, plus chips and guacamole, marked his third meal at Chipotle in four days after recent stops in Valencia and Napa. "It's good, it's fresh and it's reasonable," he said. "I'd only stop coming if the prices went up."
But Chipotle has a long way to go before erasing concerns, analysts said.
The company's sales have been battered, falling in the fourth quarter for the first time since the company went public in 2006. Its profit plunged 44%.
The widespread geography of the outbreaks has turned off diners who might have still patronized the chain if the problems were localized in a single region, industry watchers said.
In November, the chain temporarily closed 43 restaurants in Washington and Oregon after 22 cases were connected to its eateries. Then in December, five people were affected by a smaller E. coli outbreak at Chipotle restaurants in Kansas, North Dakota and Oklahoma; in the same month, 141 Boston College students reportedly contracted norovirus after dining at a nearby Chipotle.
The other lingering threat for Chipotle, analysts said, is that the government hasn't wrapped up its examination of the outbreaks.
Chipotle said earlier this month that a criminal probe initially directed only at the Simi Valley restaurant has since expanded into a national investigation. The company said it was served with a subpoena requiring the chain to submit documents related to food safety back to January 2013.
A spokesman for the U.S. attorney's office for the central district of California declined comment.
Although the CDC said two outbreaks tied to the chain are over, it was unable to determine a food or ingredient responsible for the contamination. That could keep Chipotle from successfully squashing seeds of doubt in the minds of customers.
The ongoing investigation "gives consumers a mixed response about whether or not it's completely safe to go back," Alvarez said. "I don't think they are out of the woods yet."
Chipotle's main obstacle may be what was once its greatest strength: its reputation as a source for healthy foods. That brand was built in part by ads that touted messages such as "Did You Want Antibiotics With Your Lunch? We Didn't Think So."
"They have this food-with-integrity brand," said Joe Fersedi, senior restaurant and grocery analyst at ITG Investment Research. "Somehow or other they have to reclaim that mantle after having an embarrassing episode that challenges that brand."
Chipotle already said it planned to boost its marketing budget four-fold to $50 million in the first quarter.
Fersedi said the best way for Chipotle to overcome its public relations nightware was to lure diners back in and deliver a great experience. The free burrito offer is likely just the start of promotions to come. "I imagine a lot of the marketing is around getting people to dip their toe back in the water again," he said.
As it is, consumers are divided about Chipotle.
On Monday in Simi Valley, Cameron Clark lunched on a bean and cheese burrito, while her friend Cassidy Johnson ate nothing.
Clark, 16, said despite the outbreaks at Chipotle, she still visits the burrito chain about three times a week.
"That's disgusting," said Johnson, 17, who hasn't eaten at Chipotle since the outbreaks. "I have some friends who gotten food poisoning more than once from eating here."
Some nearby restaurants said Chipotle's sales slump is a mixed blessing. Ben Brema, an employee at a Firehouse Subs next to the Simi Valley Chipotle, said the lunch hour has been busier over the past few months. "A lot of people are changing their mind and coming here," he said.
But he also said Firehouse used to benefit from being next door to Chipotle, picking off customers when the burrito line got too long.
"They used to have a rush all the time. Now it's different," he said.
For more business news, follow @smasunaga.
ALSO
Salinas hopes to turn farm workers' children into computer scientists
Why it took years for the FDA to warn about infections tied to medical scopes
If you import from China, you know it's Chinese New Year -- because business grinds to a halt
---
Sign up for the California Politics newsletter to get exclusive analysis from our reporters.
You may occasionally receive promotional content from the Los Angeles Times.