The last days before Christmas may be busy, but unpredictable, for retailers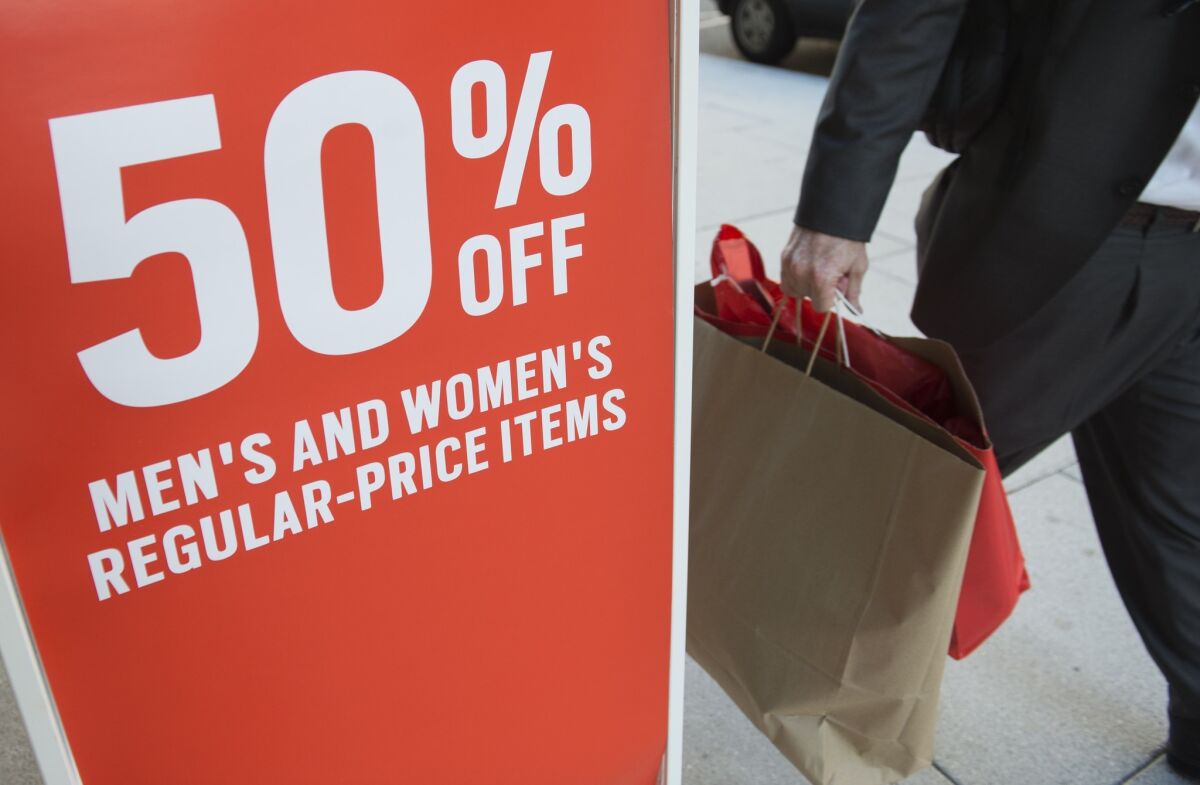 Hoping for a strong finish after a tepid start to the crucial holiday season, retailers are gearing up for a last-minute rush of shoppers. But due to the timing of Christmas this year, 11th-hour turnout is less predictable than usual.
The last Saturday before Christmas, typically dubbed Super Saturday, is a big shopping day. But because Christmas falls on a Sunday this year, the last Saturday before the holiday is Christmas Eve — a day when consumers are often busy with family or holiday preparation. So Super Saturday was early this year, falling on Dec. 17.
With such a lengthy gap between the final major shopping weekend and Christmas Day, analysts say there are still plenty of procrastinating shoppers who may hit stores this week.
"This is a huge week," said Best Buy Chief Executive Hubert Joly, who noted that a wide swath of potential shoppers are still trying to figure out what to buy as gifts. "This is an opportunity to serve customers."
Joly said he expects that one day this week will end up as the second biggest sales day of the year, second only to Black Friday.
A final rush of shoppers could lift the holiday season, a make-or-break period in which retailers can sometimes rake in 40% of their annual sales. So far, the results have been decidedly ho-hum: In November, retail sales grew by only 0.1% from October, compared with forecasts of 0.3% or more.
Marshal Cohen, chief industry analyst at NPD Group, said that the typical lull in the weeks following Black Friday were even deeper this year. Sales during the first six weeks of the holiday shopping season were down 4% from the same period last year.
"This year's trend clearly demonstrates how extreme promotions, now most noticeable in toys and electronics, are steering retail off the path of growth," Cohen said in a statement Wednesday.
That puts added pressure on stores as the clock counts down.
Kohl's is opening for 107 hours straight from 7 a.m Tuesday until 6 p.m. Christmas Eve. At Best Buy, shoppers can place online orders for pickup in a store as late as 4 p.m. Saturday. Target is rolling out a daily surprise sale on specific product categories until Friday.
Elena Rodriguez, store leader at the Target in Westfield Culver City, said traffic on Super Saturday was a little lighter than in previous years because many shoppers were still waiting. Rodriguez said she's expecting a surge of shoppers Thursday through Saturday.
"They think they have a little time, and then they realize, 'Wow, Christmas is tomorrow,' " Rodriguez said.
In the last few days before Christmas, the store usually has all its registers open and a heavily beefed up staff. "It's crunch time," she added. "We want to make sure there isn't anything to disrupt their shopping enjoyment."
This year, the last Friday before Christmas is predicted to be a huge traffic day in stores, second only to Black Friday, said Brian Field, senior director of advisory services for ShopperTrak. In third place is likely Monday, Dec. 26.
Field said that Christmas week tends to be less predictable than the preceding few weeks — he calls that time "clockwork" in terms of traffic patterns — because the holiday jumps around the calendar.
"If Christmas falls on a weekend, then the Friday and Monday surrounding them become critical," he said. "If it falls on a weekday, that Super Saturday becomes the critical shopping day."
Post-Christmas, stores are usually jammed with shoppers returning unwanted presents and armed with new gift cards. That lasts for only a few days, Rodriguez of Target said.
"It does start dwindling as we get closer to New Year's," she said. Shoppers quickly move on to "adult beverages" and party supplies.
Follow Shan on Twitter @ByShanLi
ALSO
Toy sellers and makers offer more options for kids with autism
Kodi lets cord-cutters watch whatever they want, whenever they want it, for free. So how is it legal?
---
Sign up for the California Politics newsletter to get exclusive analysis from our reporters.
You may occasionally receive promotional content from the Los Angeles Times.