Cigna to buy pharmacy benefits manager Express Scripts for $52 billion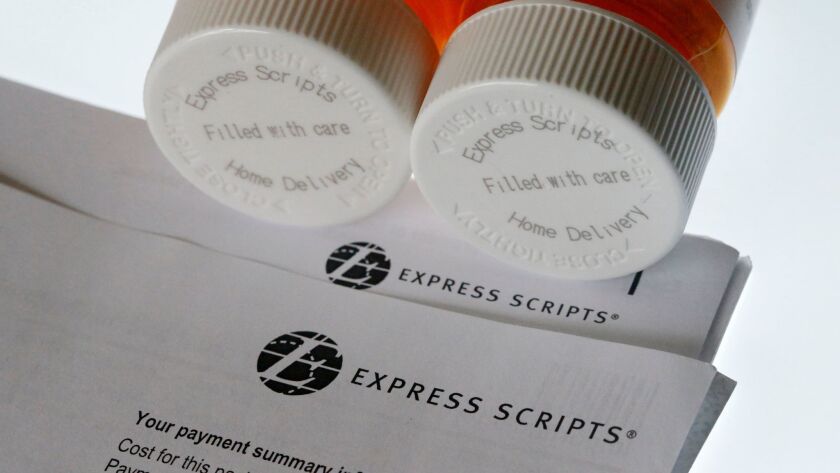 Health insurer Cigna Corp. agreed Thursday to buy pharmacy benefits manager Express Scripts Holding Co. for about $52 billion in cash and stock, extending the consolidation wave sweeping across the nation's healthcare industry.
The deal came four months after the nation's largest drugstore chain, CVS Health Corp., agreed to buy Cigna rival Aetna Inc. for $69 billion. And grocery operator Albertsons Cos. announced plans last month to buy drugstore chain Rite Aid Corp.
The industry's players are scrambling to reposition themselves or to bulk up with acquisitions in the face of uncertainty about the direction of U.S. health policy and the threat of heightened competition in the pharmacy business.
There is speculation, for instance, that e-commerce titan Amazon.com Inc. is mulling plans to enter the pharmacy sector, which could put substantial pressure on existing insurers and pharmacy benefits managers to streamline their operations, keep prices in check and lower their operating costs.
The marriage of Cigna and Express Scripts "will create an expanded portfolio of health services, delivering greater consumer choice" and provide "closer alignment between the customer and health-care provider," Cigna Chief Executive David Cordani said in a statement.
Under the deal, Express Scripts stockholders would receive $48.75 in cash and 0.2434 of a share of stock of the combined company for each of their Express Scripts shares. Cigna would assume about $15 billion of Express Scripts debt.
Express Scripts' stock jumped 8.6% to close at $79.72 a share Thursday, while Cigna's tumbled 11.5% to $172 a share.
The combined company would keep the Cigna name and be based at Cigna's headquarters in Bloomfield, Conn., and Cordani would continue as chief executive.
The Express Scripts business would remain based in St. Louis, and its CEO, Tim Wentworth, would become president of the Express Scripts division.
Express Scripts, with revenue of $100 billion last year, manages pharmacy benefits for customers, including online ordering and home delivery of drugs and patient claims processing.
Cigna, with revenue of $41.6 billion last year, had agreed in 2015 to be acquired by rival insurer Anthem Inc. for about $48 billion. But that deal stalled amid objections from regulators, and Anthem announced last May that it was terminating its offer.
Cigna and Express Scripts said their tie-up also is subject to regulatory clearance and approval by their respective shareholders, but that they expect the deal to be completed by Dec. 31.
Express Scripts is agreeing to the deal after hearing last fall that it would lose its contract with Anthem, one of its biggest customers. The two have been involved in a bitter legal battle over Anthem's allegations that Express Scripts overcharged it.
Anthem said it planned to start its own pharmacy benefits manager, called IngenioRx, in 2020 after its contract with Express Scripts expires. Anthem said IngenioRx also would use various prescription services provided by CVS Health under a five-year agreement.
The mergers are only part of a rapidly changing landscape in the healthcare industry.
In January, Amazon and two other major U.S. companies, the bank JPMorgan Chase & Co. and billionaire Warren Buffett's conglomerate Berkshire Hathaway Inc., rattled the industry by announcing a joint plan to find ways of reducing healthcare costs for their U.S. employees.
The companies said their focus mainly would be on providing improved healthcare for their own U.S. workers, which total nearly 1 million, and they provided few details about what steps they might take. But the move triggered speculation that any solutions they develop could quickly spread through the industry.
Amazon rival Walmart Inc., the nation's largest retailer and private employer, has been buying healthcare for its workers directly from providers and bypassing insurers, Bloomberg reported Thursday. Walmart is trying to see if its huge purchasing power can drive down its healthcare costs the same way its tough bargaining with suppliers has lowered other prices.
Meanwhile, U.S. Food and Drug Administration Commissioner Scott Gottlieb said Wednesday that he was concerned that the spate of mergers might not benefit consumers, or at least patients who are prescribed certain drugs.
"Market concentration may prevent optimal competition" and any savings "may not always be passed along to employers or consumers," Gottlieb said in remarks at a healthcare conference in Washington.
"Too often, we see situations where consolidated firms — the PBMs [pharmacy benefits managers], the distributors and the drugstores — team up with payors," Gottlieb said. "They use their individual market power to effectively split some of the monopoly rents with large manufacturers and other intermediaries rather than passing on the saving garnered from competition to patients and employers."
---
UPDATES:
2:05 p.m.: This article was updated with stocks' closing prices.
11:15 a.m.: This article was updated with additional information about industry consolidation and comments from the FDA commissioner.
8:35 a.m.: This article was updated throughout with Times staff reporting.
This article was originally published at 4:25 a.m.
---
Your guide to our clean energy future
Get our Boiling Point newsletter for the latest on the power sector, water wars and more — and what they mean for California.
You may occasionally receive promotional content from the Los Angeles Times.