City Market speeds Fashion District's turn to booming downtown neighborhood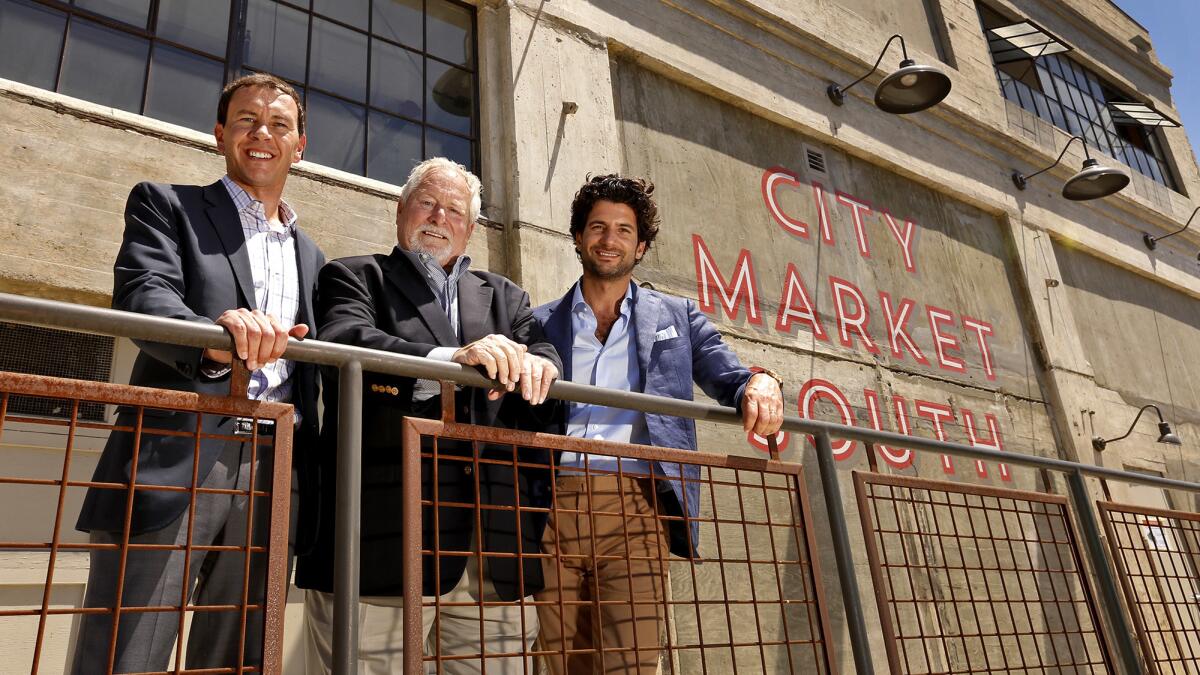 For decades, suppliers laden with fruits, vegetables and nuts would pull up to the courtyard of City Market, a century-old wholesale produce mart in what is now the eastern side of downtown's Fashion District.
But on one recent weekday, it was the warm scent of charcoal from the oven at industrial-chic Italian restaurant Rossoblu that wafted over the courtyard where horse carts and later diesel trucks once brought their perishable wares for sale.
After having sat vacant for years, the once-thriving market is reemerging as City Market South, an upscale outpost dedicated to dining, drinking and hanging out. The idea is to entice a new wave of office workers and others who want to unwind on a downtown block few used to visit.
"The Fashion District is changing," said Mark Levy, one of the developers. "We're adding a new dimension."
So are others, as L.A.'s real estate renaissance opens a new frontier.
Investors and developers are pouring hundreds of millions of dollars into the scruffy-edged Fashion District, making it next in line for the kind of growth that has been transforming South Park, the Historic Core and Arts District for years now.
Los Angeles developer Geoffrey Palmer is finishing up his 600-unit Broadway Palace apartment complexes on the western edge of the district, which has seen a rush of new housing, offices, stores and restaurants since the popular Ace Hotel opened on Broadway near Olympic Boulevard in 2014.
Brookfield, known for its portfolio of conventional high-rise office towers on Bunker Hill and the Financial District, bought a stake this year in the $440-million California Market Center, a half-empty fashion showroom complex it plans to transform into offices for creative firms.
Such pricey investments in the once-remote Fashion District dovetail with the profound transformation of downtown that some longtime observers still find hard to fathom.
"A year ago, I wouldn't have believed City Market South" could exist, said veteran commercial property appraiser David Zoraster of CBRE Group Inc., who has been studying the city center professionally for nearly four decades. "Downtown is now a cool place. For most of my career, nobody would stay there if they didn't have to."
The changes encroaching on the Fashion District also are being spurred by internal, industry forces as online purchasing and other shifting retail trends shake up the food chain bringing clothes, accessories and fabrics to consumers.
The vast California Market Center, at 9th and Los Angeles streets, has been struggling for more than 20 years, as wholesale showrooms lost their supremacy in the clothing trade amid the rise of mass retailers including Wal-Mart.
The giant retail chain, for example, learned to quickly evaluate what customers wanted at the point of sale and buyers no longer needed to travel to showrooms to make purchasing judgments. Online sales also clobbered a lot of the smaller boutique owners who once flocked to the district to stock their stores.
"The garment industry is hitting some headwinds with the Internet," said Rena Masten Leddy, executive director of the Fashion District Business Improvement District. "Showrooms are less important now and some building owners will decide to go in a new direction."
Also, bulk buyers from South America, once key customers in the district, are disappearing as stronger dollars and political turmoil in some countries depress purchasing.
Parts of the district also evolved over the last several years as many merchants moved east of San Pedro Street to newer buildings.
Women's wear stores, which were concentrated on its western end around Maple and Wall streets north of Pico Boulevard, moved to the sprawling San Pedro Wholesale Center and other big wholesale marts to the east, said Mark Moniz, another CBRE property appraiser.
Some men's wear wholesalers checked out of Los Angeles Street and many clothing accessories dealers vacated spots on Main Street closer to the urban core of downtown.
Now, new owners are turning those sites into apartment buildings, hotels and restaurants as change comes at the Fashion District from two directions.
"The South Park neighborhood is creeping east and the Historic Core is creeping south," Moniz said.
The view from one of the spaces at City Market South, an upscale outpost dedicated to dining, drinking and hanging out. The new development is helping transform downtown L.A.'s Fashion District.
(Al Seib / Los Angeles Times)
City Market South is located on the edge of the Fashion District in downtown Los Angeles. Historic industrial buildings once part of a produce mart are being converted to offices, restaurants and bars.
(Al Seib / Los Angeles Times)
Shoppers crowd Santee Alley, a popular retail strip in downtown L.A.'s Fashion District.
(Al Seib / Los Angeles Times)
Lovestitch, a California lifestyle brand, has opened a showroom in City Market South. The new development is helping transform downtown L.A.'s Fashion District.
(Al Seib / Los Angeles Times)
Rossoblu is an industrial-chic Italian restaurant that opened in City Market South. The new development is helping transform downtown L.A.'s Fashion District.
(Al Seib / Los Angeles Times)
City Market South is leading the changes on the eastern edge along San Julian, transforming the south end of the old produce market into a mixed-use center with offices, bars, restaurants, an event center, fashion showroom Lovestitch and a coffeehouse.
Among the tenants in the eight-building complex will be a couple of entertainment companies, Drive Studios, a visual effects firm, and the Bullitt studio operations of filmmakers Justin Lin and Anthony and Joe Russo. The trio are behind such box-office standouts as the "Fast and the Furious" franchise and "Captain America: The Winter Soldier."
Bullitt's offices will be in a two-story former warehouse built in the 1930s that also holds Rossoblu, which serves Bolognese-inspired Italian cuisine.
Also coming to the former warehouse, in January, is Slanted Door, a branch of a San Francisco restaurant known for its modern Vietnamese cuisine.
And set to open soon in an old banana-processing facility and loading dock is a yet-unnamed bar and restaurant by mixologists Pablo Moix and Steve Livigni intended to be a nighttime destination.
Indeed, creating multiple eating and drinking options was part of the strategy to build City Market South's reputation, said developer Levy, who is building out the complex with partners Kevin Napoli and Peter Fleming.
Fleming is the great-nephew of Edward J. Fleming, who co-founded the original City Market with Au Gee Jong in 1909. He brought in Levy and Napoli of Lena Group Partners in 2013.
It will cost about $13 million to build out the 2.5-acre Market South, but it is slated to be just the first phase of development at the former produce site long known as the City Market of Los Angeles.
Plans for a much bigger parcel to the north owned by Fleming call for a ground-up development that could include a campus for a private college, high-rise residences, hotel rooms and offices for rent. If approved by Los Angeles officials, the north City Market complex would total about 1.6 million square feet on 7.5 acres, said Douglas Hanson, master plan architect for the project.
Construction would be spread over several years and could cost more than $500 million. Hanson said City Market South was a way to kick off the bigger project and reorient the neighborhood from vehicles to pedestrians.
"It starts to develop the neighborhood for the second phase," he said.
For all the changes the Fashion District is going through, such gentrification is unlikely to creep into Santee Alley, the district's popular outdoor bazaar where throngs gather daily to shop for bargains and kitsch.
Rents on the alley and on prime blocks nearby with a lot of foot traffic reach $9 per square foot per month, said real estate broker I. Hassan of Quantum Associates.
That's a price most downtown retailers, who typically pay $3 to $5 a square foot in the Arts District and Historic Core, would balk at.
Operators of Fashion District shops that sell only wholesale can also pay as much as $9 or $10 a square foot. That means landlords are getting top dollar and the kind of change now occurring on the edges of the district may not further creep into it anytime soon.
So for now, City Market shares San Julian Street with a cluster of prosperous-looking wholesalers such as "Juliet," "Dancing Queen" and "Cinderella" that sell women's floor-length gowns for special events.
"It will be interesting to see how it affects the rest of the neighborhood," Leddy said of City Market South. "Some owners are saying, 'I wonder what I can do with my property.'"
Twitter: @rogervincent