City National Bank to expand into another downtown L.A. high-rise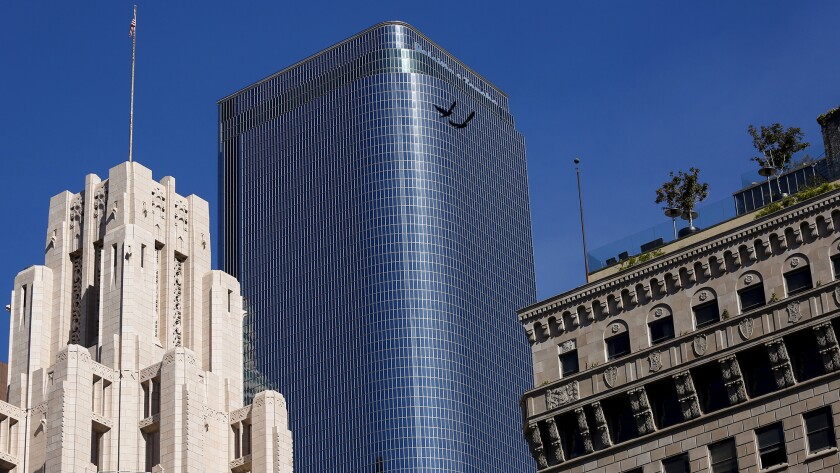 In one of the largest office leases of the year in Los Angeles, City National Bank plans to announce Wednesday it has agreed to rent up to 11 floors in a downtown high-rise as the bank beefs up its staff and services.
The decision to put hundreds of existing and new employees in Two California Plaza reflects the expansion of City National, a venerable Los Angeles bank that was acquired by the Royal Bank of Canada last year but continues to operate as a separate entity.
The bank's assets have grown from $36 billion to $47 billion in just over a year. More than 400 employees were added in that time, bringing its employment in downtown L.A. to 1,800. Several hundred more workers are expected to be added in the next few years.
City National is receiving referrals from RBC's wealth management division and U.S. investment bank, and has been able to make more business, personal and residential loans due to the heft of the parent bank, said City National Chief Executive Russell Goldsmith.
"Adding RBC as our parent company has enhanced our ability to grow," Goldsmith said. "We are hiring talented bankers across the spectrum of what we do."
City National also is starting a new team focused on serving the food and beverage industry. And it is adding staff to work on its digital media and technology operations.
City National agreed to lease about 250,000 square feet on nine floors in Two California Plaza, a 52-story skyscraper on Grand Avenue. As part of the agreement with landlord CIM Group, it has an option to take more floors and increase its total space to nearly 300,000 square feet. City National's name and ladder logo will be affixed to the top of the building, reflecting the size of the lease.
The bank will start preparing its new offices next year and expects to move into them in 2018. Terms of the lease were not disclosed, but the total value of the 15-year deal could exceed $155 million based on current Bunker Hill rents.
City National has also renewed for 15 years its lease in City National Plaza on Flower Street, where it has its headquarters. But it will scale back its offices there from about 16 floors to 11 floors, leaving it with about 275,000 square feet there. Rents were rising at City National Plaza, Goldsmith said, and it was getting too full to enable more expansion.
"Two Cal Plaza can accommodate the kind of growth we are having," Goldsmith said.
Two California Plaza will be renamed CityNational@2Cal and is only about a seven-minute walk from the headquarters offices. The two buildings will be connected by a shuttle bus for bank employees.
The agreement brings Two California Plaza to nearly 70% leased, said Shaul Kuba, a co-founder of CIM Group. The Los Angeles developer and landlord bought the 1.3-million-square-foot building in 2014, when it was only about 60% occupied.
Although Bunker Hill has some of the biggest and most prestigious office towers in Los Angeles, landlords there have struggled to get tenants in recent years as growing companies have opted for older buildings in the trendy Arts District or the nearby Financial District where there are more restaurants, bars and other amenities.
CIM is working to make California Plaza, which includes another office skyscraper and a shopping plaza, more appealing to younger workers in creative fields. Among the new tenants in the plaza is a yoga studio.
SIGN UP for the free California Inc. business newsletter »
"We're putting in retail [tenants] that people were not so sure could coexist with office tenants," Kuba said. "The demographic on Bunker Hill is changing and we are adapting."
Bunker Hill has a reputation as a staid outpost for lawyers, accountants and financial service firms, but Kuba and other landlords are betting that other businesses will be attracted to its burgeoning arts and entertainment scene. The Broad Museum, which has been hugely popular with young adult patrons, recently joined the Music Center, Walt Disney Concert Hall and the Museum of Contemporary Art on Bunker Hill.
City National's decision to expand will have a significant effect on the Bunker Hill office market, said real estate broker John Zanetos of CBRE Group Inc., who represents CIM. Vacancy on Bunker Hill will fall from 21.2% to 18.9%, according to CBRE, and bring the total amount of new space leased there this year to 342,000 square feet.
"The commitment for City National to stay downtown and increase their footprint is huge," Zanetos said.
Twitter: @rogervincent
MORE BUSINESS NEWS
On Trump's short list to run the SEC: an ex-U.S. attorney who's an L.A. native
Local TV reporter said her career was harmed by former Fox News Chairman Roger Ailes
Google's self-driving-car project becomes a separate company: Waymo
---
Must-read stories from the L.A. Times
Get the day's top news with our Today's Headlines newsletter, sent every weekday morning.
You may occasionally receive promotional content from the Los Angeles Times.