Members of Congress agree on this: No cellphone calls on planes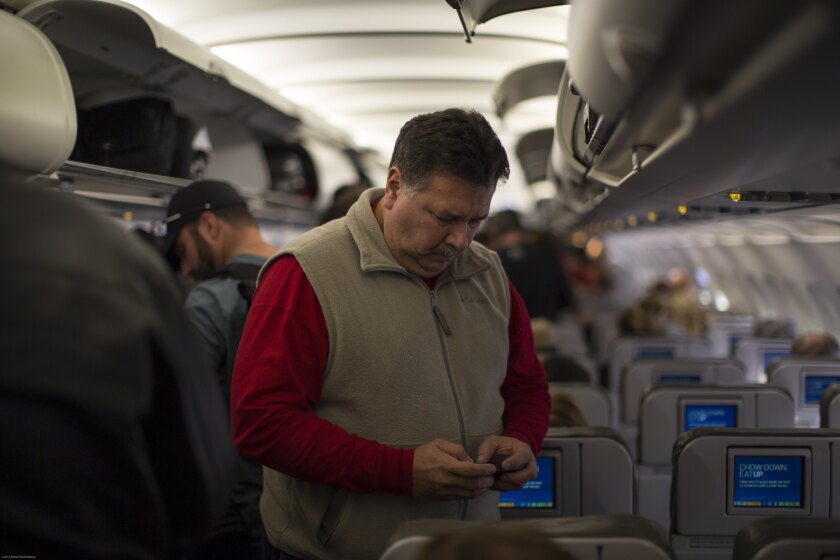 If passengers can divert a commercial plane by feuding over reclining seats, imagine the squabbles that will erupt if fliers are allowed to make loud telephone calls while crammed together in an airline cabin.
That was one of the arguments more than 75 members of Congress made in a letter to the Federal Communications Commission and other federal regulators, urging the government to continue to ban voice calls on commercial flights.
The FCC took the first step toward allowing cellphone calls on planes in December when it began to consider adopting a rule to reverse its long-held ban on inflight calls. The FCC finished accepting public comments on the proposed new rule in February but has yet to schedule further hearings.
Even if the FCC adopts the proposed rule, each airline would have the choice to install the technology needed to allow cellphone calls that do not interrupt cellphone communications on the ground.
The members of Congress who signed the letter last week said the FCC needs to consider how cellphone calls might cause disruptions in a crowded cabin.
"Arguments in an aircraft cabin already start over mundane issues, like seat selection, reclining seats and overhead bin space, and the volume and pervasiveness of voice communications would only serve to exacerbate and escalate these disputes," according to the letter signed by dozens of Republicans and Democrats, including David B. McKinley (R-W.Va.) and Dan Lipinski (D-Ill.).
The feuds over reclining seats mentioned in the letter refers to three incidents in late August and early September when onboard squabbles among passengers over intrusions into their seat space forced the pilots to divert the flights.
To read more about travel, tourism and the airline industry, follow me on Twitter at @hugomartin.
---
For reporting and exclusive analysis from bureau chief John Myers, get our California Politics newsletter.
You may occasionally receive promotional content from the Los Angeles Times.