Janitors and security guards are paid 20% less when they're contractors, report says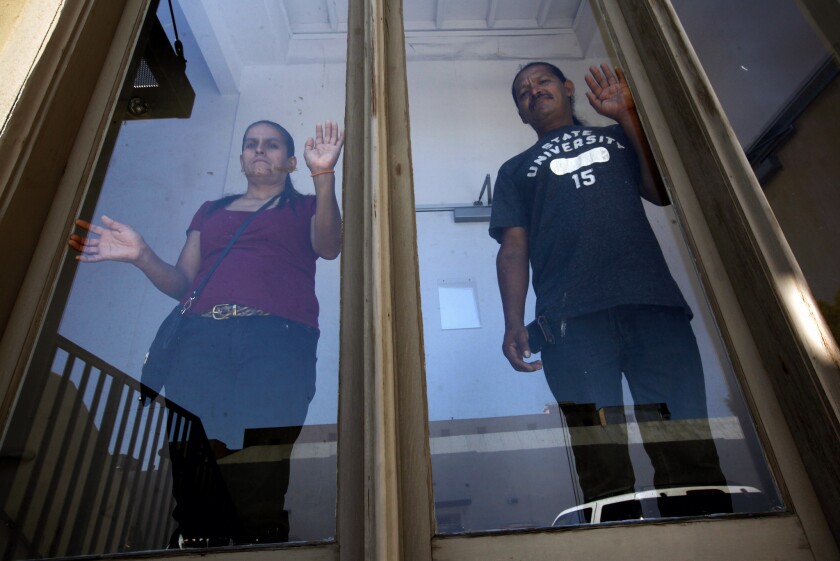 A boom in companies trying to cut costs by contracting out janitorial and security jobs has led to large pay disparities between workers doing the same jobs, according to a UC Berkeley report.
Janitors who work for California contractors earn on average $10.31 an hour, or 20% less than janitors who work directly for a company that uses their services, according to the report, prepared by the university's Center for Labor Research and Education and released Tuesday.
Contracted security guards see the same wage gap, making $11.91 an hour, compared with the $14.48 an hour earned by other guards.
The wage gap has grown along with companies specializing in those services. From 1990 to 2014, state janitorial jobs rose 44%, and those in the security services industry increased 83%, the report found. That compares with 20% growth for all private sector jobs in the state.
"Many service workers have lost ground after decades of subcontracting that have driven labor standards lower," said Sara Hinkley, the report's coauthor.
Many contractors, especially smaller companies, also do not pay overtime or even minimum wage, Hinkley said. They often misclassify workers as independent contractors, thereby avoiding making Social Security contributions and sometimes even pocketing taxes that would normally be deducted from paychecks.
Health insurance is another area in which service employees who work for contractors often lose out, researchers found.
From 2012 to 2014, 45% of janitors and 32% of security guards employed by contractors had no health insurance. Service workers who belong to unions receive family coverage if they are full-time employees.
Competition among contractors is often so fierce that the only way they can make money is by not paying their workers adequately, said Victor Narro, project director at the UCLA Labor Center.
"The only way they make a profit margin is through labor violations," Narro said. "Labor violations become the profit margins."
When workers want to complain, an often complicated layer of contractors and subcontractors obscures who is responsible for their paycheck and working conditions, Narro said. Many contractors who are hired to supply janitors or security guards will in turn outsource those jobs to subcontractors, which can be "fly by night" operations that work with no contracts, he said.
Workers "are part of a sophisticated chain of employment," Narro said. "They don't know where to turn."
Last year, the National Labor Relations Board ruled that companies using workers hired by another business — such as contractors and staffing agencies — are still on the hook for labor violations and could be required to bargain with unions representing those employees.
Michael Droke, a labor law partner at Dorsey & Whitney, said companies are now more careful about vetting their contractors, since they could be held responsible for problems following the NLRB ruling.
UC Berkeley has had its own labor problems. Local 3299 of the American Federation of State, County and Municipal Employees launched a boycott last month in support of nearly 100 subcontracted employees at the university who want better pay and working conditions. Organizers are urging scheduled speakers to cancel their appearances at UC Berkeley, said Todd Stenhouse, spokesman for the union.
shan.li@latimes.com
Twitter: @ByShanLi
---
Your guide to our new economic reality.
Get our free business newsletter for insights and tips for getting by.
You may occasionally receive promotional content from the Los Angeles Times.