Consumer protection chief appeals directly to Trump in bid to save class-action lawsuit rule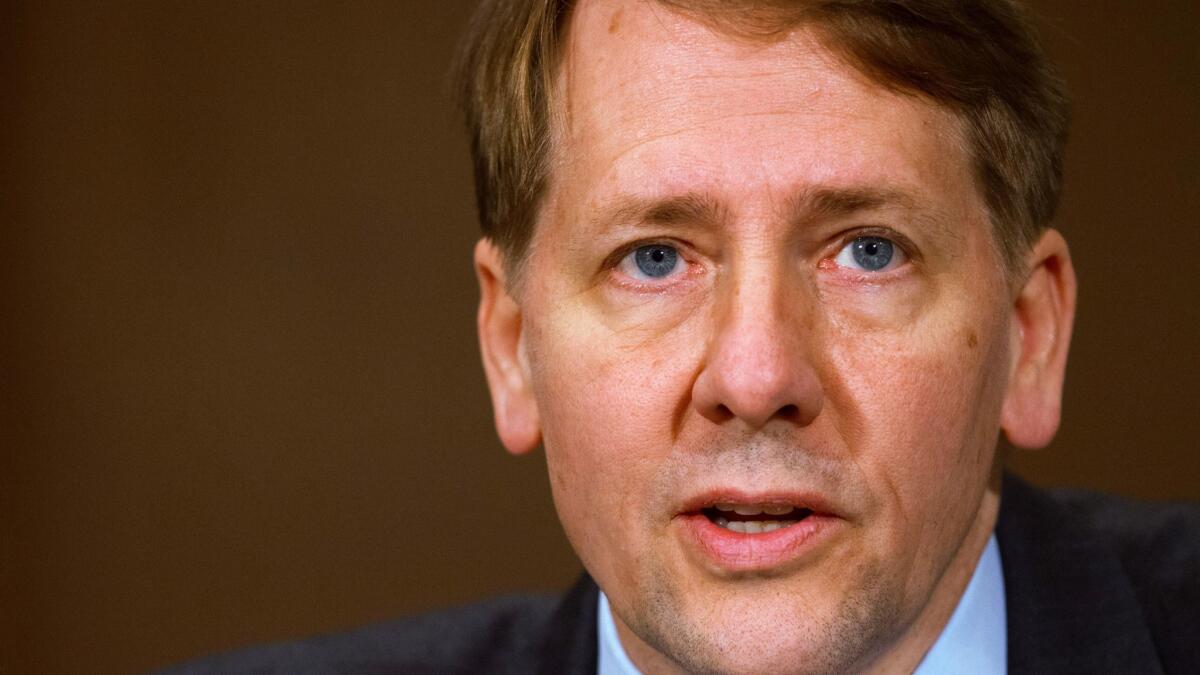 In a rare direct appeal to the White House, the director of the Consumer Financial Protection Bureau wrote a letter to President Trump this week, asking him to let stand a rule that makes it easier for consumers to file class-action lawsuits against financial firms.
Congress narrowly passed legislation that would spike the rule, and the bill now goes to Trump for final approval.
The Senate voted 50 to 50 on the legislation last week, and Vice President Mike Pence broke the tie to undo the rule. The White House released a statement afterward saying the president applauded Congress for voting to rescind the rule.
A White House official said the president plans to sign the bill Wednesday.
Nevertheless, CFPB Director Richard Cordray, an Obama appointee who some conservatives have suggested should be fired, wrote to the president Monday, making the case that Trump should veto the legislation and allow the rule to take effect.
The rule would continue to allow banks and other financial firms to use contract agreements to block consumer lawsuits and require that disputes be settled in private arbitration. But it would make a key exception: Financial firms would not be able to use those agreements to block class-action lawsuits.
"Many have told me I am wasting my time writing this letter — that your mind is made up and that your advisors have already made their intentions clear," Cordray wrote. "But this rule is all about protecting people who simply want to be able to take action together to right the wrongs done to them."
The CFPB and consumer advocates argue that class-action suits represent a way to hold banks accountable for wrongdoing that affects many customers, especially in cases where the harm to any individual consumer is relatively small.
In such cases, consumers might not want to go through the trouble of arbitration, and a financial institution might have little incentive to correct its actions. Wells Fargo & Co.'s fake accounts scandal is often cited as a prime example.
But the U.S. Chamber of Commerce and other opponents — including the U.S. Treasury Department, which last week issued a report critical of the rule — called it a giveaway for class-action attorneys, arguing that lawyers are often the biggest beneficiaries of class-action settlements.
In the letter, Cordray acknowledged that he and Trump have "never met or spoken," but tried to appeal to the president by mentioning Trump's legal wranglings in the business world.
"I am aware that over the course of your long career in business you often found it necessary to go to court when you thought you were treated unfairly," Cordray wrote. "Of course, most Americans cannot afford to do this on their own."
He also suggested that the arguments against the rule are unfounded and that it should be clear to the president that the rule would help the average American.
"I think you really don't like to see American families, including veterans and service members, get cheated out of their hard-earned money and be left helpless to fight back," he wrote. "I know that some have made elaborate arguments to pretend like that is not what is happening. But you are a smart man, and I think we both know what is really happening here."
Follow me: @jrkoren
---
UPDATES:
3:50 p.m.: This article was updated with a comment from the White House.
This article was originally published at 2:55 p.m.