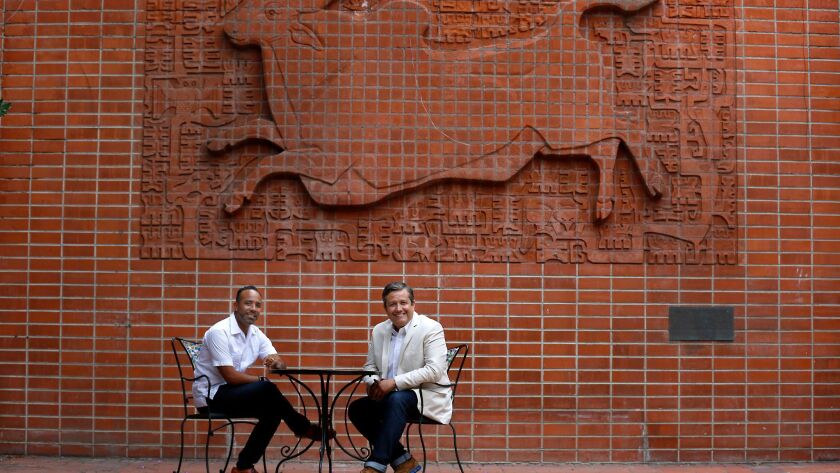 Months before Miguel Santana began his new job as the president and chief executive of the Los Angeles County Fair Assn., he asked his four daughters, ages 19 to 29, to visit the fair with him.
They all rejected the offer, saying basically: Been there, done that.
Santana, who until recently was Los Angeles' city administrative officer, said he realized that if the fair can't attract teenagers and millennials, it is doomed.
For that reason, he has made it his goal to inject a hip, cool vibe into the Los Angeles County Fair, which begins Sept. 1, creating the kind of atmosphere that he hopes will draw those key demographic groups to boost attendance and increase revenue.
But Santana, a 48-year-old career bureaucrat who began his new job in January, acknowledges he is not steeped in coolness. That is why he has assembled a team of local music and festival organizers with a track record for tapping into the millennial crowd.
"I'm the last person to tell you what is cool," Santana quipped.
A lot is at stake in this year's fair. It will be the first since Santana replaced former fair administrator James Henwood Jr., who resigned following a Los Angeles Times investigation that found that he and his vice presidents received corporate-size salaries and bonuses even as the association reported years of financial losses.
State and county audits also found that the private nonprofit association owed the county millions in rent on land developed by the association but owned by the county.
Fair officials are meeting regularly with county officials to address the back rent, Santana said, and the compensation package for his vice presidents has been cut, though he declined to disclose specific numbers. Santana is paid about half the more than $1 million a year that Henwood received in total compensation for 2014 — a lucrative pay package well above that of other fair executives in the state.
For now, Santana said, he is focusing on overhauling the fair to draw in older teenagers and millennials who represent the largest demographic group in the country. In Southern California, that means targeting young Latinos.
It's not a challenge unique to the Los Angeles County Fair. Operators of fairs throughout the country also are making efforts to attract millennials and teens, said Stephen Chambers, executive director of the Western Fairs Assn., a trade group that represents 150 fairs in the U.S. and Canada.
The keynote speaker for the trade group's convention in January is Rita Murray, a generational expert who will discuss how to reach young fairgoers, Chambers said.
Among other efforts to attract fresh customers, Chambers pointed to the Napa Town & Country Fair in Napa, Calif., where visitors who took a photo with their smartphone and added #NapaFair2017 got the picture posted on a giant screen over the main exhibit hall.
"That's always a challenge," he said, "how do we get the next generation involved?"
To help meet the challenge in Los Angeles, Santana recruited Lucas Rivera, the former director of Grand Park. Rivera organized festivals and celebrations that drew tens of thousands of people to the 12-acre park in downtown Los Angeles. Rivera is now a senior vice president at the association.
"We have a bigger playground to play with," Rivera said of the fairground's 543 acres.
Among other efforts, Santana and Rivera are planning to create a venue at the fair where visitors can order locally made food and drinks and listen to live music from Southern California musicians while taking in exhibits of nearby artists. The venue is called Mi Poco LA.
The venue will feature freshly brewed coffee from Mi Cafecito, a tiny Latino-styled coffee shop in downtown Pomona, and food from Dia De Los Puercos, a Mexican eatery in West Covina. During the fair, the art exhibit will display work by Los Angeles-based Chicana artists Patssi Valdez and Judithe Hernandez.
To book the bands at Mi Poco LA, Santana recruited Rene Contreras, the founder of Viva! Pomona, an indy music festival in downtown Pomona.
Contreras, who as a kid visited the Los Angeles County Fair with his parents, said most young people feel that the fair is not cool if their parents like it. His charge, he said, is to inject the venue with an eclectic mix of indie and fusion music that will appeal to young people.
"I want to bring that flavor to the fair so that there is a place where music lovers can come and hang out," he said.
The fair this year also will feature an area where local artisans can sell handmade creations such as jewelry, candles and clothing. The fair will add more old-school contests that award blue ribbons to fairgoers for bubble gum blowing, hula hoop swinging and other off-beat skills.
The fair will continue to set aside a large space for full-time vendors who peddle hot tubs, outdoor kitchens, cookware and jet skis.
And, of course, the fair's outrageously decadent food, such as funnel cake and deep-fried hot sauce, will still be on the menu.
The annual fair is one of 350 events held each year at the Fairplex in Pomona. The Los Angeles County Fair Assn. oversees operation of the entire facility with a budget of more than $74 million.
The television ad to promote this year's fair also targets young Southern Californians. It shows four youngsters eating, playing carnival games and dancing to the sounds of Ozomatli, a Los Angeles band that plays upbeat Latin, hip hop and rock music.
Most of the additions made to the fair this year bring a Latino flavor to the event because the target audience is young Latinos.
"We are speaking to the population of Los Angeles County," Santana said.
The fair association's tax reports show that the nonprofit has operated in the red since 2010, reporting a $2.1-million deficit for 2015, compared to a $3.4-million deficit in 2014. The financial report filed with the Internal Revenue Service containing 2016 data isn't available yet.
But Santana said he considers the Fairplex profitable because he judges its financial strength by operating earnings before taxes, interest and depreciation. By that standard, the fair generated $6.8 million in 2015, up from $6.5 million the previous year, according to the organization's annual report.
Attendance at the fair was 1.32 million last year, up from 1.28 million in 2015.
Santana said he hopes his changes will boost revenue and attendance but he is most focused on the overall economic impact the Fairplex has on the surrounding region.
"The bigger challenge for me and for the community," he said, "is asking ourselves what role does this campus play in strengthening the economy and creating more quality jobs and increasing the tax base at all levels."
To read more about the travel and tourism industries, follow @hugomartin on Twitter.
---