L.A. County Fair won't raise ticket prices and will offer food discounts to draw visitors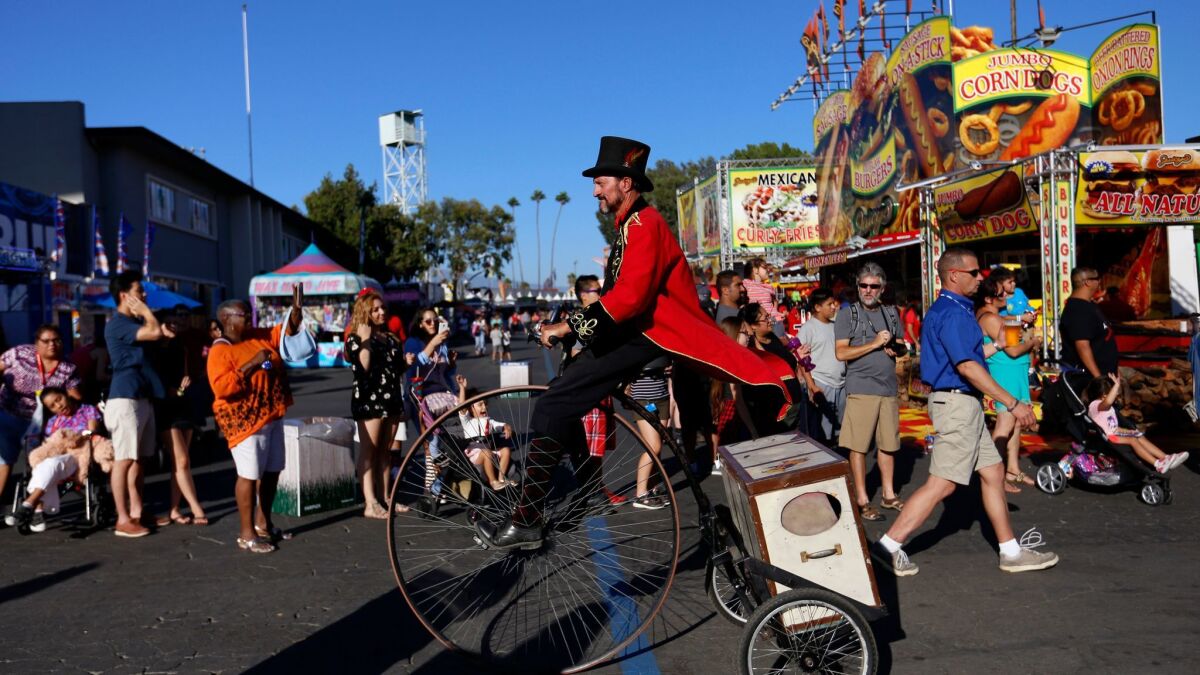 Hoping to reverse last year's drop in attendance, the Los Angeles County Fair is giving visitors a break on ticket and food prices.
The fair announced it won't raise daily ticket prices when it opens at the Fairplex in Pomona in August. In addition, the fair's vendors will offer discount prices for some traditional food items and will no longer charge extra for special fair exhibits.
By keeping ticket prices from rising and offering discounts, fair Chief Executive Miguel Santana said, the fair is responding to complaints from fair-goers who said the annual event had become too expensive, especially for families.
"We are trying to be responsive to the kinds of areas the guests felt we needed to work on," he said.
The theme to the 2018 fair is "Get Your Kicks," a tribute to Route 66, the iconic route between Chicago and Los Angeles named by John Steinbeck as "The Mother Road." The fair runs Aug. 31 through Sept. 23.
Keeping prices steady may help boost attendance and ultimately generate just as much or even more revenue than in previous years, Santana said.
"We feel that if we listen to our guests, everything else will work out fine," he said.
Weekday prices will remain $14 for adults, $8 for children (ages 6 to 12) and $10 for senior citizens (ages 60 and over). Weekend prices will be $20 for adults, $12 for children and $15 for seniors.
In keeping with the Route 66 theme, food vendors will offer either individual food items or package deals for $6.60. For example, food vendor Pink's Hot Dogs will charge $6.60 for its quarter-pound turkey dog and a drink or Famous Roadhouse Chili and a drink.
The fair is also selling a package that includes four season passes, plus parking and a collectors lanyard for $66, a deal that would normally sell for $180, according to fair officials.
Last year, the fair charged an extra $5 for visitors to enter a special exhibit on the life of musician Taylor Swift and an exhibit on dinosaurs. This year, there will be no extra charge for special exhibits but it will cost extra to ride the carnival attractions and see concerts.
The fair is operated by the nonprofit Los Angeles County Fair Assn. Reports filed with the Internal Revenue Service show that the nonprofit has operated in the red starting in 2010; the nonprofit reported a $2.1-million deficit for 2015, down from a $3.4-million deficit in 2014. The association has yet to file its revenue report to the IRS for 2016 or 2017.
Santana, who became the fair's CEO last year, tried to increase attendance during the previous season by injecting the annual celebration with local Latino flare, such as booking home-grown bands and displaying art from Latino artists.
But attendance dropped 7% last year to 1.23 million visitors, compared with 1.32 million in 2016. Santana attributed most of the drop to unusually warm summer temperatures, which kept many visitors away during much of the first two weeks of the event.
"It was really an unprecedented series of events that were beyond our control," he said.
To read more about the travel and tourism industries, follow @hugomartin on Twitter.
Sign up for the California Politics newsletter to get exclusive analysis from our reporters.
You may occasionally receive promotional content from the Los Angeles Times.