California wants to test how big a financial hit PG&E can handle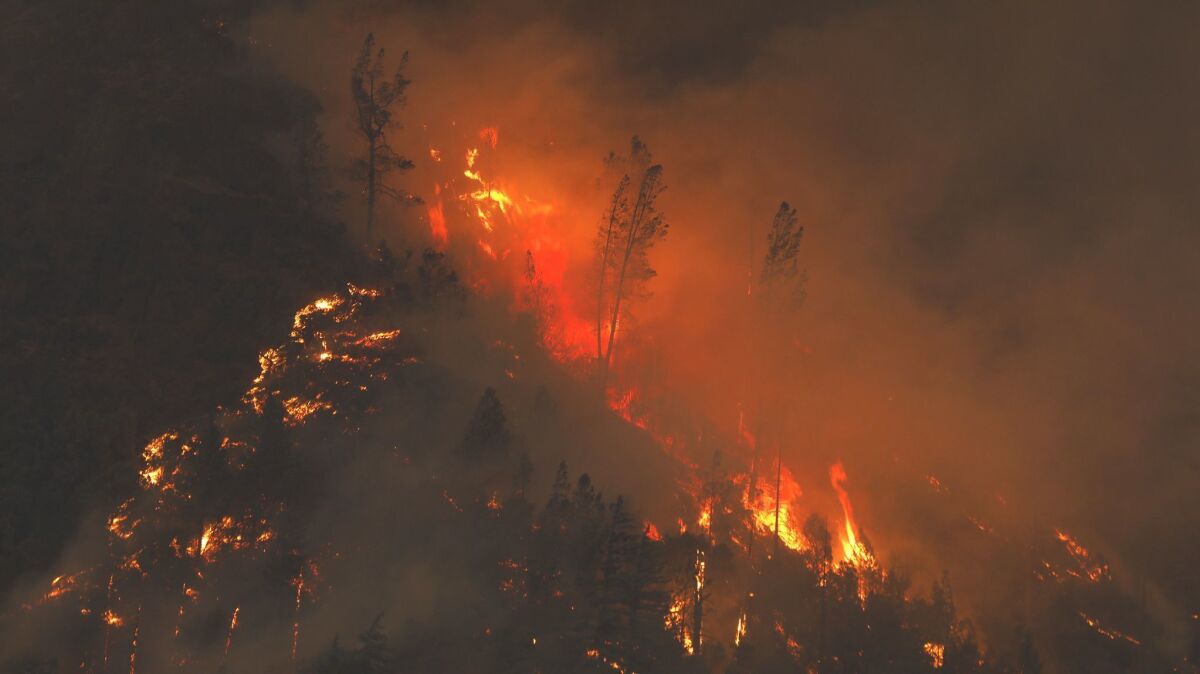 California has already determined that Pacific Gas & Electric Co.'s parent, PG&E Corp., is responsible for a string of deadly wildfires. Regulators are now getting ready to figure out how much that could cost the company.
The California Public Utilities Commission voted unanimously Thursday to open proceedings to develop a so-called stress test for utilities' wildfire costs. The goal is to see how big a financial blow companies such as PG&E could withstand and still remain viable.
Protesters turned the seemingly routine vote into a rally against the beleaguered utility, shouting "murder," "perjury" and "manslaughter" during the commission meeting in San Francisco.
PG&E's stock fell, erasing a rally of as much as 7.7%, as the meeting proceeded and then the commission went into closed session without commissioners expressing support for the company. The shares ended down 7 cents, or 0.4%, at $17.76.
Investors are looking for any signs that state leaders are working to prevent a PG&E bankruptcy in the face of massive wildfire-related costs. The commission has been weighing replacing PG&E's board and management and splitting up the company. PG&E's shares have dropped 27% so far this week amid reports it's considering filing for bankruptcy protection as early as February and after S&P Global Ratings slashed its credit to junk. (After markets closed Thursday, Moody's Investors Service also cut PG&E's credit rating to junk.)
"It wouldn't surprise me if some people may have been expecting a more encouraging statement, other than what was provided by the commission, which was pretty factual," Paul Patterson, a utility analyst for Glenrock Associates, said of the share-price move.
Later, at a news conference in Sacramento, Gov. Gavin Newsom said PG&E was at the top of his agenda and that he'd make a new announcement on the issue within the next few days.
During a public-comment period at the CPUC meeting, speakers overwhelmingly weighed in against a bailout of the troubled utility. Some began reading out the names of people who died in California's wildfires. PG&E faces as much as $30 billion in liabilities if its equipment is linked to the start of blazes that scorched the state in 2017 and 2018, according to analysts' estimates.
California enacted a law in September to help PG&E deal with mounting fire costs, letting the company issue bonds to pay for damages tied to 2017 blazes that hit Northern California's wine country. It also included a directive to regulators to "determine the maximum amount the corporation can pay without harming ratepayers or materially impacting its ability to provide adequate and safe service."
State investigators have blamed PG&E equipment for sparking 17 of the 2017 fires and are looking at a utility transmission line as a possible ignition point for the Camp fire, which killed 86 people and leveled the Northern California town of Paradise in November.
California looks to electricity shutoffs as a faster, cheaper wildfire solution »
---
Sign up for the California Politics newsletter to get exclusive analysis from our reporters.
You may occasionally receive promotional content from the Los Angeles Times.