California looks to electricity shutoffs as a faster, cheaper wildfire solution
Electric utilities are under increasing pressure to shut down power lines during dangerous weather conditions to stop fires from sparking. And state officials want to make sure those shutoffs don't do more harm than good.
The California Public Utilities Commission voted unanimously Thursday to begin crafting new rules for turning off electricity when fire risk is high. The agency's move follows a second straight year of devastating wildfires across California, some of which were started or may have been started by electric utility equipment.
The recent fires could result in billions of dollars in liability for the state's two largest utilities, Southern California Edison and Pacific Gas & Electric, giving them a strong incentive to try to prevent future blazes by de-energizing power lines when the weather is dry and windy. In the last year, both companies have cut power to customers for fire-prevention reasons for the first time in recent memory.
Proponents of turning off the power when the landscape is primed for fire say it's one of the cheapest, easiest steps utilities can take to avert widespread destruction.
"We need new tools," Michael Picker, president of the Public Utilities Commission, said before Thursday's vote. "In this era, with the ferocity and unprecedented damages we're seeing from wildfires, we can't keep doing the same thing."
But power shutoffs can also cause problems. Some people depend on electricity to power medical devices, including breathing machines and dialysis equipment. A lack of electricity can also create additional hazards when blazes do spark, making it harder for residents without landlines to find out about evacuation orders and potentially limiting the ability for firefighters to pump water.
"If a shutoff is done, it should make people safer, not put them at more risk," said Mindy Spatt, a spokeswoman for the Utility Reform Network, a ratepayer advocacy group based in San Francisco.
Wildfire much worse because of climate change, new report finds »
Making shutoffs safer is the goal of the rule-making process opened by the commission Thursday. The regulatory agency plans to examine a long list of questions, including how utilities should notify the public of possible shutoffs, how to limit the effects on people with life-support devices and how utility officials should coordinate with first responders once the electricity is out.
The commission could ultimately create a new set of rules governing when and how utilities turn off the lights. Elizaveta Malashenko, who leads the commission's Safety and Enforcement Division, said the rules the agency develops will largely be determined by who takes part in the conversation, and what kinds of questions and concerns they raise.
"It's important for anybody who really wants to make sure that their point is considered to engage — to find a way to engage in this process either directly or through some kind of organization," Malashenko told The Times before Thursday's vote.
One issue the commission will consider is what steps utilities should take to help people cope with shutoffs. Malashenko said the discussion might include shorter-term measures such as heating and cooling centers where people can charge their phones and stay safe, and longer-term measures such as reconfiguring utility infrastructure so that de-energizing power lines in high-risk areas causes fewer customers to lose electricity.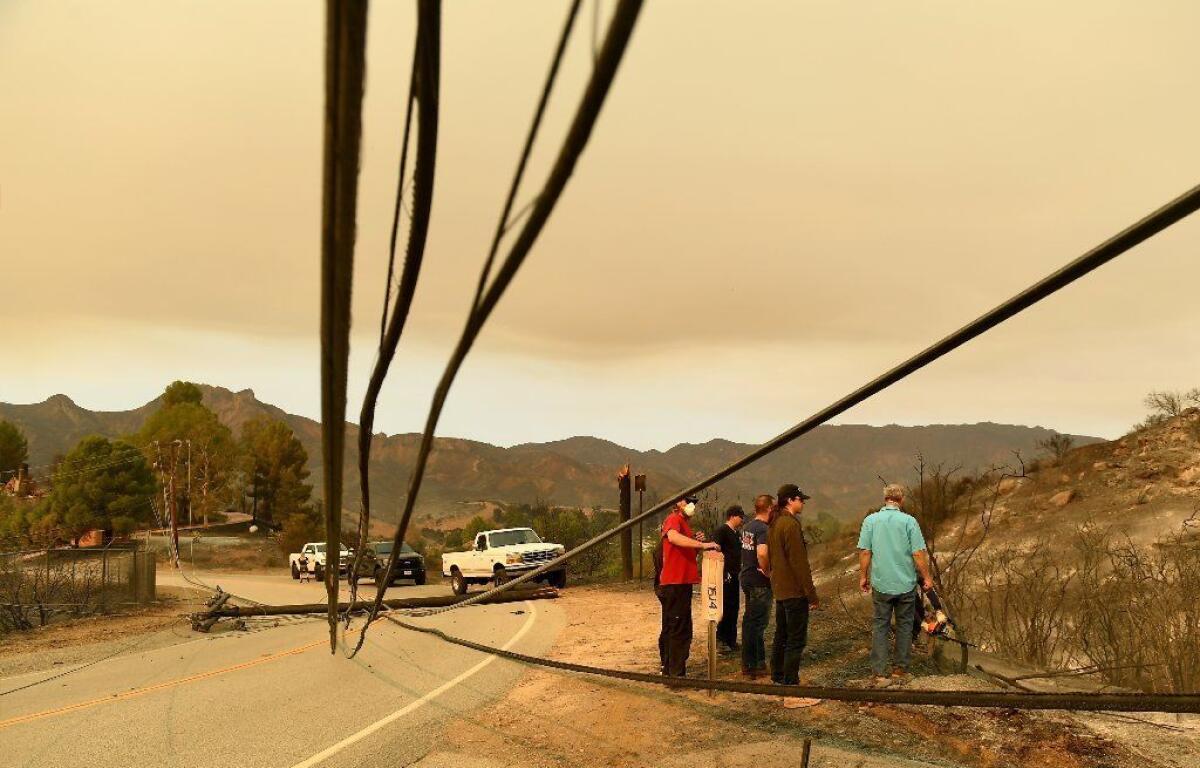 Some participants in the commission's rule-making may also suggest making shutoffs more palatable by building microgrids — small, local electric systems that can be disconnected from the larger power grid, often powered by a combination of solar panels and batteries. Microgrids aren't a new idea, but solar companies are increasingly looking to incorporate the technology into state policy and utility planning.
Anne Hoskins, chief policy officer for the San Francisco-based rooftop solar installer Sunrun, noted that in the days leading up to the Camp fire's ignition last month, PG&E warned 70,000 customers in Northern California that it might shut down power in communities including Paradise. But in the end, the utility kept the power on, and the Camp fire was ignited, destroying most of Paradise.
A cause for the fire has yet to be determined, but there's early evidence PG&E's power lines may be to blame.
"We can build a system that can be more self-reliant and support that kind of situation," Sunrun's Hoskins said. "We're not saying we can be a replacement for the transmission system. But let's see if we can get some of those central services supported by local energy, so when those [fire] conditions appear that we know are going to keep happening, the utilities can have the confidence to turn off the system."
Microgrid sales rise alongside qualms about the power grid »
Power shutoffs are more controversial than traditional fire mitigation measures such as vegetation management, which goes a long way toward explaining why utilities have avoided them.
But shutoffs are a more surefire way to prevent fires, which is why state officials are preparing for utilities to use them more often. Edison shut off power lines for wildfire-prevention reasons last December, causing about 8,000 homes and businesses in the Idyllwild area to lose electricity for a day and a half. PG&E faced fierce criticism from customers after it preemptively turned off electricity for 60,000 customers in October of this year.
San Diego Gas & Electric, the state's third-largest utility, has a longer history of power shutoffs. SDG&E worked with state regulators to develop rules governing shutoffs after a trifecta of deadly fires in San Diego County in 2007. The Public Utilities Commission expanded those rules to cover Edison and PG&E earlier this year, and both utilities created protocols for evaluating the weather conditions that might necessitate shutoffs.
Michael Wara, who leads the Climate and Energy Policy Program at Stanford University's Woods Institute for the Environment, said it's been easier for SDG&E to shut off power than it will be for Edison and PG&E, because most of SDG&E's shutoffs affect eastern San Diego County, where relatively few people live. But he thinks the costs of shutting off power more frequently are worth it, especially when compared with more expensive steps that could also dramatically reduce the risk of utility-sparked fires, such as burying power lines underground.
"That's a super-expensive thing and it will take a long time," Wara said. "We can't afford to have a single ignition on a red flag day in a lot of these communities."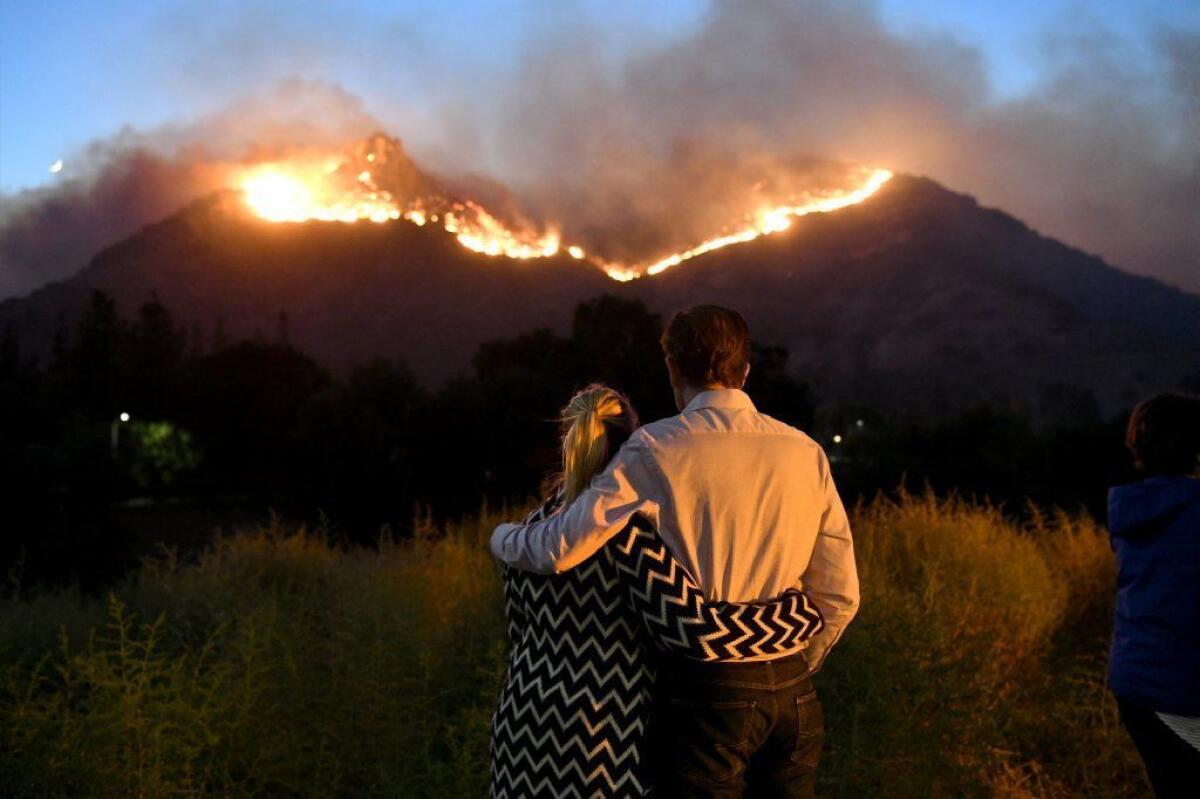 Several members of the Public Utilities Commission said before Thursday's vote that they saw power shutoffs as increasingly needed to prevent wildfire ignition, alongside other actions utilities can take to reduce risks. Commissioner Carla Peterman described shutoffs as "an option we don't want to have to exercise often, but will exercise as necessary."
As part of a separate process at the Public Utilities Commission, the state's investor-owned utilities are starting work on "wildfire mitigation plans" outlining their overall strategies for preventing and fighting fires, as required by a bill approved by the Legislature last year, SB 901. Those mitigation plans could include steps such as insulating power lines, pruning trees near electrical infrastructure and building more advanced weather-tracking stations, as well as shutting down power lines more often.
As climate change worsens wildfires, California will spend $1 billion and give utilities new ways to shrink their fire expenses »
Even before that process got started, Edison unveiled a sweeping plan to reduce wildfire risks from its power lines, asking for permission from state officials to charge ratepayers $582 million for the work.
In a written statement, Edison said it considered power shutoffs "an important way to mitigate the state's wildfire risk," along with the steps outlined in its $582-million plan. The company said it "looks forward to participating" in the commission's new process to develop rules for power shutoffs.
PG&E "supports the commission's continued efforts in looking into this critical issue and examining the rules for proactively de-energizing power lines," the company said in a written statement.
"We know how much our customers rely on electric service and the impacts that a Public Safety Power Shutoff event can have on our customers, their families and communities — including groceries and medical equipment," PG&E said in its statement. "We only consider temporarily turning off power in the interest of safety and as a last resort during extreme weather conditions to reduce the risk of wildfire."