AT&T executive grilled over email calling content providers 'shortsighted whores'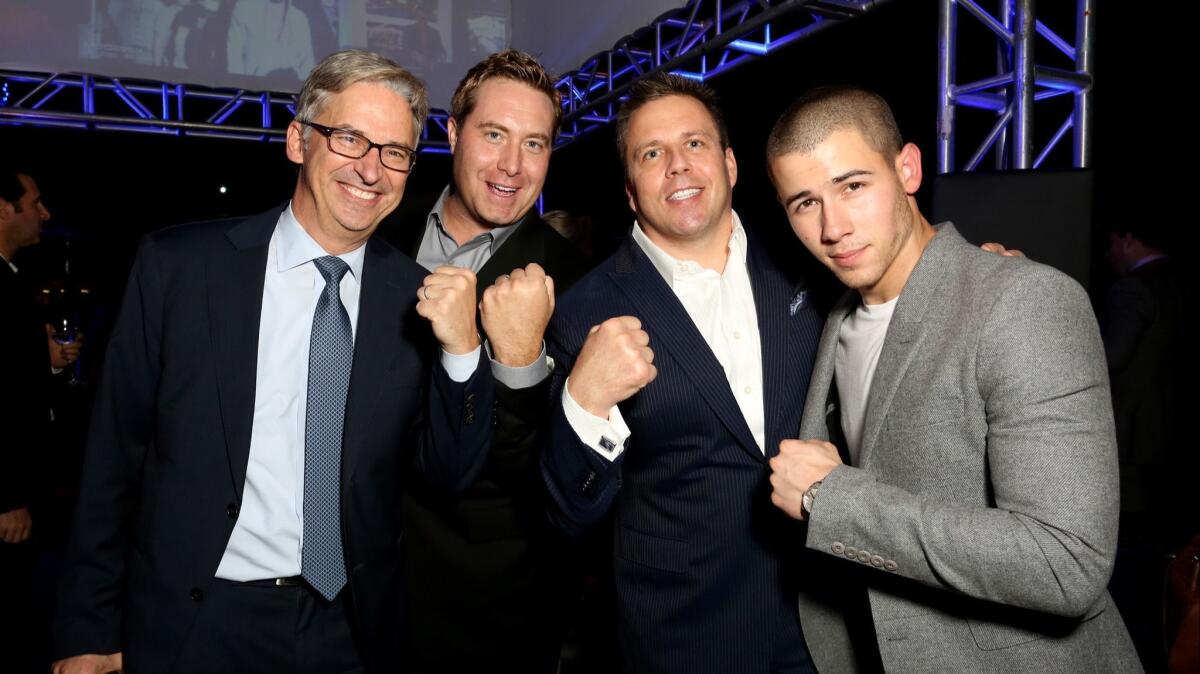 Reporting from Washington —
A top AT&T Inc. executive was questioned Thursday about past emails critical of content providers selling programming to online distributors as the government argued that the telecommunications giant should not be allowed to purchase Time Warner Inc.
In the third week of an antitrust suit to stop the proposed $85.4-billion deal, the Justice Department sought to show a federal judge that AT&T could try to withhold HBO, CNN, TBS, Warner Bros. and other Time Warner programming from online competitors.
Such a move, the Justice Department has said, would be done in coordination with Comcast Corp. withholding its own NBCUniversal content, to try to hobble the efforts of Sling TV and other online rivals to lure away traditional pay-TV customers.
Daniel York, chief content officer of the AT&T Entertainment Group, testified Thursday about emails he sent while at AT&T and when he was a top DirecTV executive. AT&T acquired DirecTV in 2015.
In one 2015 email to the chief executive of DirecTV, York said that "content providers generally are shortsighted whores" to whoever is willing to write them a check for their programming.
The email was in response to deals content providers made with Dish Network's Sling TV, an online service that doesn't require a satellite dish.
A year later, York complained that Turner Broadcasting had struck a deal with Apple TV to allow viewers to watch NCAA basketball tournament games on a split screen. York said AT&T had tried unsuccessfully to get permission to offer such innovative services.
Justice Department lawyers are trying to show to U.S. District Judge Richard Leon that AT&T wants to "weaponize" Time Warner's must-have content and hold off a growing challenge from Sling TV, Google Inc.'s YouTube TV and other online competitors.
AT&T's lawyers have argued that if it acquired Time Warner, it would want to sell the programming to as many services as possible.
York had also been expected to testify about his role in the botched rollout of the Dodgers-owned cable television channel in Los Angeles.
York is in charge of DirecTV's negotiations with programmers, and he refused to add the Dodgers channel to DirecTV's lineup.
Federal prosecutors sued AT&T and DirecTV in November 2016, alleging that York orchestrated an alleged collusion scheme to limit carriage of the Dodgers channel when it launched in 2014.
Last year, the Justice Department and AT&T settled the Dodgers channel lawsuit. AT&T promised that it would monitor its employees to ensure they did not share sensitive information about contracts and negotiations with other operators.
The Justice Department has argued AT&T might collude with Comcast Corp. to withhold programming from online rivals. But in testimony Wednesday and Thursday, York was not asked about the Dodgers channel dispute.
Before dismissing York on Thursday, Leon told him that he might be called back to give additional testimony. The Justice Department had raised a legal issue regarding York's testimony that Leon said he hoped to resolve soon.
Twitter: @JimPuzzanghera
---
UPDATES:
1:55 p.m : This article was updated with additional details about the Justice Department's case.
This article originally was published at 12:15 p.m.