AT&T's Randall Stephenson tries to close the deal on Time Warner merger at antitrust trial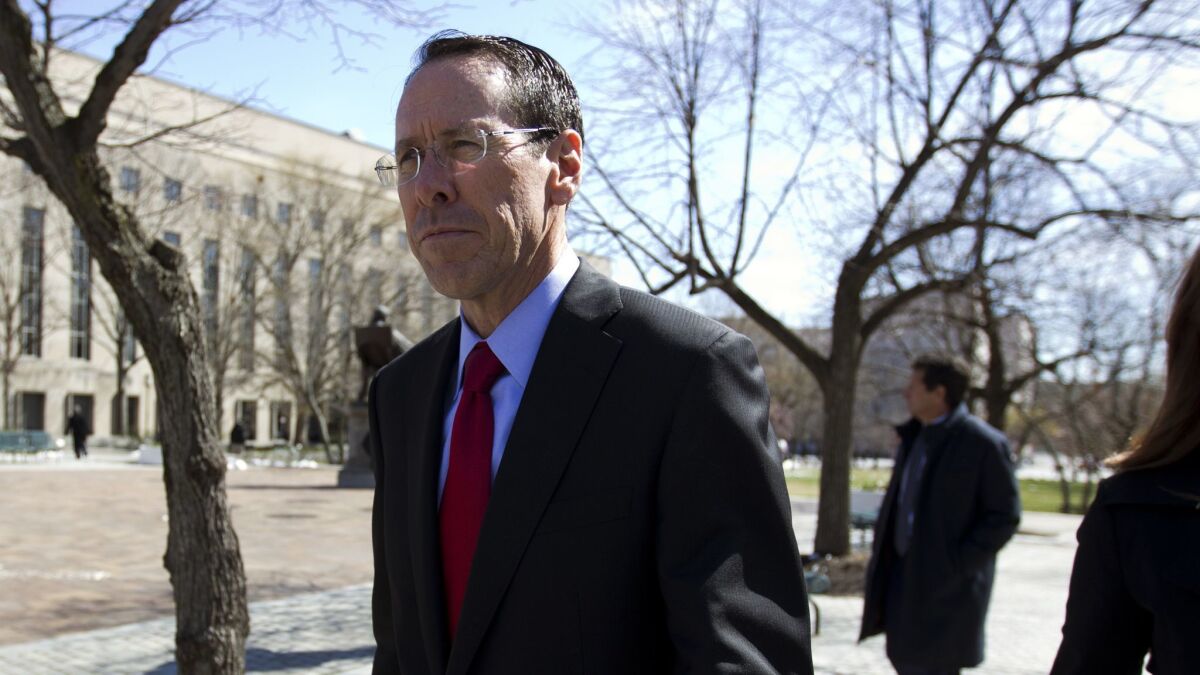 Reporting from Washington —
AT&T Inc.'s top executive gave a vigorous defense Thursday of the proposed $85.4-billion deal to buy Time Warner, describing it as key to the company's ability to compete with a new generation of high-tech competitors.
"This world is changing fast," said Randall Stephenson, who took the witness stand at the government's antitrust trial to block the deal.
Stephenson said he decided AT&T needed "premium content" to compete with Netflix, Amazon.com, Facebook and Google in the battle to engage consumers and target advertising tailored to their habits.
"In 2016, we said, 'We need to own content,' " AT&T's chief executive testified before U.S. District Judge Richard Leon in a packed Washington courtroom.
AT&T has a lot of data about the habits of its 100 million wireless customers and 25 million pay-TV customers from its DirecTV and U-verse services. But the company wants the must-have content from Time Warner's HBO, CNN, TBS, Warner Bros. and other assets around which to sell advertising, Stephenson said.
AT&T now sells two minutes of advertising for every hour of programming it distributes on DirecTV and U-verse. Using its customer data to target those ads has led to revenue "three to five times" more for each ad impression than Time Warner's Turner networks earn, Stephenson said.
By scaling up its advertising efforts with Turner and other Time Warner content, AT&T can increase advertising revenue, Stephenson said.
AT&T also has plans to develop "content intelligence" — mining consumer data to determine the types of TV shows and movies to develop and what Hollywood stars should be cast in them.
Stephenson said boosting its advertising revenue would lead to cost savings for consumers.
"The better you do on advertising, the less you have to charge the consumer for the service," he said.
But the Justice Department has cast doubt on that strategy and sued to stop a deal it said would raise consumer costs by giving AT&T more clout in its negotiations with other distributors.
Stephenson dismissed the idea that AT&T would threaten to limit access by its competitors to Time Warner content as "absurd."
Because of AT&T's large number of wireless customers, the company particularly didn't want to hinder the growth of online pay TV competitors because consumers increasingly are watching that programming on their mobile devices, he said.
"We want people engaged with their mobile devices all day, watching movies and video," Stephenson said.
He noted that AT&T has launched DirecTV Now, which allows people to stream a limited number of channels for $35 a month. And Stephenson announced Thursday that the company planned to launch a $15 bundle, called AT&T Watch, that excludes the sports programming on DirecTV Now. AT&T's wireless customers will get AT&T Watch for free, he said.
To try to allay Justice Department concerns, AT&T has offered to submit any pricing disputes over Time Warner content to a third-party arbitrator. Competing pay TV providers who testified at the trial objected to the arbitration plan, including that it would last for only seven years.
On Thursday, Leon asked Stephenson about the time frame and whether he would have been able to accurately predict seven years ago where the pay TV market is now. Stephenson said he wouldn't have.
Justice Department lawyers sought to cast doubt on cost-saving initiatives that AT&T and Time Warner had said would come from their deal. They noted that DirecTV prices have continued to rise even as AT&T has increased its advertising revenues.
And Justice Department lawyers on Thursday introduced notes from a top AT&T executive, John Stankey, that indicated some Time Warner employees questioned the potential of using content intelligence to develop programming.
In other notes, Stankey wrote that Time Warner employees described content intelligence as "speculative, unproven and untested" and that the data-driven advertising strategy had "significant execution risk."
In response to questions from Daniel Petrocelli, the lead attorney for AT&T and Time Warner, Stankey said AT&T needed to innovate to compete in a rapidly changing marketplace.
"The reality is people are going to have to learn new tricks," Stankey said.
Stephenson is the last in a trio of top executives from the company to testify as AT&T and Time Warner were expected to wrap up their case. Once the trial formally wraps up in the coming days, Leon is hoping to rule before the June 21 deadline the companies have set to complete the deal.
Time Warner Chief Executive Jeff Bewkes testified Wednesday, as did Stankey, chief executive of AT&T Entertainment Group, who will lead Time Warner's businesses if they are acquired by AT&T.
Stephenson, 58, has been the driving force in the deal. Bewkes testified that Stephenson reached out to him in the summer of 2016. At a "pretty long lunch," the two decided they had "complementary assets" and it made sense to merge.
Stephenson has been AT&T's chief executive since 2007. A native of Oklahoma, Stephenson started working for Southwestern Bell in 1982 while in college. He rose through the ranks of the regional telecommunications company — one of the so-called Baby Bells created in 1984 after the original AT&T was broken up in a settlement of a Justice Department antitrust suit — rising to chief operating officer.
Southwestern Bell grew into a telecom giant and acquired the restructured AT&T in 2005. The new company adopted the iconic AT&T name.
Justice Department lawyers have said that if AT&T acquired Time Warner, the company would have greater incentive to threaten to withhold Time Warner programming from other cable companies because a blackout could benefit AT&T's DirecTV unit by bringing it more customers.
The risk of a blackout would give AT&T greater leverage in programming negotiations if the deal is completed, the Justice Department said. That would lead to higher programming costs for pay-TV providers, which would be passed on to consumers, the Justice Department argued.
Competition also would be hurt because the merger would raise the risk of AT&T coordinating with Comcast Corp. to withhold content to hobble online rivals, Justice Department lawyers said.
Twitter: @JimPuzzanghera
---
UPDATES:
3:00 p.m.: This article was updated with additional testimony from Randall Stephenson.
This article originally was published at 11:50 a.m.
---
Sign up for the California Politics newsletter to get exclusive analysis from our reporters.
You may occasionally receive promotional content from the Los Angeles Times.