Disney-Fox deal wins antitrust approval; Comcast considers bidding higher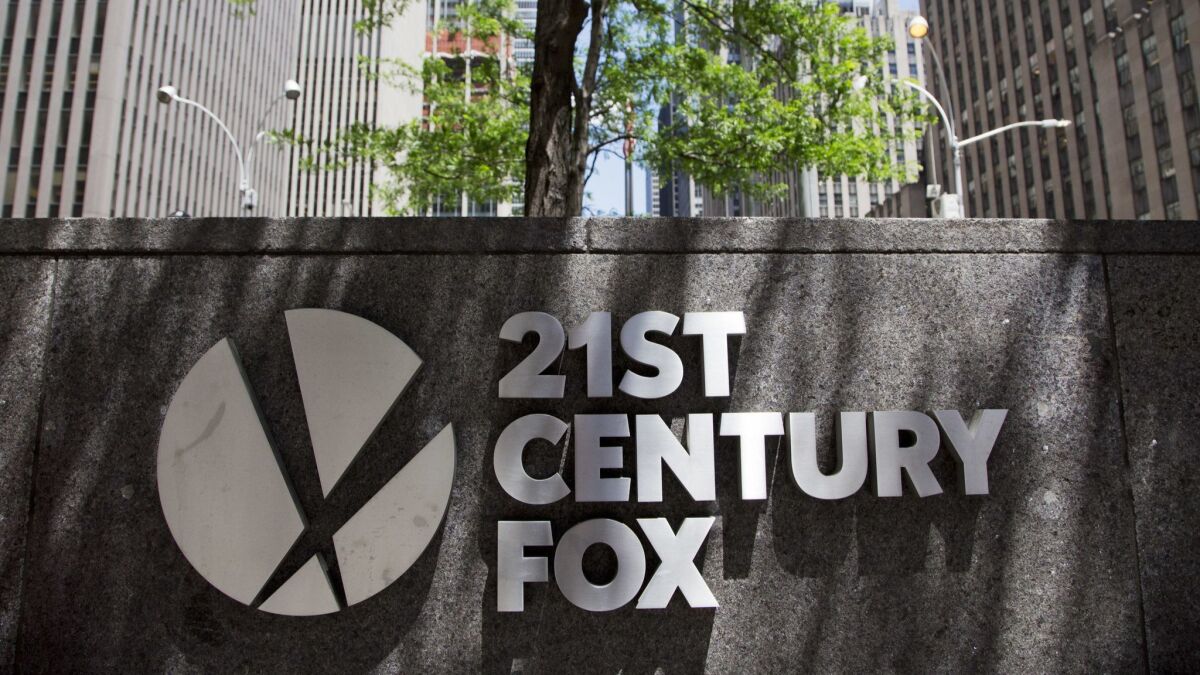 Walt Disney Co., in a major coup, secured U.S. Justice Department approval for its proposed $71.3-billion purchase of 21st Century Fox's entertainment assets after agreeing to sell 22 local sports channels, including Prime Ticket and Fox Sports West in Los Angeles.
The Justice Department's speedy approval Wednesday of Disney's proposed takeover of much of Fox deals a crushing blow to Comcast Corp., which has been struggling in its bid to buy the same businesses. Fox Chairman Rupert Murdoch has twice rebuffed Comcast, citing concerns that the Philadelphia internet service and cable TV giant might fail to win regulatory approval.
The decision brings Disney much closer to winning its prize. Acquiring the Fox assets has been a major priority for Disney CEO Bob Iger as he positions the Burbank entertainment company for the digital age.
Comcast had offered $35 a share for the Fox assets but last week Disney raised its bid to $38 a share — an increase of $10 a share from its December proposal. The Fox board accepted the higher Disney offer, but Fox shareholders still must weigh in.
"Disney obviously wanted to get through regulatory review quickly because this puts them in a much stronger position against Comcast," said Mark S. Ostrau, an attorney who specializes in antitrust law at Mountain View, Calif., firm Fenwick & West.
Disney and Comcast are competing to buy Fox's prolific movie and television studios, cable channels FX and National Geographic, its stake in Hulu and valuable international TV assets in Europe, India and Latin America. Both companies view the Fox businesses as key to expanding globally and competing against such tech giants as Google and Netflix. (Fox's broadcast network and news and sports channels are not part of the sale).
Disney had a head start. Iger had been courting Murdoch for months — acquisition talks began last summer over wine at Murdoch's vineyard above Bel-Air and heated up over the next few months. Fox agreed to sell to Disney in December and Disney applied for regulatory approval Feb. 1.
"We are pleased that the DOJ concluded that … the transaction will not harm competition, and that we were able to resolve the limited potential concerns to position us to move forward with this exciting opportunity," Disney said in a statement.
Now, Comcast Chief Executive Brian Roberts faces an even steeper uphill climb for Fox. Roberts has been confident his company would secure regulatory approval, but he can no longer argue that Disney might have a problem.
"Fox may say, 'in our business judgment, a bird in the hand is worth two in the bush,' " said George Hay, a Cornell Law School antitrust professor. "There are enough issues with the Comcast bid where Fox can respectfully say to the shareholders, we don't think it's in our interest to delay for a slightly higher offer."
A Comcast representative declined to comment.
The Wall Street Journal reported that Comcast was trying to find outside financing, perhaps from private equity firms, so that it could offer as much as $90 billion for the Fox assets.
Comcast could face further blowback from shareholders if it chooses to increase its bid. Comcast stock has dropped nearly 20% this year.
"It's certainly not good news for Comcast, but the dance is not yet over," Ostrau said. "Comcast definitely has to raise the bid because they have to be a compelling alternative even with the additional regulatory risk factored in."
When the company tried to buy Time Warner Cable in 2015, regulators refused to approve the deal because Comcast is the nation's largest internet service provider in addition to owning NBCUniversal. Others have faced roadblocks too. This spring, the Justice Department tried unsuccessfully to block AT&T's takeover of Time Warner Inc.
Comcast and AT&T are both distributors but Disney doesn't have such entanglements.
To gain regulatory approval, Disney made a concession by agreeing to divest Fox's chain of regional sports networks, including its crown jewel YES, which televises New York Yankees games. The two L.A.-based local Fox sports channels televise Clippers, Kings, Angels and Anaheim Ducks games.
Disney already owns 80% of the national ESPN network and owning regional sports channels in such markets as Los Angeles, San Diego, Phoenix, Dallas, Detroit and New York would give the company too much clout in television sports, the Justice Department said in a legal filing.
"Today's settlement will ensure that sports programming competition is preserved in the local markets where Disney and Fox compete for cable and satellite distribution," Justice Department antitrust chief Makan Delrahim said in a statement.
Analysts were not surprised by the divestiture of the sports channels.
"Everybody identified the sports networks as the main area of overlap," Hay said. "Sports is unique. There's not a lot of sports out there, and ESPN has a lot of control."
Selling the regional sports networks probably will create a new market as private equity firms or other media companies — such as Comcast, AT&T Inc. or Charter Communications — look to scoop up the channels that analyst Michael Nathanson valued at nearly $19 billion.
Fox shares on Wednesday jumped 2.4%, or $1.12, to $48.80 — another all time high. Disney shares slipped 30 cents, or less than 1%, to $103.96. Comcast shares fell 1.5%, or 49 cents, to $32.29.
The Justice Department's review, which took five months, was unusually swift. For example, the department spent 11 months scrutinizing AT&T's proposed purchase of Time Warner, before suing to block it. The government lost its case, clearing the way for AT&T to acquire Time Warner on June 14.
"I don't think the DOJ has been spooked by the AT&T-Time Warner" court defeat, said antitrust attorney Scott Martin, with the Hausfeld law firm in New York. "This one was quick, but I think the department is more accustomed to reviewing media mergers. And the DOJ staff is focused on the deals that they feel are problematic."
Those deals, according to Martin, are combinations of programmers and distributors. President Trump made clear that he was opposed to the AT&T-Time Warner combination. In contrast, Trump called Murdoch, a personal friend, last December to congratulate him on striking the deal with Iger.
Still, some analysts anticipated a Disney-Fox combination might also draw scrutiny because Disney would become the controlling shareholder of online streaming service Hulu, with a 60% stake.
In addition, Disney and Fox this year control more than 40% of the domestic movie box office, dwarfing such film studio rivals as Universal Pictures (owned by Comcast), Paramount Pictures (owned by Viacom) and Sony Pictures Entertainment.
Consolidating two film and television studios, while important in Hollywood, may not have concerned regulators because tech giants such as Netflix and Amazon are creating more competition, Ostrau said.
"There's plenty of competition for content, and content is growing," he said.
---
UPDATES:
5:05 p.m. This article was updated with analysts' reaction to the Justice Department agreement.
10:40 a.m.: This article was updated with statements from the Justice Department and Disney.
9:40 a.m.: This article was updated with news of the antitrust approval.
This article was originally published at 9:15 a.m.
Sign up for the California Politics newsletter to get exclusive analysis from our reporters.
You may occasionally receive promotional content from the Los Angeles Times.