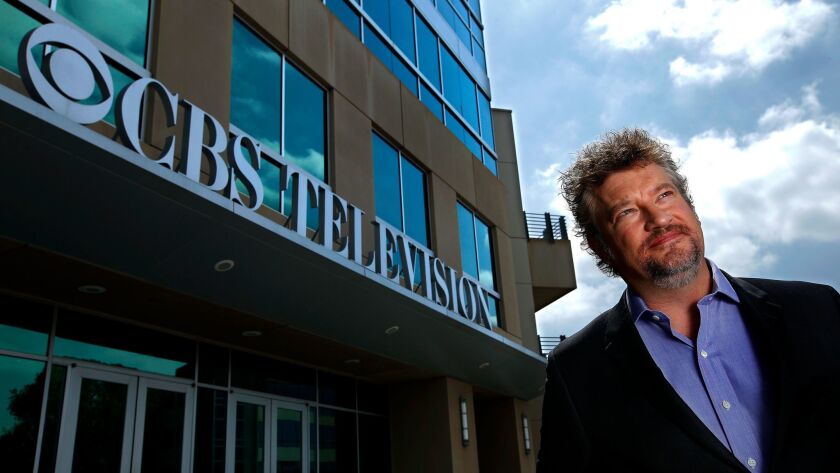 The gig: As president of CBS Entertainment, Kelly Kahl, 50, oversees all aspects of the television network's entertainment division, including programming, scheduling, marketing and promotion, digital initiatives and research. He also sits on the board of the CBS-owned cable channel Pop.
---
The early years
Kahl's skills as a network TV scheduler were developed during his years growing up in Burlington, Wis., where he spent Saturday mornings watching cartoons. Every year he would study the new line-up before it went on the air. "I would notice that 'Super Friends' went from 8:30 to 9 and I would wonder 'why would they do something like that?'" he recalled. "I had a natural fascination for why shows came and why shows left."
He learned the cruel outcome of low ratings when his favorite show, a Mel Brooks-created ABC sitcom called "When Things Were Rotten," was pulled from the air after 13 weeks. He watched the subversive show in another room while his father, an industrial arts teacher, and mother, who raises prize-winning basset hounds, were tuned into "Tony Orlando and Dawn." "I thought it was the greatest show ever," he said. "When it was canceled, I was crushed."
'My TV dad'
After graduating from the University of Wisconsin with a communications degree, Kahl headed to Los Angeles to get his master's degree at USC's Annenberg School for Communication and Journalism. ("When you're in the middle of Wisconsin there is no sense you're going to succeed in the TV business.") He snared an internship at Lorimar, the production company that made such network hits as "Dallas." The company was in the middle of a leadership shake-up when he got there. "There was a lot of intrigue around the halls," he said.
When the dust cleared, Leslie Moonves became the new head of Lorimar, and Kahl began working for the boss he has had for virtually his entire career in the TV business. "I usually say he's my 'TV dad' because that's what it feels like," Kahl said.
When you're in the middle of Wisconsin there is no sense you're going to succeed in the TV business."

— Kelly Kahl, president of CBS Entertainment
House of hits
Lorimar was absorbed by Warner Bros. Television, which under the leadership of Moonves generated two TV mega-hits, "Friends" and "ER." Kahl rose to head of research at the studio and had the happy job of analyzing the massive audience for the shows that were part of NBC's vaunted "Must See TV" line-up in the 1990s. "You'd come in each Friday morning through that first season and you'd wonder how high the ratings could go," he recalled.
Kahl also ran focus groups where he learned how people looked to TV as a respite from their daily lives. "I still maintain that a vast majority of the audience works an 8- or 10-hour day, they come home, they eat dinner, they want to sit on their couch and put their feet up and really just be entertained," he said.
More success stories from How I Made It »
Eye work
Kahl moved to CBS shortly after Moonves arrived at the networks as entertainment president in 1995. While Moonves replenished CBS with new hits such as "Everybody Loves Raymond," "Survivor," "CSI" and "NCIS," Kahl scheduled them in a way to maximize their ratings performance without disrupting viewer habits. "Consistency has been a big part of our success," Kahl said. "We'd try not to move a show unless there is a compelling reason to do so."
Happy hours
Kahl is a partner in Underground Pub & Grill, a Hermosa Beach establishment that brings him in closer contact to the public than most entertainment executives get. "Customer service is key," he said. "When you see your customers sitting there, you better go out of your way to make them happy."
That mindset is what led him in 2009 to initiate texts and social media to alert viewers when Sunday show start times were delayed by sports coverage that ran late. The move was especially appreciated by his wife, Kim, who once oversaw the publicity for the prestigious CBS Sunday drama "The Good Wife."
Stepping up
After setting prime-time schedules that have been No. 1 in the ratings during more than half of his tenure at CBS, Kahl was asked in May to lead the entertainment division. He said yes, even though the job comes with greater risk than his previous post. Network scheduling executives rarely get blamed for shows that fail. "When you take this job you know the clock starts ticking," he said. "But it was too good an opportunity to turn down — to have a chance to make a bigger and a different imprint."
Brew crew
Even as he has risen in the executives ranks, Kahl said he never tires of talking TV with enthusiastic viewers, including his childhood hero Gorman Thomas, the gritty Milwaukee Brewers center fielder of the 1970s and '80s. Kahl got an introduction through his high school baseball coach who worked for the team.
"I was nervous about meeting him and it turns out he was nervous about meeting me because all he wanted to talk about was his favorite show 'NCIS,'" Kahl said. "He was mad that Cote de Pablo had left the show and wondered why I could not fix that."
Kahl also had the rare opportunity to participate in the race of sausage mascots held at every Brewers game in Miller Park. He finished second. "I was a bratwurst," he recalled. "It was appropriate with my German heritage."
Already a subscriber? Thank you for your support. If you are not, please consider subscribing today. Get full access to our signature journalism for just 99 cents for the first four weeks.
---