Jeffrey Katzenberg and Meg Whitman say video venture Quibi is in a category of its own
On the day that Meg Whitman announced she would step down as chief executive of Hewlett Packard Enterprise in 2017, she got a call from studio mogul Jeffrey Katzenberg.
He asked what she was doing that night. She guessed correctly that she would be having dinner with him. Katzenberg got on a plane to the San Francisco Bay Area, and that began what would lead to Quibi, a Hollywood start-up that stands for "quick bites" of video.
The company aims to tell two- to 2½-hour stories in small chapters of seven to 10 minutes each. Quibi has raised $1 billion and could raise half a million more in the fall or next spring, said Whitman, who serves as CEO. The service, which will start at $4.99 a month with ads, will launch April 6 of next year.
"We're trying to bring the very best of Silicon Valley and Hollywood together," Whitman said at the Producers Guild of America's Produced By Conference in Burbank on Saturday.
The company has partnered with major studios and directors, paying up to $6 million an hour, Katzenberg said. He revealed that Quibi paid out $15 million for a project involving director Antoine Fuqua, who will make a 2½-hour show in short chapters.
The company is not without significant challenges in a sea of streaming options that battle for consumers' attention and dollars. Disney and Apple will launch streaming subscription services this year. Meanwhile, YouTube is continuing to add to its free, ad-supported content with its own original productions.
But Quibi executives said they don't see themselves directly competing with Netflix or YouTube. Katzenberg said Quibi is giving creatives a much bigger budget than what some YouTube creators are working with. Quibi executives said they are building content specifically for the mobile phone, whereas many users of streaming services such as Netflix watch content on larger screens.
Whitman said people watch about 60 minutes a day of video on mobile phones. She envisions people watching Quibi videos while they are on the go, such as while waiting in line at Starbucks. The target demographic is people 25 to 35 years old, but the range could be widened to 18 to 44, she said.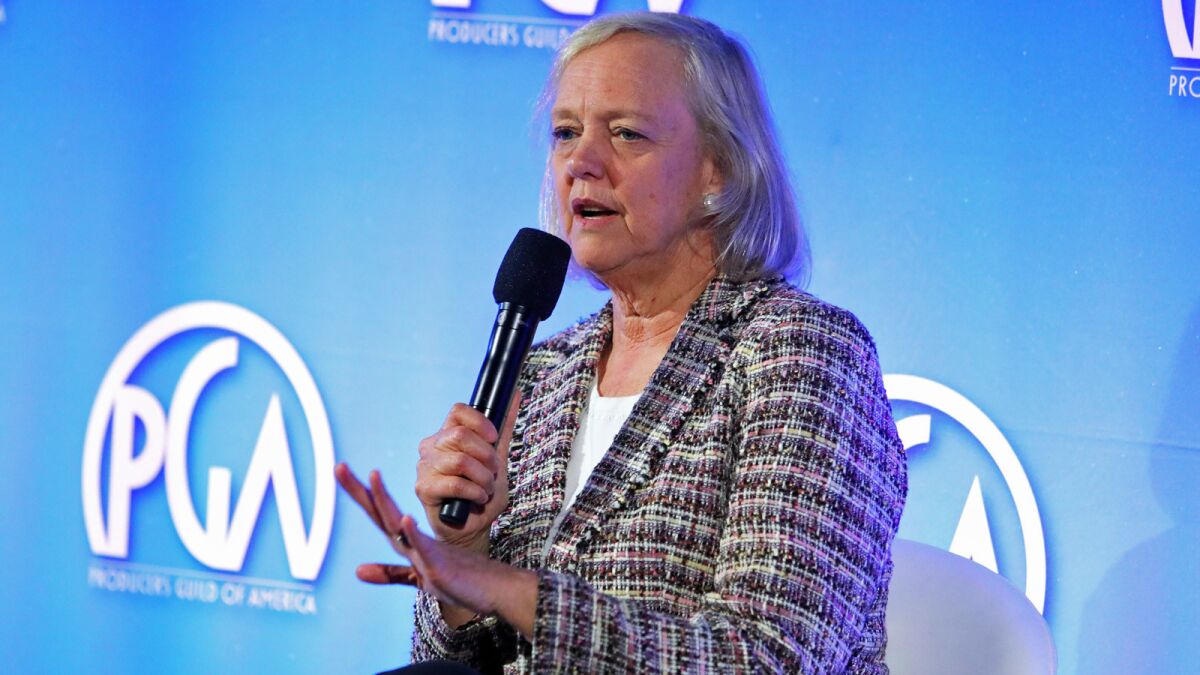 "This is on-the-go viewing," Whitman said. "Every morning you leave with a television in your pocket."
Jason E. Squire, professor at the USC School of Cinematic Arts, says the focus on mobile viewing makes Quibi unique to its competitors, calling it a "daring, revolutionary approach to the streaming Olympics."
"This is consistent with the habits of the core demographic that uses smartphones as their primary entertainment hub in that they tend to visit briefly when they are messaging, when they are shopping and when they are on the go," Squire said in an interview earlier this year.
Indeed, more American adults are spending more time on their mobile devices than with traditional TVs, according to a forecast by research firm EMarketer. The firm said this year is the tipping point, pushed by the increasing amount of shows and movies available on streaming services.
Quibi says that unlike many other platforms, it has a generous policy when it comes to the intellectual property surrounding its content. The company has an exclusive seven-year license to the short-form content it pays for and does not own the content after that, Katzenberg has said. After two years, creators can take that content, put it in a longer form and shop those shows elsewhere, Quibi has said.
The company believes most of its customers will choose its $4.99-a-month subscription plan with ads, but it will also sell a $7.99 monthly subscription without ads. Pre-roll ads could be six, 10 or 15 seconds long before Quibi videos start. Using Quibi's technology, brands will be able to tell a 60-second video story in six 10-second segments, and Quibi users will be able to seamlessly follow that ad's stories before the videos they choose, Whitman said.
Whitman has had a long career in tech in the Bay Area, leading companies including HP and EBay. But she said Quibi made the decision to build its engineering team in Southern California to be closer to Hollywood's creative community.
"They are coming up with things that never would have happened if they were not next door to each other," Whitman said.
But there is a much smaller pool of Android engineers here. When Whitman did a search on LinkedIn for Android developers in the Greater Los Angeles area with at least three years of experience, she turned up just 257 people. In Northern California, the group numbered about 20,000.
Quibi has 135 employees. "There's enough to get us started here," Whitman said.
Our six-week newsletter will help you make the right decision for you and your property.
You may occasionally receive promotional content from the Los Angeles Times.