CVS and Aetna stocks slide on news of merger deal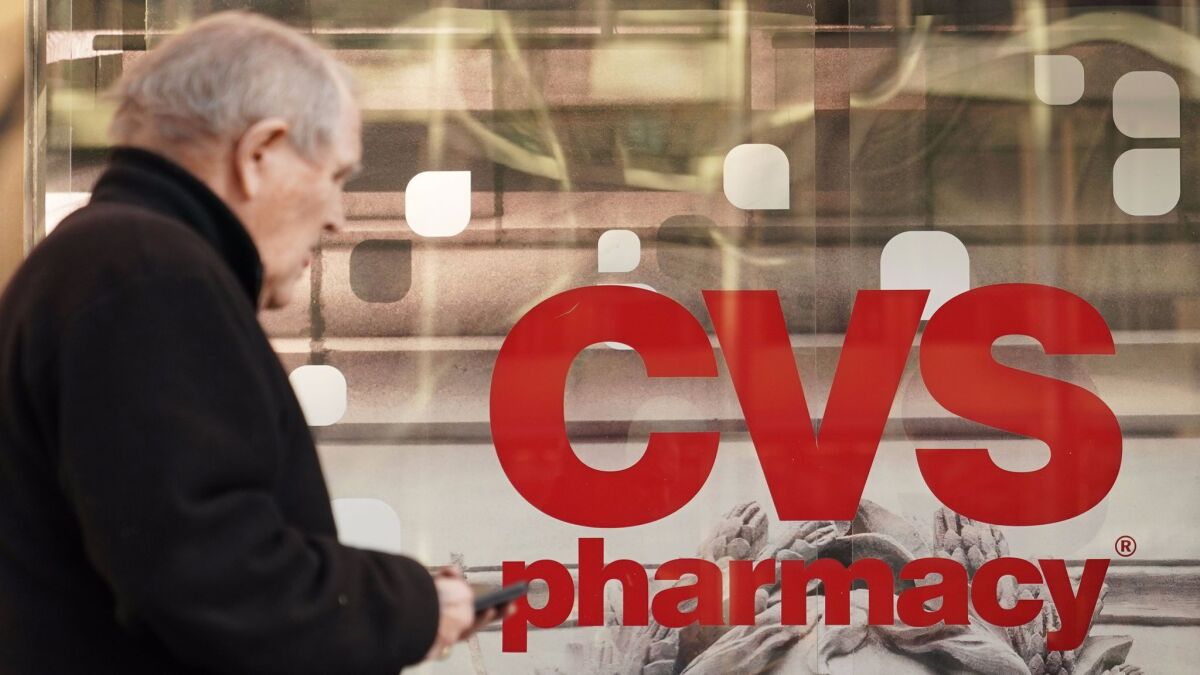 CVS Health Corp. shares dropped Monday as investors expressed uncertainty about the pharmacy giant's $69-billion deal to acquire health insurer Aetna Inc.
CVS stock was down 4.9% at $71.45 around 9:45 a.m. PST. Meanwhile, shares of Aetna were down 0.5% at $180.40 after an early-morning jump.
The deal would combine the 9,700 drugstores and more than 1,000 walk-in health clinics operated by Woonsocket, R.I.-based CVS with Aetna's 22 million medical members. It's the latest example of the increasing consolidation of the healthcare industry and, in CVS' case, a way to help fend off the potential threat posed by Amazon.com Inc., which is looking to move into the pharmaceuticals business.
CVS Chief Executive Larry Merlo described the deal as a "natural evolution" of the two companies and said CVS and Aetna have been "close partners" for most of the last decade, since CVS signed a strategic agreement to provide pharmacy benefits to Aetna members.
"Through our integrated healthcare management and delivery platform, we will be able to better coordinate care, eliminate waste and unnecessary spending and drive efficiencies throughout the entire healthcare system," he said during a call with analysts Monday morning.
Merlo said the combined company would be better equipped to go after more government business in Medicare and Medicaid. Aetna CEO Mark Bertolini later expanded on Merlo's comments, saying the deal could help patients navigate the system and lower out-of-pocket costs.
"I think really people are confused," he said. "They're wandering through the system, multiple doctors, multiple medications."
The deal still needs approval from shareholders and from federal antitrust regulators. Earlier this year, Aetna dropped a $34-billion bid for rival insurer Humana after a federal judge blocked the deal on antitrust grounds.
At least one analyst said the CVS-Aetna merger should have a better chance of getting through because the two companies' businesses have little overlap.
"We also believe that the Trump administration is more business-friendly" and that regulators may view a CVS-Aetna deal "as a way to continue to put pressure on manufacturers and drug prices," David Larsen, an analyst at Leerink Partners, said in a recent note.
Still, the Justice Department recently sued to block AT&T Inc.'s plan to buy Time Warner Inc., which, like CVS and Aetna, would be a "vertical" combination because the firms are in largely different businesses.
The CVS-Aetna deal is expected to close in the second half of 2018.
Under the terms of the deal, Aetna would continue to be run by its existing management team and would operate as a standalone business in the combined company. Bertolini and two other Aetna directors would join CVS' board of directors.
Staff writer James F. Peltz contributed to this report.
Twitter: @smasunaga
---
UPDATES:
9:55 a.m.: This article was updated with details from an analysts' call about the deal, and with updated stock prices.
This article was originally published at 7 a.m.
---
Sign up for the California Politics newsletter to get exclusive analysis from our reporters.
You may occasionally receive promotional content from the Los Angeles Times.