With Delta relocation at LAX, airline's CEO hopes to win over more Los Angeles fliers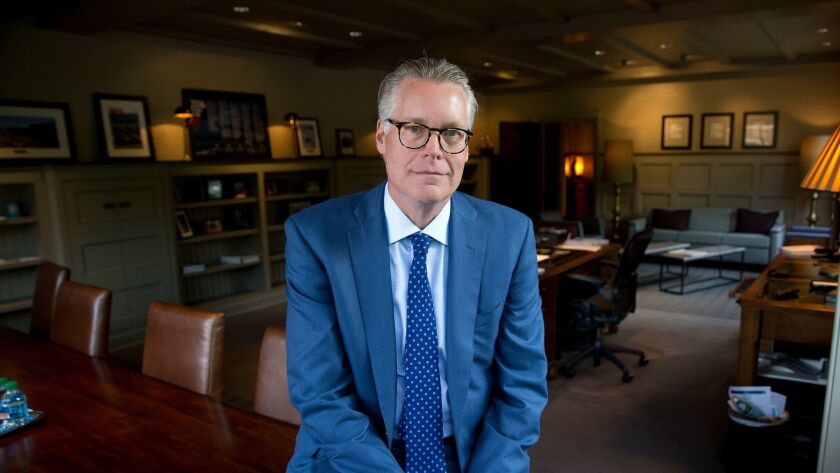 Two weeks before Delta Air Lines launches what may be the biggest relocation operation in airport history, Chief Executive Edward Bastian flew into Los Angeles to discuss the competition, President Trump's travel ban and how far his company has come 10 years after emerging from bankruptcy.
Given that airlines are now under heavy public-opinion fire following several recent high-profile incidents, this may seem like a bad time to start a potentially chaos-inducing round of musical chairs, only using terminal gates at Los Angeles International Airport. But Bastian said the jump from one side of the airport to the other is part of the carrier's plan to serve travelers better.
From May 12 until May 17, Delta will be moving its LAX operations from Terminals 5 and 6 to Terminals 2 and 3, forcing 19 other carriers to relocate. The move will put Delta closer to the Tom Bradley International Terminal and its partner airlines while giving Delta room to nearly double its number of gates at LAX.
To minimize confusion among fliers, Delta will beef up staffing to direct confused passengers during the five-day move and has spread the word about the switch among Uber and Lyft drivers. Anyone who asks for directions to LAX on the Waze traffic app will even get a notice from Delta about the move.
Not trying to be the biggest
Delta is the second-busiest airline at LAX, carrying nearly 17% of all fliers. It's behind American Airlines, which carried about 19% of all fliers in 2016.
By making the move, the Atlanta-based carrier will immediately increase from 16 gates at its current location to 23 gates, and will have the space to eventually expand to a total of 30 gates. Delta is investing $1.9 billion over the next four years to upgrade its two new terminals — including the $60-million cost of moving the other carriers.
Still, Bastian said his goal is not to overtake American as the largest carrier at LAX. Instead, he said the extra terminal space means less congestion and confusion for travelers at the gates. Now, each Delta gate is used for 10 separate flights a day, leading to crowding.
"We don't believe in being the largest for the sake of size," Bastian said.
Investing in Aeromexico
Delta sees Los Angeles as the prime gateway for travel between the United States and Mexico. That explains why Delta has purchased 49% of Mexico City-based Grupo Aeromexico, the parent company of the Mexican flagship carrier Aeromexico. Delta also has signed a partnership with Aeromexico to share flight reservations and eventually cooperate on cross-border flights.
The move at LAX will put Delta in Terminal 2 alongside Aeromexico, making it easier for passengers from the two carriers to catch connecting flights.
Tourism officials worry that travel from Mexico and the Middle East will be hurt by President Trump's proposals to build a wall along the southern U.S. border and to temporarily halt travel from several Persian Gulf nations.
Bastian said he has been closely monitoring the potential effect of Trump's policies, but so far, "I have not seen a material change" in booking numbers at Delta.
The carrier also signed a partnership this year with Korean Air to share costs and revenues on flights across the Pacific.
The United passenger-dragging fiasco
The forced removal of a passenger from a sold-out United Airlines flight earlier this month has become an embarrassing chapter for the industry. United and the injured passenger, Dr. David Dao, reached a settlement without disclosing the terms.
Bastian said Delta has largely avoided such ugly scenes by giving gate workers the authority to negotiate with passengers when the airline needs fliers to give up seats on an oversold flight. In some cases, supervisors at the gate have the authority to offer a free iPad to get a flier to give up a seat, he said.
About six years ago, Bastian said, Delta launched a program that notified passengers at airport kiosks and through the Delta app if they were about to board a flight that was likely to be overbooked. The fliers are also asked how much they would accept in compensation to give up their seat in the case of an overbooked flight. To free up seats, Bastian said, Delta simply picks the passenger who is willing to take the least to be bumped.
"It's a private auction," he said. "Everyone is happy."
The numbers seem to show it works.
In 2016, one passenger for every 100,000 fliers was involuntarily bumped from Delta flights, the second lowest rate among the nation's biggest carriers, behind only Hawaiian Airlines, according to data from the U.S. Department of Transportation.
By contrast, Delta reported a ratio of bumping 25 passengers for every 100,000 fliers in 2007, the year the carrier emerged from bankruptcy, federal data show.
Still, Delta is facing criticism after a passenger was removed from a flight leaving Atlanta April 18 because he used the restroom against instructions from the flight crew. The incident was caught on video.
A decade after emerging from bankruptcy
When the carrier filed for bankruptcy in 2005, it employed 60,000 workers, operated nearly 530 planes and carried about 124 million passengers a year.
April 30 marks the 10th anniversary of the date Delta emerged from bankruptcy. The carrier now operates a fleet of more than 800 planes, employs about 80,000 workers and carried 180 million passengers last year.
Delta reported about $4 billion in net income last year, more than any other U.S. airline.
Bastian said competition among the major airlines is intense, but he believes passengers choose Delta over its rivals because of its customer service, not its amenities.
"Our revenues suggest we are doing fine on that," he said.
Already a subscriber? Thank you for your support. If you are not, please consider subscribing today. Get full access to our signature journalism for just 99 cents for the first four weeks.
For more travel and tourism news, follow @hugomartin on Twitter.
---
Must-read stories from the L.A. Times
Get the day's top news with our Today's Headlines newsletter, sent every weekday morning.
You may occasionally receive promotional content from the Los Angeles Times.