Education Secretary Betsy DeVos suspends new rules cracking down on abuses by for-profit colleges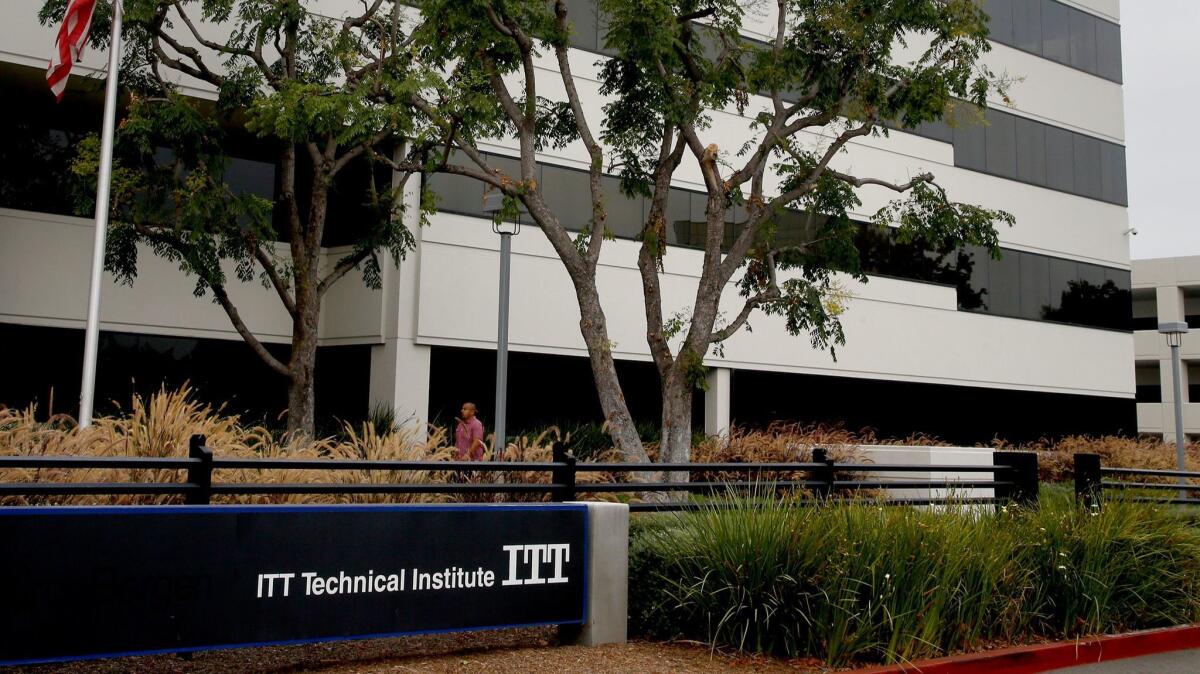 Reporting from Washington —
As Corinthian Colleges Inc., ITT Technical Institute and other for-profit schools collapsed in recent years, the Obama administration overhauled regulations to make it easier to forgive loans for stranded students and to try to prevent future abuses.
Now, the Trump administration is suspending those rules, which had been set to go into effect July 1. The Department of Education, under Secretary Betsy DeVos, also is launching an effort to rewrite the rules.
Both moves drew criticism from Democrats and student advocates.
For Claudia Chacon, 25, of Los Angeles, a former student at Corinthian's Everest College, the decision could lead to more difficulties in her attempt to get loan relief.
"It's been very frustrating for me because I can't get a straight answer," she said of her experience since applying to the Education Department about a year ago under the existing rules, which were scheduled to be streamlined. "We're still expected to pay for something that … is not usable."
Chacon took out $17,000 in loans to attend an eight-month medical administrative assistant program at Everest College on Wilshire Boulevard in Los Angeles. She completed the program in 2012. But when she later tried to enroll in general education classes at Santa Monica College, she was told that her Everest transcripts were invalid because the campus had closed.
DeVos said Wednesday that it was "time for a regulatory reset" on what she called "a muddled process that's unfair to students and schools and puts taxpayers on the hook for significant costs."
"Fraud, especially fraud committed by a school, is simply unacceptable," she said. "Unfortunately, last year's rulemaking effort missed an opportunity to get it right."
The Education Department indefinitely postponed rules — known as borrower defense to repayment — that would have made it easier for students to have loans forgiven if they were defrauded or deceived.
And the department halted implementation of a key part of a new gainful-employment rule that would limit the amount of debt that students at career-training schools — for-profit and not-for-profit — can take out relative to the incomes they can expect to earn. Schools that exceed the limits risk losing their ability to offer federal student aid.
The changes came as critics complained that for-profit colleges, which expanded aggressively starting in 2000, over-promised their ability to give graduates the skills that would land good jobs. Those students, often minorities or those with low incomes, in many cases were loaded up with federally backed and private student loans.
Corinthian Colleges filed for bankruptcy in 2015 after the Education Department restricted its access to federal student aid amid concerns that the company was falsifying job placement rates for graduates. The same fate befell ITT Educational Services Inc. last year.
DeVos said she planned to hold public hearings next month in Washington and Dallas as part of the effort to rewrite the rules.
The Education Department said it intends to process nearly 16,000 pending student loan relief claims under the existing rules.
"Some borrowers should expect to obtain discharges within the next several weeks," DeVos said.
The for-profit college industry had strongly opposed the new rules. Last month, the California Assn. of Private Postsecondary Schools filed suit in federal court in Washington, D.C., to block the borrower defense rules from going into effect.
DeVos cited that suit as a reason for postponing those rules.
Steve Gunderson, president of the Career Education Colleges and Universities, an industry trade group, commended Education Department officials "for moving forward to begin conversations that will really protect students from academic fraud. Our sector has consistently supported this premise."
He said Obama administration officials had conducted an "ideological assault on our sector's very existence."
The Trump administration is much friendlier to the industry.
President Trump ran a for-profit school, the now-defunct Trump University, for which he paid $25 million to settle a class-action suit that alleged fraud. And DeVos is an advocate of for-profit schools; her government ethics forms showed she has investments in companies connected to the industry, according to the Center for American Progress, a liberal think tank.
Pauline Abernathy, executive vice president of the Institute for College Access & Success, which advocates to make higher education more affordable, blasted the Trump administration's actions as "terrible news for students, taxpayers, and anyone concerned about rising student debt."
California Atty. Gen. Xavier Becerra, a Democrat, had joined the attorneys general of seven other states and the District of Columbia in filing a motion to intervene in the Washington suit in order to keep the rules from being blocked.
"No student should have to worry about predatory schools destroying his or her future," Becerra said Wednesday. "These new rules would help to protect them."
Democratic lawmakers also criticized the Education Department's move. In March, Sens. Elizabeth Warren (D-Mass.) and Bernie Sanders (I-Vt.) and 10 Senate Democrats asked DeVos to explain an earlier delay in deadlines for schools to appeal debt-to-earning rates set in January.
Those deadlines, in March and April, had been moved to July 1.
Now the Education Department plans to review the rules, which it said are "overly burdensome and confusing" for schools.
Under the Obama-era regulations, a school's program would get a passing rating if the estimated annual loan payment of a typical graduate did not exceed 20% of the student's discretionary income or 8% of total earnings. Programs that exceed these levels would risk losing their ability to participate in federal student aid programs.
The Education Department said in January that 1,239 of the 8,700 programs received warnings because annual loan payments were as high as 30% of discretionary income or between 8% and 12% of total earnings. Four straight years of warnings would make students in the programs ineligible for federal aid.
More than 800 programs received a failing grade by having annual loan payments greater than 30% of discretionary income or 12% of total earnings. Although for-profit schools had about 66% of the programs, they accounted for about 98% of those with failing rates, the Education Department said.
Programs would lose the ability to participate in federal student aid programs if they failed two years in a row.
Twitter: @JimPuzzanghera
Puzzanghera reported from Washington and Masunaga from Los Angeles.
---
UPDATES:
5:10 a.m.: This article was updated with a headline clarifying that the rules being suspended are new ones set to go into effect on July 1.
This article was originally published on June 15 at at 4:15 p.m.