Digital media is driving job growth in L.A region, report finds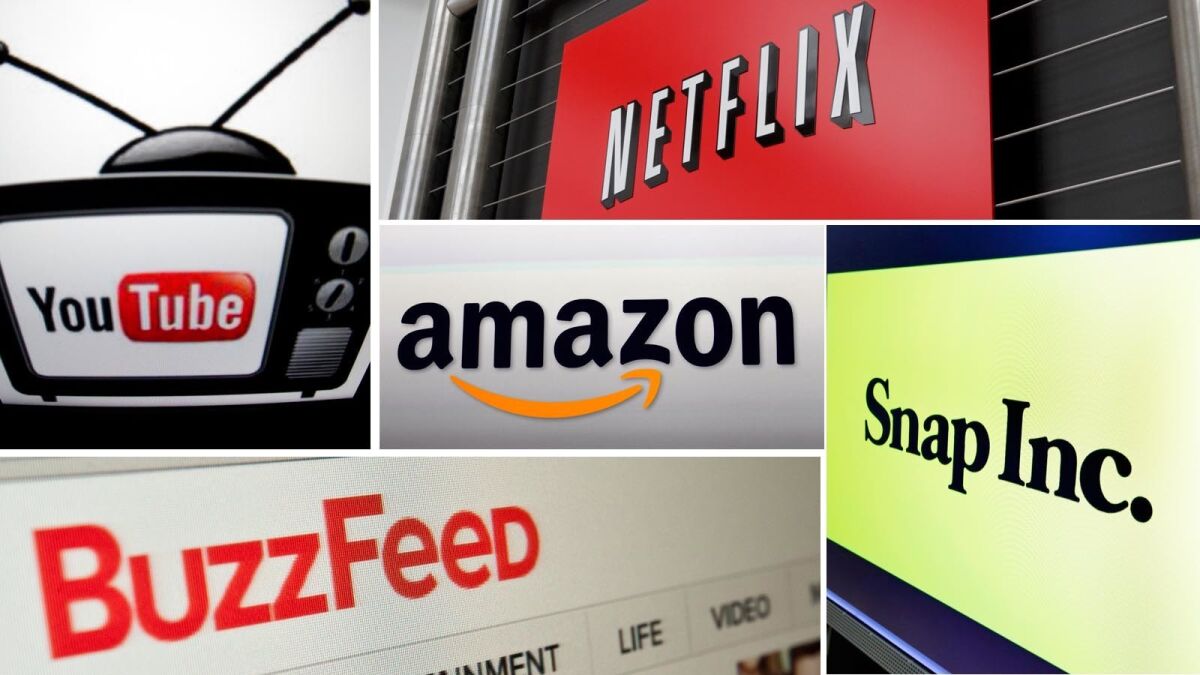 The rise of digital media is powering job growth in the entertainment industry throughout Los Angeles and Orange counties, according to a new report.
The digital media industry accounted for 206,880 jobs in the two counties in 2016, a 12% increase since 2006, according to the report by a coalition of industry groups including the Los Angeles County Economic Development Corp., the Los Angeles Area Chamber of Commerce and a consortium of community colleges.
The study is billed as the first comprehensive look at the fast-growing digital sector in Southern California and aims to help community colleges better train students and direct them to jobs with the most growth.
"We know that digital media is on the rise in Los Angeles," said Chris Rico, LAEDC's director of innovation and the digital media industry cluster development. "People can see it. Everybody has access to content in their hands 24 hours a day, which has created a massive proliferation of content, and L.A. is where people come to create content."
The report's authors used an expansive definition of digital media to encompass a large swath of jobs across multiple industries, including online publishers such as BuzzFeed, streaming companies like Netlifx, social media companies such as Snap Inc. as well as the digital media divisions of legacy film and TV studios and newspapers.
It predicts that digital media will see a 7% increase in jobs over the next five years.
Much of the growth is being fueled by streaming companies like Amazon and Netflix, which have large and expanding operations in Los Angeles County, Rico said. Netflix, for instance, expanded its Hollywood presence with a new office building lease last year. Apple Inc. is also diving into streaming services and opened a film studio in Culver City in January.
Another contributor is the rise of Youtube celebrities, he said. With thousands of internet stars, all with their own brands, there's a higher demand for managers, agents and publicists who work locally.
Many of the new digital jobs don't require a four-year degree and pay higher wages than the median hourly wage in L.A. and Orange counties, creating an opportunity for underserved communities to enter the entertainment business, Rico added.
In 2016, employees in entertainment earned on average $113,720 and employees in digital media earned on average $116,820, compared with the regional average, $59,890, according to the report.
The report divided digital media jobs into four categories — distribution, publishing, professional business services, and those that overlapped with entertainment — and relied on data from the Bureau of Labor Statistics and the Census Bureau.
Of those categories, the jobs in distribution fields — such as those with streaming services like Netflix and Amazon Studios — show the most promise, with a 20% projected growth rate over the next five years. That compares with a 0.2% growth rate in the traditional entertainment industry, which is grappling with digital disruption that has caused fewer people watch TV and go to the movies.
Over the next five years, digital media jobs in the publishing field, such as video game companies and online news, will grow by 15%. Jobs in the professional and business service related fields, like advertising agencies and market research organizations, will grow by 7%.
Jobs for audio and video equipment technicians, producers, directors and film and video editors will be among those most in demand, said Shannon Sedgwick, a senior economist at LAEDC.
Digital media has helped to boost overall growth in the entertainment industry in the L.A. basin, which saw a 20% growth in payroll jobs in the last decade. Currently, the sector accounts for nearly 30% of the 306,550 entertainment jobs in the two counties. The overall entertainment industry in the region had an output of about $89 billion in 2016.
Traditional media companies have had to compete by acquiring digital media companies or start their own divisions focused on digital content, Sedgwick said. Meanwhile, digital media companies want to expand their market share by venturing into traditional TV and film.
In 2014, Dreamworks acquired AwesomenessTV for $117 million. Last year, Disney acquired a controlling stake in the streaming service Hulu. Meanwhile, Buzzfeed has created a "Motion Pictures" department.
"Digital media has been disruptive in the entertainment industry," Sedgwick said. "It's been forcing them to change their business models."
Increasingly, there's a "blurring of the lines between the two industries and both are trying to maintain market share," she added.
alejandra.reyesvelarde@latimes.com
Twitter: @r_valejandra
---
Sign up for the California Politics newsletter to get exclusive analysis from our reporters.
You may occasionally receive promotional content from the Los Angeles Times.