Santa Barbara tourism officials wrestle with promoting the region after disaster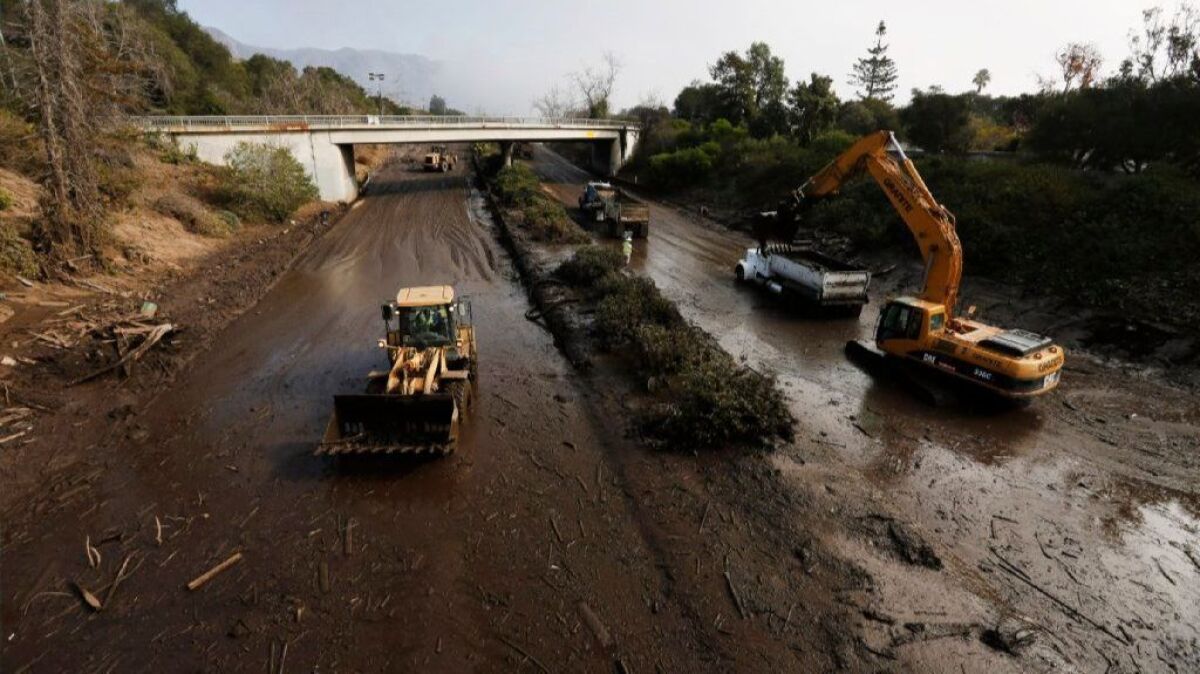 When the state's biggest wildfire ignited in Ventura County and was followed by horrific mudslides in Montecito, tourism leaders in the region were forced to delay and retool efforts to promote the picturesque communities.
After all, how do you encourage tourists to shop, relax in the sun and sip wine after a tragic disaster that killed 21 people and destroyed hundreds of homes?
It's a difficult proposition in California, which boasts a $126-billion tourism industry but also has a history of calamities such as droughts, earthquakes, fires and mudslides.
That was particularly tricky during the dual disasters that hit Southern California in December and January. Tourism officials first stopped promoting the region altogether and later relaunched their efforts but targeted a new audience that's more likely to visit the region.
"In a crisis like this, often the imagery is more damaging to the tourism industry than the actual event," said Caroline Beteta, president of Visit California, the nonprofit marketing agency for the state.
Even before crews had extinguished the Thomas fire, which burned nearly 282,000 acres in Ventura and Santa Barbara counties, tourism officials in the southern end of Santa Barbara County were planning a multi-pronged marketing campaign to encourage visitors to shop, eat and drink in places such as tony Santa Barbara or quaint, two-exit Summerland.
The campaign was to include ads on social media and magazines.
But the mudslides that struck Montecito in early January, closing Highway 101 for nearly two weeks, forced tourism officials to pull the plug on the plan.
"Out of concern for our community, everything had to be paused while search and rescue operations were taking place," said Kathy Janega-Dykes, president of Visit Santa Barbara, the tourism marketing agency for the southern region of Santa Barbara County.
Ventura County tourism officials also delayed their promotional campaign.
"We definitely paused all of our paid media," said Brian Tucker, executive director of Ventura County Coast, a tourism marketing group for Ventura, Oxnard, Camarillo and Port Hueneme
Instead, tourism officials used their websites to pass along emergency information about road closures and other changes.
The fire and mudslides took a heavy toll on businesses in the region, especially during the Christmas holiday, a peak tourism time.
An exact calculation of the loss in tourism spending has yet to be calculated, but the city of Santa Barbara alone reported collecting $844,000 in transient occupancy tax from hotels and short-term rentals for the month of December, a 26.8% drop from the same period in 2016.
Restaurants were particularly affected, suffering sales declines of as much as 50% during the fires.
The town of Buellton in the Santa Ynez Valley was untouched by the Thomas fire, except for several days of smoke-tinged air. Still, the normally popular Hitching Post II restaurant and winery reported a drop in business of about 25% during the fire and 30% after the freeway closure.
"It's incredible how close you can be to a disaster and still have paradise," said Frank Ostini, owner of the eatery made popular by the 2004 movie "Sideways."
Restaurant, hotel and shop owners near the fires and mudslides worried that images of the disasters on television and social media might give the impression that the entire region — from Ventura to Santa Barbara County — was closed to visitors.
The disasters made national news and even pushed their way into entertainment coverage because the mansions of the rich and famous were put in peril.
Talk show host Ellen DeGeneres, a Montecito homeowner, invited her celebrity neighbor Oprah Winfrey on her daytime show to talk about the mudslides that threatened their homes.
Visit California estimates that the Highway 101 closure that cut off Santa Barbara from its southern neighbors cost Santa Barbara County about $13 million in visitor spending during the nearly two-week shutdown, or $949,000 a day.
Also hard hit was the Santa Ynez Valley, home to the tourist-dependent towns of Los Olivos, Santa Ynez and Solvang, said Shelby Sim, president of Visit Santa Ynez Valley, the promotional agency for the region.
"The Martin Luther King Jr. holiday was empty," he said. "It was a ghost town up here."
To get visitors to return, Santa Barbara County tourism officials are trying something different.
In the past, officials focused a big part of their campaign on drawing visitors from the San Francisco Bay Area, who are more likely to stay several days and spend more money per visit than day visitors from Los Angeles.
But now that Highway 101 has reopened, tourism officials say they plan to launch a new campaign to target visitors from Los Angeles and Orange counties.
The day visitors from Southern California would be easier to persuade to return, tourism officials say, because they will understand that many parts of the region were untouched by the disasters and ready to accept visitors.
"They've been through this kind of thing, fires and flooding," said Jennifer Walker, vice president for marketing and strategy for Visit Santa Barbara.
The new campaign will touch on the disasters but focus on a brighter future, she said.
"It will be heartfelt and highlight our resiliency," Walker added.
State and local tourism leaders have scheduled a meeting in Santa Barbara on Thursday morning to discuss their plans to promote the region in time for spring break travel.
Still, some merchants in the region worry that it could take months before tourists return to Santa Barbara and Ventura counties, even after they are assured that the roads are clear and businesses are open.
During the fires and mudslides, Mitchell Sjerven, owner and operator of three restaurants, including Bouchon in Santa Barbara, said his eateries suffered a drop in business of up to 50%.
Customers have started to return, but Sjerven said visitors who had previously reserved halls for holiday parties and other gatherings are reluctant to rebook the facilities, saying they don't feel right partying in the wake of such tragedies.
"'Just not feeling it,' is the most frequently cited phrase," he said of the reasons for many of his cancellations.
Maybe DeGeneres and Winfrey should get in front of a camera and show their viewers the bright sunshine, wide beaches and open restaurants of Santa Barbara to help overcome the previous images, Sjerven said.
"That would help immensely," he said.
To read more about the travel and tourism industries, follow @hugomartin on Twitter.
---
Sign up for the California Politics newsletter to get exclusive analysis from our reporters.
You may occasionally receive promotional content from the Los Angeles Times.