Disneyland brings back Southern California annual passes at a higher price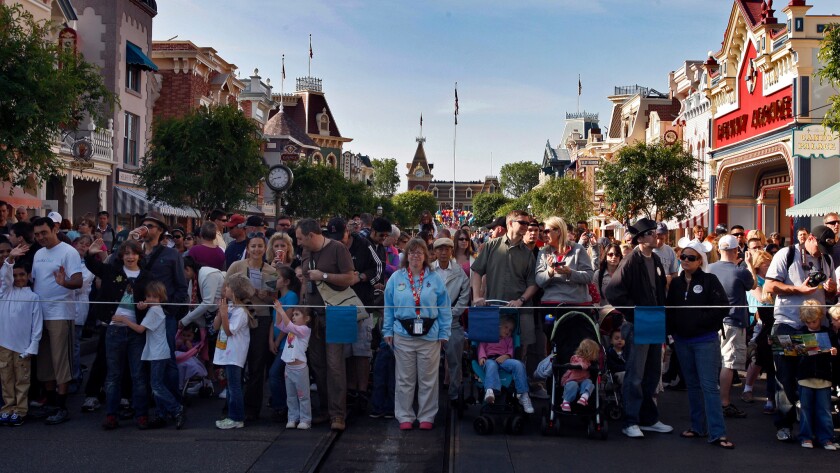 Two years after Disneyland discontinued an annual pass for Southern California residents, the Anaheim theme park is bringing the pass back — with a price increase.
Disneyland officials suspended new sales of the Southern California Annual Passport in 2014, in part to help address surging attendance that led to long lines and frustration, especially on Sundays. Existing passports could be renewed.
Annual passes for locals create headaches for Disneyland, according the theme park experts, because such passes make it convenient and inexpensive for locals to visit often, creating crowds that discourage out-of-town vacationers who are willing to spend more on food and souvenirs.
Disney representatives wouldn't discuss attendance levels and whether crowd size played into the decision to offer local annual passes again, saying only that it is the right time to bring back the pass.
"Our annual passes are very popular, particularly the Disney Southern California Annual Passport, so we are excited to offer that pass once again, based on availability," park spokeswoman Cathi Killian said.
At the time it was suspended, the Southern California pass sold for $359 and gave pass holders access to Disneyland and neighboring Disney California Adventure for 215 days of the year. Major holidays and popular vacation periods were blocked out for pass holders.
The new pass for Southern California residents sells at the front gate for $459, with access to both parks for 227 days a year. It will be offered on the park's website later this year.
The $100 extra dollars for a dozen extra days works out to a 21% increase on a per-day basis.
The increase may reflect efforts by Disney executives in the past few years to adjust ticket and pass prices in ways that maximize revenue while keeping lines and crowds at a minimum, said Dennis Speigel, a theme park consultant at International Theme Park Services.
Earlier this year, Walt Disney Co. adopted a new pricing policy at Disneyland and other U.S. theme parks that reduced ticket costs on low-demand days and boosted entrance fees for more popular times.
"It's a complex way of figuring crowds over a period of time and how they can best generate revenue and ease the crowd situation," he said.
Although Disneyland doesn't reveal visitor numbers, Los Angeles engineering company Aecom estimated that 2015 attendance jumped 9% at Disneyland and 7% at California Adventure, compared with the previous year.
But demand at the parks may be on the decline after Disneyland in January closed 10 attractions and eateries to make way for construction of its 14-acre Star Wars land, Speigel said. And on Sept. 5, Disneyland also ended its 60th-anniversary celebration, which included a specially designed high-tech parade as well as light and water displays.
To read more about the travel and tourism industries, follow @hugomartin on Twitter.
ALSO
Disneyland releases new image of 'Star Wars' land
Disneyland plans 6,800-space parking structure and pedestrian bridge
The return of the Main Street Electrical Parade to Disneyland raises many questions
---
Your guide to our new economic reality.
Get our free business newsletter for insights and tips for getting by.
You may occasionally receive promotional content from the Los Angeles Times.