Disney and labor unions are spending big on Anaheim's 'living wage' measure and council races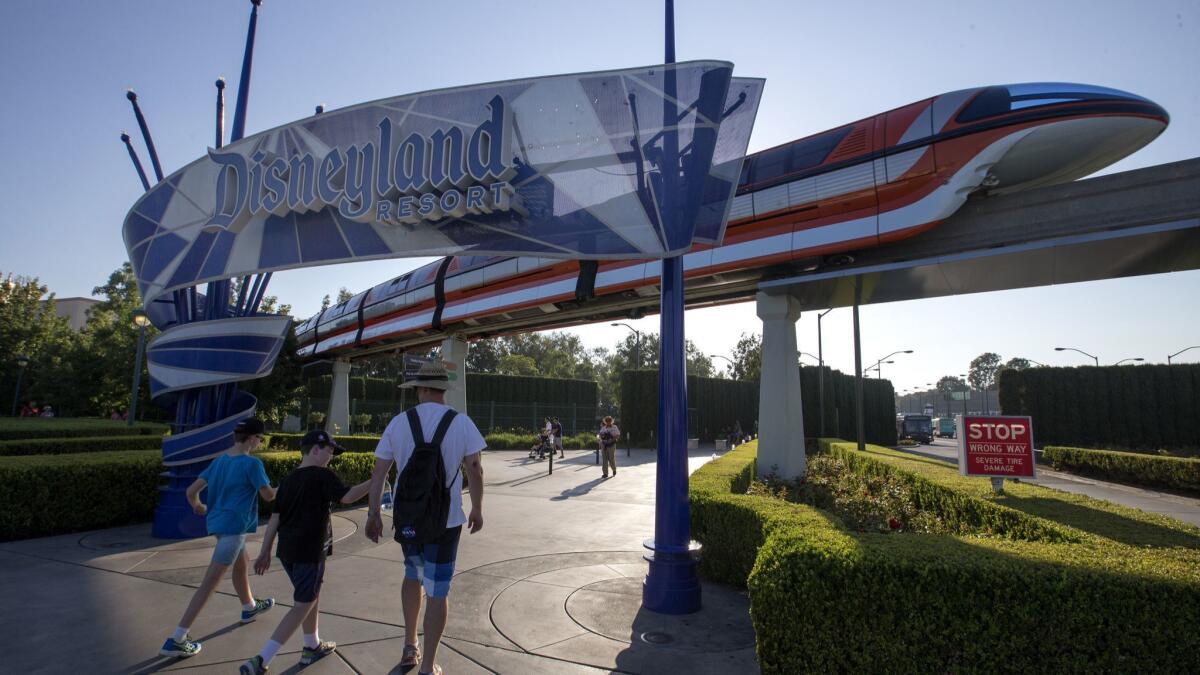 With less than a month before election day, labor unions and Walt Disney Co. have shelled out more than half of all contributions to campaigns that will decide the fates of a controversial "living wage" initiative and a majority of the seats on the Anaheim City Council.
The unusually expensive campaigns — which have attracted $4.3 million in total contributions so far — are a reflection of the efforts that union leaders and the Burbank media giant are putting into gaining greater influence in the hometown of the 63-year-old Disneyland Resort.
As the city's biggest employer, with about 30,000 workers on its payroll, the resort is also Anaheim's economic engine. Its three hotels, along with the 72 other nearby hotels, are expected to generate $151.2 million in occupancy taxes this fiscal year. That's about 46% of the city's $330-million general fund budget, which it uses to pay for police, fire and recreational programs in Anaheim.
Labor unions representing workers at the resort have surpassed all other contributors — including Disney — by donating about 34%, or nearly $1.5 million, of all funds reported in campaign finance records through Sept. 22.
"It's a complete referendum on the way the city has done business by taking care of billion-dollar companies and leaving the workers behind," said Ada Briceno, co-president of Unite Here Local 11, one of the unions representing workers at the resort.
Walt Disney Co., through a holding company, has donated about 23% of the contributions made so far in this election cycle, or nearly $1 million of the total, according to the most recent campaign finance reports.
"Anaheim has been our home for more than 60 years and we care deeply about the city and its future," Disney spokeswoman Suzi Brown said. "That's why we support candidates who will address the vital issues facing Anaheim and understand that a strong resort district means new jobs, increased investment and economic vitality, which benefits the entire city, its residents and neighborhoods."
The surge in campaign spending is sparked partly by the initiative that union leaders helped put on the Nov. 6 ballot through a petition drive: Measure L, which requires large hospitality companies that accept a city subsidy to pay all workers a "living wage."
The relationship between the city of Anaheim and Disney — for years considered very cozy — began to change in 2014 when a lawsuit filed by the ACLU on behalf of Latino residents forced the city to elect city council members by district instead of as at-large representatives, a move designed to give Latino voters more say in city politics.
Unions have also begun to flex their political muscle in the past few years, organizing marches and rallies in the streets around the tourist-crowded resort.
Most of the donations to support the living wage measure have come from unions, including the United Food and Commercial Workers and Unite Here, which represents employees of hotel, restaurants, airports and sports arenas.
The measure would require those businesses that get a city subsidy to pay workers an hourly wage of at least $15 starting in January, increasing $1 per hour each year until 2022, when the wage would then be tied to the cost of living.
"We are the ones that make the magic in the city," Briceno said. "We need a louder voice."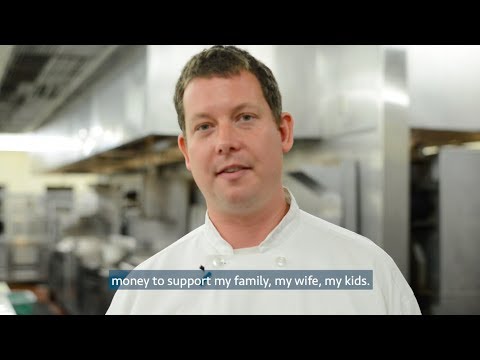 Union leaders and the attorney who helped write the living wage measure say it applies to the Disneyland Resort because the city approved an agreement in 1996 to issue construction bonds that the resort used to build a $108-million parking garage. Bed taxes from the resort and from other parts of the city are being used to pay off the 40-year bonds.
The Anaheim city attorney has issued an opinion that the bond agreement doesn't qualify as a tax subsidy, and therefore the measure would not apply to the resort. Other city leaders have said the debate over the measure will probably be settled in court.
The unions have produced fliers and videos saying the measure would help put an end to "poverty wages" paid by companies that get multimillion-dollar city tax breaks.
Opponents of the initiative say the higher salaries required under the measure would scare new hotel projects away from Anaheim, threatening thousands of construction jobs for workers who would be otherwise hired to build such projects.
Measure L would apply to two luxury hotel projects under construction whose developers have signed agreements to accept tax subsidies.
Two other proposed luxury hotel projects in Anaheim that have agreed to accept tax breaks are still in the planning stages.
The living wage measure would also probably apply to the shopping district known as Garden Walk, which already benefits from a sales tax rebate agreement.
Walt Disney Co., through a holding company, Disney Worldwide Services, donated $304,000 to a group opposed to the living wage initiative called No on the Anaheim Job Killer Initiative, headed by the Anaheim Chamber of Commerce.
But Disney officials said the media giant stopped donating to campaigns opposed to the measure after the unions collected enough signatures in April to qualify it for the Nov. 6 ballot. And now, Disney officials say, there is no point in getting involved in the fight over the ballot initiative because the city attorney has concluded that the living wage measure does not apply to the Disneyland Resort.
"We believe issues like these should be solved at the bargaining table rather than the ballot box," said Brown, noting that Disney recently ratified agreements with several of the company's largest unions, with wages climbing for some workers to a minimum of $15 an hour by as early as January.
In addition to the living wage measure, three city council seats and the position of mayor — which combined would represent a majority of the seven-member council — are also up for election Nov. 6.
Councilmen Jose Moreno and James Vanderbilt, who have been seen as critics of Disney, are seeking reelection. Mayor Tom Tait, another Disney critic, is termed out and won't seek reelection. Moreno was also a plaintiff in the lawsuit to force the city to elect council members by district.
Councilwoman Kris Murray, a vocal Disneyland supporter, is also being forced out by term limits. (She is running for Orange County supervisor.) Disney has given $2,000 each to a slate of candidates including Trevor O'Neil, the owner of a in-home care service company who is running to fill Murray's council seat.
Disney has also contributed to the mayoral campaign of Lorri Galloway, the executive director of a nonprofit homeless shelter, and to Harry Sidhu, a businessman and former mayor pro tem of Anaheim.
Mitch Caldwell, a former city planning commissioner, received $2,000 from Disney. Caldwell is running for the seat held by Moreno.
As of the latest filing deadline, Disney has also contributed $635,000 to a political action committee dubbed Support Our Anaheim Resort Area, which represents resort area businesses. The PAC used its funds to support several candidates running for City Council, including Caldwell, O'Neil and Jordan Brandman, a former councilman who is challenging Disney critic Vanderbilt.
In a statement, the PAC said it "supports candidates who prioritize neighborhood integrity, safe communities and continued economic growth of Anaheim."
Times staff writers Ryan Mendez and Maloy Moore contributed to this report.
To read more about the travel and tourism industries, follow @hugomartin on Twitter.