Living wage measure would not apply to the Disneyland Resort, city attorney says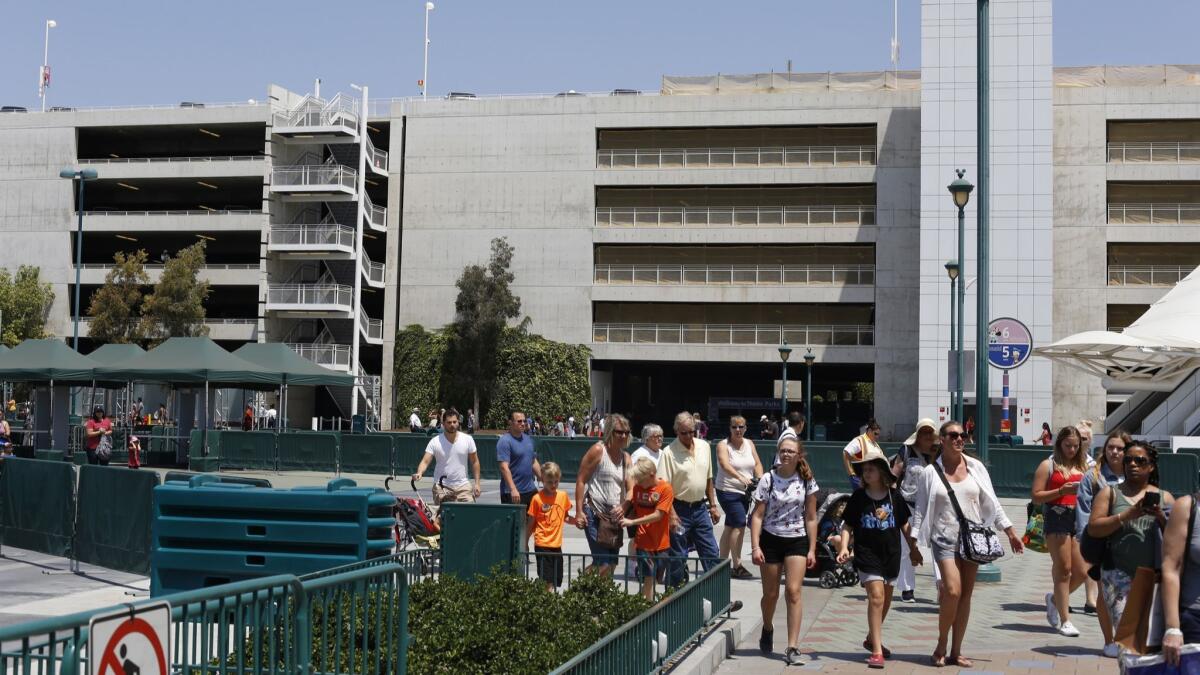 Disneyland Resort would not be subject to an Anaheim ballot measure that requires all hospitality businesses that accept a city subsidy to pay workers a living wage, according to a legal opinion by the Anaheim city attorney.
Addressing a controversy that has been brewing for weeks, City Attorney Robert Fabela submitted his legal opinion in a staff report that was posted Friday afternoon for discussion to be held Tuesday by the Anaheim City Council.
Measure L was placed on the Nov. 6 ballot by unions that represent Disneyland Resort workers in hopes that the initiative would force the resort to boost the pay for many of its 30,000 workers.
If approved by a majority of voters, the measure would require large hospitality businesses that accept a city subsidy to pay workers a minimum of $15 an hour starting Jan. 1, with salaries rising $1 an hour every Jan. 1 through 2022. Once the wage reaches $18 an hour, annual raises would then be tied to the cost of living.
Union leaders say the measure applies to the Disneyland Resort because Anaheim agreed in 1996 to sell bonds to help the resort build a $108-million parking garage. The bonds are being paid off with taxes collected mostly from the Disneyland Resort but also from bed taxes from hotels throughout the city.
The question of whether Measure L applies to the Disneyland Resort depends on whether the bond agreement can be considered a city subsidy.
Anaheim business leaders say the 1996 bond agreement does not qualify as a subsidy. At the request of Anaheim Councilwoman Kris Murray, Fabela agreed to issue a legal opinion on the matter.
"In summary, although there are many moving parts to the bond transaction, it does not appear to incorporate a direct city subsidy; that is, an agreement in which Disney is entitled to a "rebate of transient occupancy tax, sales tax, entertainment tax, property tax or other taxes, presently or in the future, matured or unmatured," he wrote. "Therefore, it is the city attorney's opinion that Measure L would not apply to Disney by virtue of the bond transaction."
Until recently, the resort had two tax rebate agreements with the city: a 2016 deal to reimburse the resort $267 million in hotel taxes if Disney agrees to build a luxury hotel in the resort and a second agreement that ensures the city won't adopt any entertainment taxes for 30 years in exchange for the resort's promise to invest $1 billion in the resort.
At the request of the resort's president, who said the tax breaks were causing strife with the city and its residents, the Anaheim City Council voted unanimously in August to end both agreements.
To read more about the travel and tourism industries, follow @hugomartin on Twitter.