Disneyland resort raises prices as much as 18%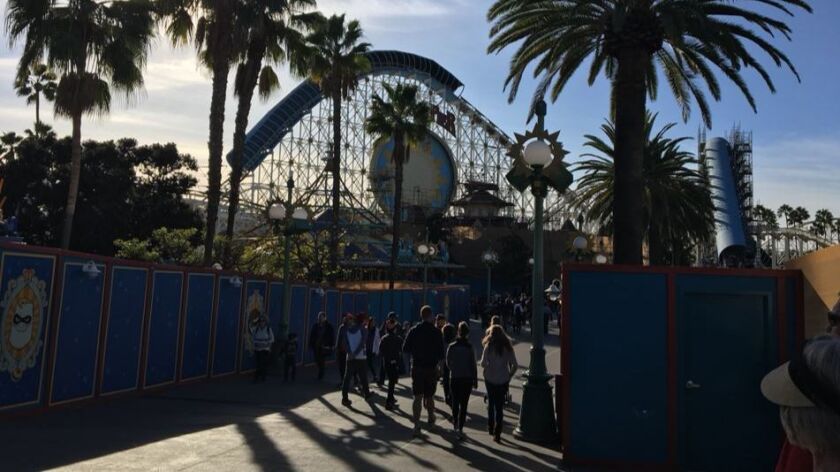 The Disneyland resort raised prices over the weekend, several months before the park plans to unveil a remake of its boardwalk-themed area at the California Adventure Park.
The prices rose the highest for annual pass holders, up as much as 18%. Daily tickets rose nearly 9%. By comparison, the consumer price index rose 2.5% in the 12 months ending January 2017.

For the record:
10:55 a.m. Feb. 11, 2018This article originally said ticket prices rose for low-demand days. They remain the same.
Daily tickets for the Anaheim theme parks vary in price, depending on daily demand.
A one-day, one-park adult ticket for Disneyland or California Adventure remains $97 for low-demand days, such as weekdays in May.
A ticket for regular-demand days is $117, up from $110. The price of a ticket on peak-demand days is $135, up from $124.
The price of a one-day park hopper for low-demand days, which lets visitors hop between the two parks, goes down, from $157 to $147.
As for annual passes, the least-expensive pass costs $729, up from $619. Customers pay $999 for the Signature pass, which includes free parking, up from $849; the cost of the Signature Plus pass, with free parking and an online app to board rides faster, is now $1,149, up from $1,049.
Southern California residents can buy a "select passport" for $369 but that pass blocks out all weekends and almost the entire summer and Christmas season. That price did not change.
Disneyland does not disclose attendance numbers for individual parks, but the most recent study by the Los Angeles consulting firm Aecom estimated that Disneyland's visitor count dropped 1.8% in 2016 over the previous year. The drop may be attributed to several new attractions launched in 2015 to celebrate the resort's 60th anniversary and the closure of several attractions in 2016 during construction of the new 14-acre Star Wars land.
In a statement, Disney said: "We know how important making memories at Disney theme parks is to our guests and we will continue to evolve our pricing in a way that gives them a range of options to meet their budget and helps better spread attendance throughout the year so they can make the most of every visit."
At California Adventure Park, the boardwalk-styled land known as Paradise Pier is being remade to include characters from movies made by the Disney subsidiary Pixar Animation Studios.
The makeover of the new Pixar Pier is expected to be completed by this summer.
As part of the renovation at California Adventure, the popular California Screamin' roller coaster will be remade into the Incredicoaster, inspired by the Pixar film "The Incredibles."
Mickey's Fun Wheel, the Ferris wheel in the center of the boardwalk, will have a new look, with each of its 24 gondolas on featuring a different Pixar character, according to Disney officials. Among other construction projects that began Jan. 8, the midway games on the boardwalk will also be overhauled, each with a new Pixar flavor.
Across the esplanade, Disneyland will launch a new fireworks show in April and will feature the Pixar Play Parade, which celebrates the characters from Pixar movies.
The biggest expansion at Disneyland — a $1-billion, 14-acre expansion called Star Wars: Galaxy's Edge — is not scheduled to open until 2019. The new land will feature two rides and a landscape inspired by the popular Star Wars franchise.
To read more about the travel and tourism industries, follow @hugomartin on Twitter.
---
UPDATES:
2:25 p.m.: This article was updated with park attendance information.
10:55 a.m.: This article was updated with a Disney statement.
This article was originally published at 9:15 a.m.
---
Be your money's boss! Learn how to make a budget and take control of your finances with this eight-week newsletter course.
You may occasionally receive promotional content from the Los Angeles Times.