Disney announces new Marvel attraction in Anaheim and the name of its Star Wars land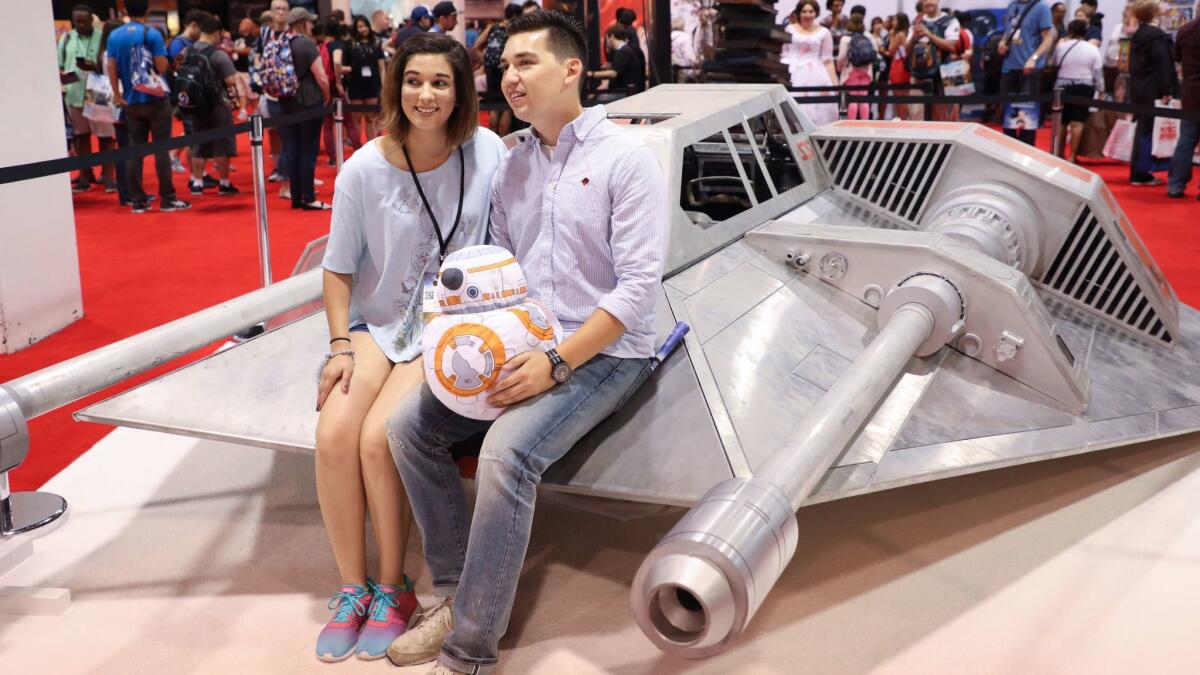 With demand continuing to grow for Disney parks and movies, the entertainment giant announced plans to add new attractions throughout its parks, including a new Marvel superhero expansion in Anaheim.
During its fan exposition D23 in Anaheim, Disney officials on Saturday revealed details of planned attractions at the Disneyland Resort in Anaheim and at its Florida theme parks Walt Disney World, Epcot and Disney's Hollywood Studios.
Construction has been continuing for months on a new Star Wars land, but the name was first revealed at the expo: Star Wars: Galaxy's Edge.
At Disneyland, the $1-billion project will include two attractions, a ride that lets guests fly the iconic spaceship the Millennium Falcon and another that throws visitors in the middle of a battle between the Resistance and the First Order.
Bob Chapek, chairman of Disney's parks and resorts, hinted that the 14-acre expansion will include interaction with various Star Wars characters, including Rex the droid, who may serve as a DJ in the land's cantina.
An expansion to include Marvel superhero characters at Disney California Adventure has been rumored for months, especially since the Twilight Zone Tower of Terror ride was revamped to Guardians of the Galaxy: Mission Breakout.
To make room for the Marvel expansion, Disney fans have predicted that the park would have to close several less-popular attractions in the nearby A Bug's Land area and also expand into an adjacent parking lot. Chapek gave no details, except to say: "We keep moving forward and trying new things."
In other plans for Disney California Adventure, Paradise Pier will be converted to Pixar Pier next summer, to include characters from the movies made by Pixar Animation Studios, a subsidiary of Disney. A Pixar parade and fireworks show is also expected. Also, Cars Land will be remade this fall for Halloween.
Turning to the Florida parks, he also announced a new Mickey and Minnie Mouse-inspired ride at Hollywood Studios called Mickey and Minnie's Runaway Railroad, using what Chapek called "2½ D" instead of 3D technology.
A ride based on the movie "Ratatouille" will be built at Epcot, a ride based on the "Tron" movie and video game will be built at Walt Disney World in Orlando, and an overhead tram ride will be added to connect the parks in Florida, he said.
Chapek said he hoped to have many of the projects finished in time for the 50th anniversary of Walt Disney World in 2021.
Disney's move to invest heavily in parks comes after glowing earnings reports, thanks to big profits from movies and theme parks. The Walt Disney Co. reported an 11% jump in profit in the quarter that ended April 1.
New images and models of the Star Wars attraction, revealed at D23, depict a land with hoodoo-like rock formations, trees and earth-colored domed buildings. Several spaceships, including an X-Wing Starfighter and a TIE Fighter, can be seen stationed between the buildings in the model.
To make room for the new expansion, Disney permanently closed Big Thunder Ranch in Frontierland, Big Thunder Ranch Barbecue, Big Thunder Ranch petting zoo and Big Thunder Ranch Jamboree.
The last time Disneyland closed several attractions for a major construction project was between 1995 and 1998, when the park overhauled Tomorrowland with several new attractions and a gold-and-brown paint scheme replacing the previous blue-and-white colors.
Since Disney purchased Lucasfilm for $4 billion in 2012, the entertainment giant has increasingly incorporated Star Wars characters and scenes into the Disney theme parks.
In 2015, Disneyland revamped Space Mountain with Star Wars spaceships and characters, altering the name to Hyperspace Mountain. The Innoventions building that was once home to products of the future was converted to a museum of "Star Wars" paraphernalia and merchandise. The Star Tours ride was updated to reflect "The Force Awakens," with a cameo appearance from the film's star, John Boyega.
To read more about the travel and tourism industries, follow @hugomartin on Twitter.
---
UPDATES:
This article was updated to include new details of Disney's plans to add a Marvel Universe attraction in Anaheim.
This article was originally published at 4:20 p.m.