Here's what's at stake as Trump moves to unravel Dodd-Frank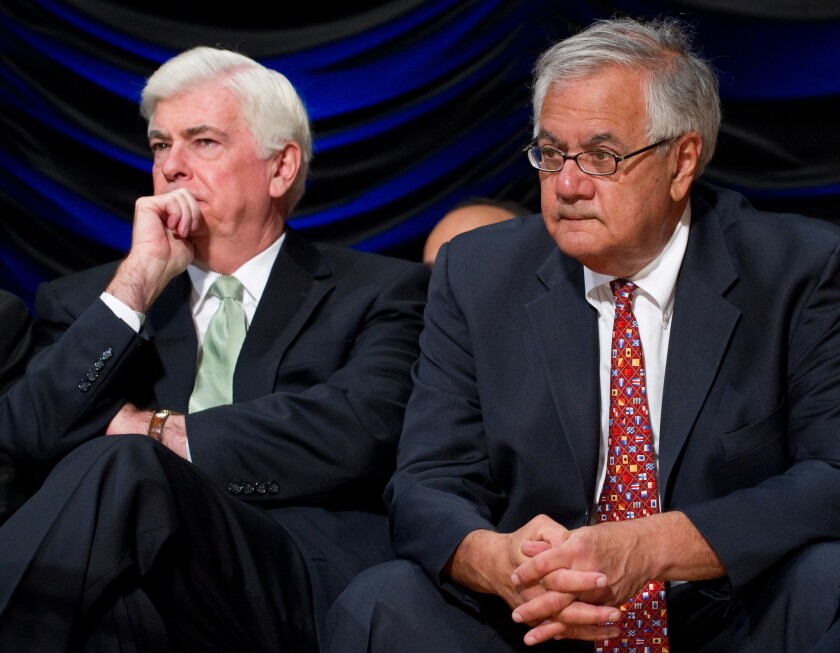 President Trump signed an executive order Friday that calls for his administration to review the landmark Dodd-Frank Wall Street Reform Act, with an eye toward revising or eliminating parts of the 2010 law.
An administration official told reporters that the law "in many respects was a piece of massive government overreach" and that some of the rules within the law, passed in the wake of last decade's financial crisis, "may have even been unconstitutional."
So, what's in Dodd-Frank, and what parts might the Trump administration be looking to revise? The answer to both is: a lot. Here are some big-ticket items.
Consumer Financial Protection Bureau
The administration official who previewed Friday's executive order said the law had, among other things, created "new agencies that don't actually protect consumers." That's a not-so-subtle swipe at the Consumer Financial Protection Bureau, an agency created by the Dodd-Frank act that has been a strict enforcer of consumer protection laws and that has crafted a bevy of new rules that apply to mortgage lenders, banks, credit card companies and other financial firms.
The bureau's rules have made it less attractive — though not illegal — for mortgage lenders to make some types of risky loans that went bad and sparked last decade's financial crisis. The bureau also been working on rules that would prevent banks and other financial firms from blocking class-action lawsuits by consumers and would require payday lenders to do more underwriting.
The bureau and its director, Richard Cordray, have been targets of Republican lawmakers, who argue that the bureau has been overly aggressive in enforcing rules and that its power should be crimped. Trump advisor Gary Cohn suggested in an interview with the Wall Street Journal that Trump may seek to replace Cordray, though Cordray's term doesn't expire until the middle of next year.
Proprietary trading
Dodd-Frank put limits on the kind of bets banks can make on their own behalf — also called proprietary trading. (Proprietary trades in mortgage-backed securities led to huge losses for banks in the lead-up to the financial crisis.) Under those limits, often referred to as the Volcker Rule after former Federal Reserve Chairman Paul Volcker, banks also are not supposed to make investments in certain riskier asset classes.
The rule was meant to prevent banks from taking too much risk, though it's been criticized for making it harder for banks to hold certain types of securities that customers might want to buy. JPMorgan Chase chief Jamie Dimon famously criticized the rule, saying regulators would need a psychiatrist to help determine whether a trade was proprietary.
'Systemically important' institutions
Dodd-Frank created a new group of regulators, the Financial Stability Oversight Council, tasked with overseeing all finance firms — not just banks — whose failure could provoke a financial crisis. Those firms, selected by the Federal Reserve, are called "systemically important financial institutions." Some firms that have been tagged with that title, including insurer MetLife, have fought the designation and the additional oversight that comes with it.
Living wills
In a rule aimed at preventing a repeat of crisis-era bank bailouts, Dodd-Frank calls for the nation's largest banks to write "living wills" — essentially plans that show regulators how their operations would be wound down, run and sold off if they fail in another downturn. Wells Fargo & Co. has struggled to develop its plan, which regulators have cited as deficient.
Executive compensation
Most of Dodd-Frank is focused on banks and other financial institutions, but some elements cut across industries.
One part of the law requires stock exchanges to require public companies to adopt rules that allow the companies to take back compensation paid to executives if it turns out that compensation was based on bad accounting.
It also calls for shareholders to have a nonbinding vote on the pay packages for top executives.
Follow me: @jrkoren
ALSO
Everything you need to know about Snapchat and Snap's IPO
Trump's threats to booming Mexico auto industry have executives' heads spinning
After initial optimism about the economy, some investors begin to worry about a 'Trump slump'
---
UPDATES:
10:45 a.m.: The article has been updated to report that President Trump has signed the executive order.
---
Your guide to our clean energy future
Get our Boiling Point newsletter for the latest on the power sector, water wars and more — and what they mean for California.
You may occasionally receive promotional content from the Los Angeles Times.