Trump's threats to booming Mexico auto industry have executives' heads spinning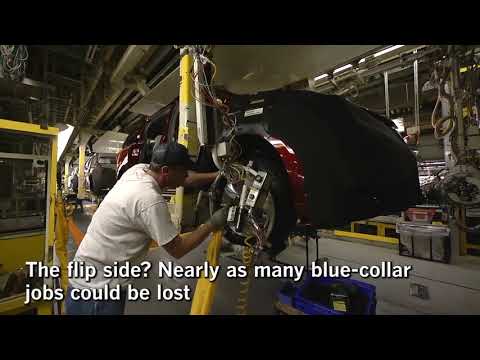 22,000 new U.S. factory jobs  could be generated by limiting car imports from Mexico
Reporting from Mexico City —
It was supposed to be a victory party. Carmakers from across the globe had planned to celebrate their head-spinning boom in Mexico at the Automotive Logistics conference held in Mexico City this week.
Then Donald Trump won the U.S. presidential election.
In the span of weeks, Trump has issued threats and hints at trade policies that could jeopardize two decades of growth for Mexico's auto manufacturing sector.
It started with Trump's tweets that attacked Ford and General Motors for building and exporting small cars from Mexico to the U.S. Once in office, Trump issued an executive order Jan. 25 calling for a wall to be built at the southern border, and the president's press secretary followed up by floating the idea of a 20% tax on Mexican imports to pay for it.
None of those moves bode well for companies that have sunk billions over the last five years into building new factories that now dot Mexican cities from the capital to the U.S. border. Mexico produced 3.5 million light vehicles in 2016, up 67% from 2.1 million in 2008, according to the Mexican Automotive Industry Assn.
The country has become the fourth-largest car exporter in the world, after Germany, Japan and South Korea.
"We didn't expect that this would happen," Omar Mendoza Vega, a vehicle logistics manager at Audi, said of the sudden chill in the U.S.-Mexico trade climate. Audi began producing SUVs at a $1.3-billion plant in San Jose Chiapa that opened in September after four years of planning and construction. Once the facility is fully operational, it will be the only location producing the Q5 model worldwide.
"I am happy that we began moving units to the U.S., but I am not sure if we will continue to be able to. Was it worth spending all of this effort?" Mendoza Vega said.
Uncertainty stalked the hallways of the auto supply chain forum, as buttoned-up executives from several continents plied each other for inside information as to how their industry would respond to Trump's aggression on trade.
Experts on subjects as varied as railroad routes and the design of shipping containers — and, of course, the construction of cars and trucks — put on their bravest faces and insisted that for now, nothing has changed.
"We are not being reactive or thinking that something may happen until there is a change. It's just day-by-day," said Mercedes Figueroa, head of logistics and customs at Fiat Chrysler Mexico, which makes heavy-duty Ram pickups, Dodge Journey SUVs, and Fiat cars at plants in Saltillo and Toluca, Mexico.
Figueroa added that the Mexico division of the auto giant had begun working with the U.S. "on the customs side" to put together proposals for how to proceed if the Mexico-U.S. trade relationship changes.
Fiat Chrysler Chief Executive Sergio Marchionne told analysts that the company could easily move the production of the Ram pickups to Michigan if the company was "properly motivated," Forbes reported last week.
"Everyone is cautious," said Enrique de la Peña Aguirre, a port manager at Hyundai. Aguirre said he hasn't heard yet about any changed plans at the South Korean carmaker, which last year began producing Kia sedans at a brand new plant in San Luis Potosi.
"We all came to see what others would say about politics, about new ties, about what will happen," Aguirre said.
In a poll of conference attendees by Automotive Logistics, 63% said they thought that Trump's trade policy would have a negative impact on the auto sector here. Already, Ford had canceled a planned plant in San Luis Potosi, and GM announced that it would shift axle work from Mexico to factories in Michigan, moving 450 jobs back to the U.S.
Several car executives and supply chain experts at the conference, who did not want to be named for fear of risking business relationships, suggested that those moves were already in the works and were dressed up as new announcements to win plaudits from President Trump.
Ford was going to send an executive to speak at the conference but canceled, said organizer Christopher Ludwig of Automotive Logistics.
"After everything that happened, it was the feeling that it wasn't the right time to get on stage," Ludwig said.
He said he believes that Ford's decision to nix the new factory in Mexico "was driven more by the market" than Trump's policies.
Low gasoline prices have bolstered sales of SUVs and trucks and hurt small and mid-size vehicles like the Ford Fusion and Fiesta, which are built south of the border. Ford is still moving the production of the compact Focus to Mexico, but will make it at an existing facility in Hermosillo.
By 2023, economists expect Mexico to produce more than 5 million cars, an increase of 45% from 2016. The U.S. makes three times as many vehicles as Mexico does today, but its production is only expected to grow 11% over that same time period, the Center for Automotive Research reported.
The explosive growth of Mexican automaking may have caught Trump's attention because it is fueling a U.S.-Mexico trade imbalance. In 2015, the United States had a $67-billion trade deficit with Mexico in cars and car parts, according to the National Assn. of Manufacturers.
Limiting car imports from Mexico to the U.S. — by ending or renegotiating the North American Free Trade Agreement or by imposing high taxes on vehicles — could generate 22,000 new U.S. factory jobs, the Center for Automotive Research estimates.
But stanching the flow of Mexican cars across the American border would also cost the U.S. thousands of other blue-collar jobs. That's because Mexican imports aren't entirely Mexican.
Americans made 40% of the materials inside Mexican-made cars that were sent abroad in 2015. Parts plants in the U.S. could cut up to 20,000 jobs if Trump hits Mexican imports with a heavy tax, the Center for Automotive Research estimated. There are also an untold number of truckers and train operators whose livelihood is tied to the flow of cars across the border.
Carlos Duron, the president of Mexpress, a Los Angeles company that moves cargo to and from Mexico on trucks, said that a massive tax on those products would eat into his workforce.
"It's going to affect drivers not having loads to haul," Duron said. He employs about 100 independent truckers and said he wouldn't know how many he would need to cut until he saw the extent of Trump's tax.
The most optimistic assessment of Trump's intentions at the auto forum came from Albert Zapanta, president of the U.S.-Mexico Chamber of Commerce, who is a rumored candidate to be the next U.S. ambassador to Mexico.
Zapanta, a Vietnam War veteran and Los Angeles native, was an early supporter of Trump and appeared at a campaign event with him in September.
Zapanta received a burst of applause from the crowd when he announced from the podium that he does not "represent the Trump administration." He got an equally appreciative response when he added that he also didn't speak for Mexican President Enrique Peña Nieto, who has been criticized in his country for appearing to grovel to Trump in the past.
"You're not going to see a 20% border tax," predicted Zapanta, referring to the border adjustment tax that Sean Spicer, Trump's press secretary, suggested recently. That tax would be imposed on any goods that companies produce abroad and sell in the United States.
"In my dealings with President Trump, he loves to negotiate. He throws down a start on the discussion, and then you get into the options," Zapanta told conference attendees. He said that Trump was open to hearing out his positive views on NAFTA.
"He listens, but once he makes an opinion, he moves on immediately," Zapanta said.
Follow me @NatalieKitro on Twitter
ALSO
How a 20% border tax could set off an international food fight
Boiling over on the border: The reasons behind the gasoline protests in Mexico
For Mexico, Trump's retreat on NAFTA is 'like being drenched by a pail of cold water'