Dodgers' win streak a boon to businesses catering to sports fans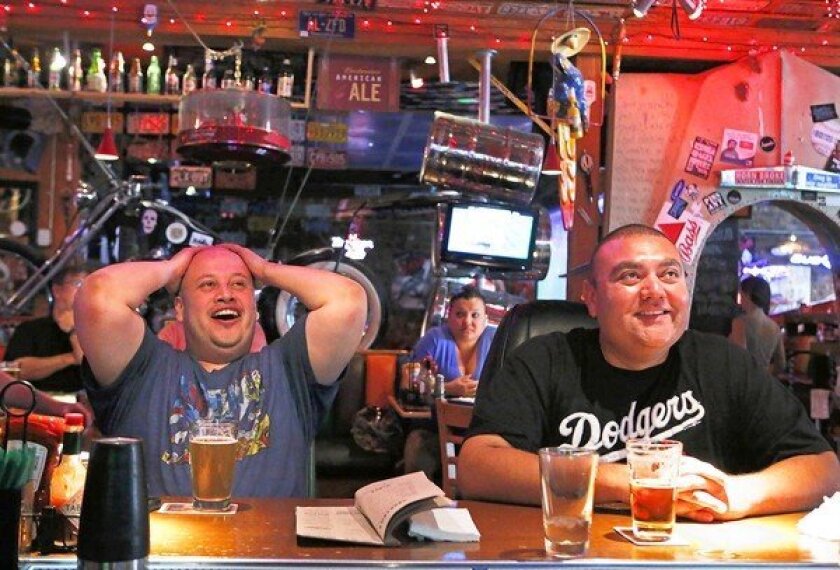 Drew James guesses he went to a total of five Dodgers games in the last five years.
This season, the Hollywood resident has been to six games, bought two Dodgers jerseys and gathered with friends at bars to root for Los Angeles' red-hot baseball team.
Struck by Dodgers fever, James and many other Southern Californians are generating extra and unexpected sales business for Southland restaurants, sports bars and apparel shops.
"Demand just shot through the roof," said Coby Goodman, owner of Los Feliz sporting goods shop Bling Circus. "We started calling vendors, 'Anything you've got. Send it. Whatever it is.' "
Although economists say the Dodgers are only a minor stimulant to the local economy, the team's winning streak — 45 out of 55 games in the last two months — has been a boon to businesses that cater to sports fans.
"It's certainly reinvigorated the L.A. sports scene," said UCLA economics professor Lee Ohanian. "I don't remember this sort of excitement since Fernando Valenzuela."
Bling Circus sold about three to four Dodgers hats a day in early June, when the Dodgers looked awful and were in last place. A month later, the Dodgers had rocketed up the standings and Bling started selling 15 to 20 hats a day. Vintage Brooklyn Dodgers merchandise has been particularly in demand.
"The Dodgers fans have their swagger back," Bling's Goodman said.
Bling and a handful of other apparel shops reported that anything with outfielder Yasiel Puig's name on it has been swept off racks as soon as it arrives. The sensational and enigmatic rookie from Cuba joined the team in June. By mid-July, his jersey was the 10th best-selling one in all of Major League Baseball.
Most retailers sell jerseys for about $100. But even the official Dodgers stores, where prices are slightly higher, said in June that Puig jerseys were selling faster than anything else in the stores' history.
Major League Baseball said other top-selling jerseys included those of Hyun-Jin Ryu, Matt Kemp and Clayton Kershaw.
At the nationwide retailer Fanzz Sports, West Covina assistant manager William Galdamez said Dodgers caps were the chain's top-selling head wear.
Galdamez said his store is planning to order several dozen more jerseys and hats than usual because of the hope that the Dodgers will reach the World Series for the first time since 1988.
Meanwhile, the Fanzz shop hasn't had to order any batches of Angels merchandise since the season started. The Angels are in fourth place and the Dodgers sit in first in their respective five-team divisions.
The Dodgers also now lead the league in attendance. Average attendance at home games is 45,000, up 10% from last season. A team-record 31,000 people have season tickets.
Those fans have poured into Chinatown, Echo Park, Silver Lake, Glendale and other neighborhoods surrounding Chavez Ravine before and after games.
Home Restaurant in Silver Lake has seen a 20% pickup in sales, with a couple of Dodgers fans per game day turning into 15 or 20. Over at Guisados, the Mexican food spot a half-mile away from Dodger Stadium's Sunset Boulevard entrance, sales are up 25% from the beginning of the season.
"The traffic before games passing by is so slow that people have nothing to do but look at our red building," co-owner Armando De La Torre Jr. said. "When they come back through the next game and get stuck, they decide to stop and check us out."
Because Guisados opened the Echo Park location in January, the owners don't know how bad things would have been if the Dodgers had done poorly all season. But they are hoping an alcohol license application is approved sooner rather than later, so they can stay open for fans looking to keep going after the 19 remaining regular-season home games.
Some places, like Two Boots Pizza in Echo Park, are eyeing deals to attract the widening Dodgers crowd. Red Lion Tavern in Silver Lake, for example, has benefited from giving people with a valid game ticket a 10% discount before and after that game.
Dining and drinking spots that show games haven't seen their customers this happy in ages. The tumult surrounding the divorce of former Dodgers owner Frank McCourt from both his wife and the team angered many fans. A few die-hard stragglers once hung around bars to curse at televisions, but now casual fans are willing to stay until the last pitch.
AJ Sacher, regional manager for Barney's Beanery, said even restaurant patrons are paying attention to games.
"They want the audio," he said. "They want the game on every television."
At Barney's Westside locations, conflicting New York Yankees and Boston Red Sox games might have been on some big screens back in May. These days they are relegated to small screens in the corner.
"Complete strangers are talking to each other because they are both watching the Dodgers game," Sacher said. "That kind of feeling in a bar leads to more spending in a bar."
Lines were out the door the last time the Dodgers made the playoffs in 2009. Sacher expects that to happen again if the Dodgers can maintain the magical run.
The playoffs are also when economists expect the Dodgers to significantly affect the local economy because an unplanned stream of visitors could be drawn to the region.
"That's where you could see a real big kick," UCLA's Ohanian said.
To be sure, some fans have a huge gripe amid all the glee.
Average monthly viewership for Dodgers games broadcast on Fox Sports PrimeTicket soared 33% from May to the first half of August. On KCAL-TV Channel 9, average viewership has risen 32% from last year to 276,000 people a game.
But Time Warner Cable customers can't watch games on KCAL because of the company's ongoing contract dispute with CBS Corp. Some fans are urging the Dodgers to find a way to broadcast away games televised by KCAL on the big screen at Dodger Stadium.
James, the emerging Dodgers fan, went to watch Monday's away game at the quintessential Dodgers bar, the Short Stop in Echo Park. Unfortunately, the bar turned out to be a Time Warner Cable subscriber. James had a solution.
He pulled out an iPad, connected to Wi-Fi and launched Dish Network's Hopper app to stream the game while he sipped a Manhattan.
"I wouldn't have been here a year ago," James said, adding that he wouldn't even have checked his phone to see the score last season — he'd assume that the Dodgers lost. "This season is great for Los Angeles."
Twitter: @peard33
---
Your guide to our clean energy future
Get our Boiling Point newsletter for the latest on the power sector, water wars and more — and what they mean for California.
You may occasionally receive promotional content from the Los Angeles Times.