Pasadena's Dog Haus is set to become a national chain with nearly 500 locations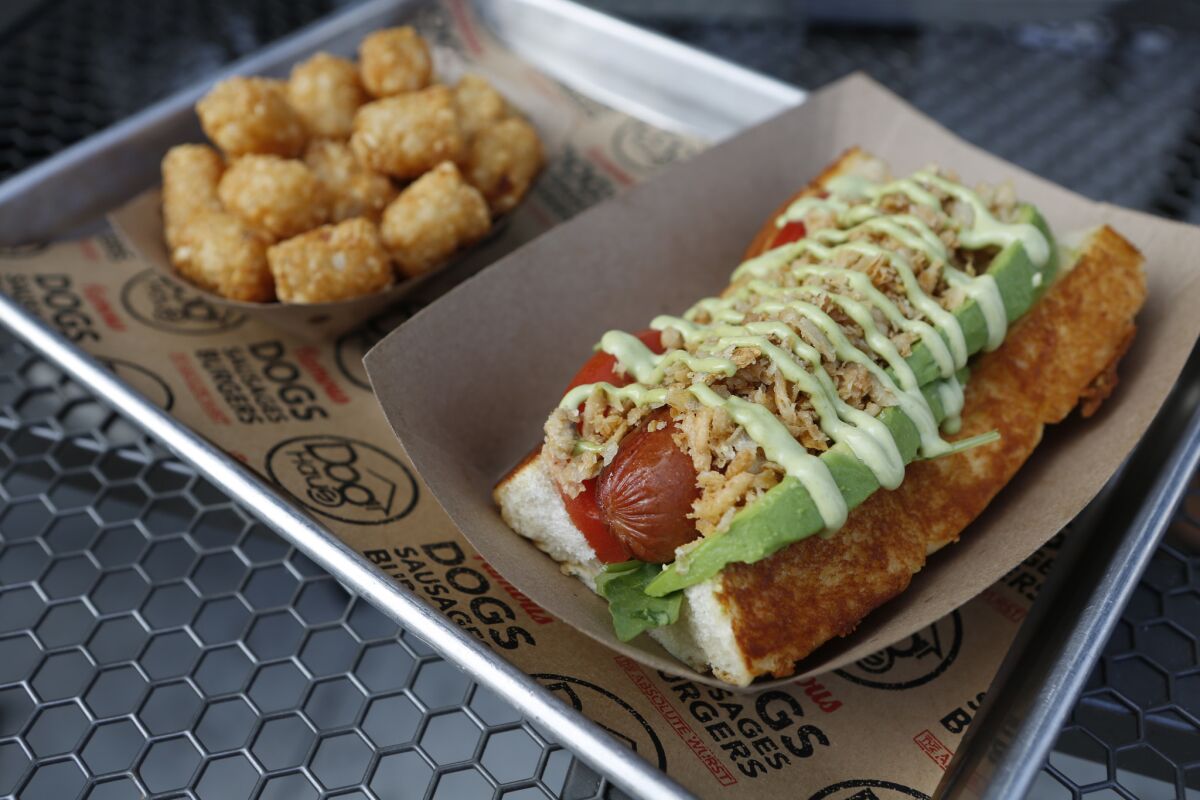 As fast-casual restaurants conquer the nation, it's no longer hard to find better burgers, artisanal burritos or upscale pizza. But not the humble hot dog, which has yet to escape the ballpark.
Dog Haus hopes to change that. The Pasadena company signed a deal that will help bring its gourmet bratwursts to nearly 500 restaurants across the country in the coming years.

For the record:
2:08 a.m. April 1, 2023A previous version of this story said the jazz venue and restaurant Redwhite+Bluezz was closed. It is still open, but moved from its original location to the Pasadena Playhouse.
Dog Haus currently has 21 locations in five states. Under the new agreement with American Development Partners, it will expand by more than 300 new franchises in 12 states over seven years. Separate from that deal, the company has sold an additional 160 franchises that have not yet opened.
The first Dog Haus was opened in 2010 by restaurateurs Quasim Riaz, Hagop Giragossian and Andre Vener. The three friends already had roots in the Pasadena dining scene — Vener used to own jazz club and restaurant Redwhite+Bluezz, while Riaz and Giragossian still co-own Kings Row Gastropub.
Dog Haus has built its brand around its specialty hot dogs (although it serves other food such as burgers, fries and shakes). Its offerings include the Sooo Cali dog, with wild arugula and basil aioli, and the Free Bird, a turkey sausage with avocado and ranch. The chain is also known for its cheeky sense of humor, including its tagline, "the absolute wurst," and a promotional item called the "Naughty Dog" for the recently released animated film "Sausage Party."
Giragossian said the partners never imagined when they started that Dog Haus could expand this far, this fast. He declined to disclose exactly how much they are making on the deal, though they could clear over $10 million on the franchising fees alone, since a single location costs $35,000.
"We are pretty giddy," he said. "We always thought Dog Haus had a chance to grow. But this isn't what we dreamed of."
Caleb McMillen, chief operating officer of American Development Partners, said his company, along with a private equity firm, will sink over $500 million in this deal. ADP develops real estate on behalf of investors, buying land and building properties. In this deal, it will also cover franchising fees — reducing the overhead for franchisees.
Eight franchisees have already signed up to operate the new eateries, paying rent to the investors. Additional locations and franchisees could be brought on later. McMillen said the private equity firm, which he won't disclose, was attracted to the sales and underlying model of Dog Haus. Fast-casual restaurants, he said, are also less costly to build compared to full-service eateries.
"You only want real estate that somebody is paying rent on if the business occupying that space is successful," McMillen said.
On average, one location pulls in sales of $1.3 million a year; the Dog Haus Biergarten concept, which offers the same food as a normal Dog Haus, but with additional beers on tap and in bottles, pulls in even higher sales, Giragossian said. All of the franchises developed under the ADP deal will be Dog Haus Biergartens.
Dog Haus has no debt and no loans. Vener said its prior financial independence will help keep the company from veering off course as it expands.
"We have been managing without borrowing from anybody," he said. "A lot of times when you borrow money to start something, it keeps spiraling in the wrong direction."
The hot dog chain is one of a pack of chains that have exploded in recent years as diners opt for eateries touting higher-quality ingredients in a more refined setting than fast-food joints. Another Pasadena fast-casual chain, Blaze Pizza, is slated to hit 500 locations by 2020.
Dog Haus will be fighting for the same diners that other fast-casual eateries are trying to woo, said Lauren Hallow, concepts analyst at Technomic. But unlike numerous burger and pizza joints, she said, Dog Haus has a more unique menu.
"They really don't have that much competition in terms of national hot dog players," Hallow said. Still, an aggressive expansion plan — with hundreds of new locations in new states over multiple years — is always challenging.
"Anything can happen in seven years," she said. "Something can happen with the economy. Something can happen with real estate. Maybe people will decide they don't like hot dogs."
But the franchisees who have signed up say they are optimistic about the future of the wiener.
Shawn Eby, a long-time fast-food executive, said he's been looking for years to open restaurants that will appeal to millennials. He first encountered Dog Haus in February while visiting his daughter in Long Beach, and recognized its potential. Eby said he's planning to open 100 spots in five years in Wyoming, Colorado, Kentucky and Louisiana.
"It was everything I had been looking for all in one package," Eby said.
Follow Shan on Twitter @ByShanLi
ALSO
Why health insurance companies will solicit you even after you die
Westfield proposes $1.5-billion mixed-used complex at site of aging Warner Center mall
Figure out how risky your investments are by asking these six questions
Sign up for the California Politics newsletter to get exclusive analysis from our reporters.
You may occasionally receive promotional content from the Los Angeles Times.