Dole, the world's largest fresh fruit and vegetable company, is stepping back from Southland
Dole Food Co. is planning to sell its sprawling corporate headquarters and uproot its strawberry operations in Southern California as it seeks to sweeten its books ahead of yet another public stock offering.
The world's largest fresh fruit and vegetable company, owned by Los Angeles billionaire David H. Murdock, is nearly $1.3 billion in debt and operates with low margins and declining revenue. That makes the sale of some of its vast real estate holdings in Hawaii and the U.S. mainland a near imperative, according to regulatory filings and analysts.

For the record:
3:47 a.m. Sept. 26, 2022An earlier version of this story said that a proposed land exchange would include a hotel and the WellBeing Institute on property next to Dole's headquarters in Westlake Village. Those facilities will remain under Dole's ownership.
Dole reported $4.5 billion in revenue last year, a decline of nearly 3% from the previous year, and a net loss of $23 million.
"They don't want to do these things after the IPO," said Kathleen Smith, principal of Renaissance Capital, an initial public offering investment advisor.
Both the company and its 94-year-old board chairman are fighting time.
The company first filed for its IPO in April but has not even begun marketing it yet, Smith said. It has not disclosed how much money it plans to raise.
The company has pledged in its prospectus to redraw its multinational real estate footprint by "rationalizing" its patchwork of facilities and selling off unproductive land, including nearly 15,000 acres in Hawaii.
The company also has been mum about whether it can close a deal to sell its 10-acre headquarters complex in Westlake Village in exchange for an ersatz Hawaiian plantation theme park, which tells the 166-year-old company's foundation story.
Dole would have to close the paired deals within six months of each other in order to be able to defer taxes on capital gains, according to IRS rules governing these exchanges.
Dole said it hoped to finalize initial terms on the purchase of the Oahu property, called Dole Plantation, by midyear, according to SEC filings.
The theme park, which features a "Pineapple Express" train ride, gardens and a pineapple-themed maze, is owned by Castle & Cooke Properties, Murdock's private real estate firm, according to public records.
Dole, which touted the decades-old park as a leading tourist attraction, said the property would "add to our earnings, further enhance our brand and drive consumer awareness."
The proposed exchange would not include one of Murdock's pet projects — the adjacent hotel and WellBeing Institute, a 40,000-square-foot spa that is a cornerstone of the billionaire's personal quest to proselytize about healthy eating. It opened just a decade ago.
Dole also will close a packing and cooling facility in Oxnard, laying off 172 workers, most of whom are represented by the United Farm Workers union, the company told state officials this month.
Meanwhile, Dole is trying to unload 14,800 acres of unproductive agricultural land on Oahu valued at $171 million, according to the SEC filings. The Los Angeles company handling that portfolio, CBRE Group, referred questions to a Dole spokesman, who declined to comment Tuesday.
On Wednesday, Dole spokesman William Goldfield said "there is no plan I know of to move the headquarters to another property." The land and building, he noted, would be off Dole's books and transferred to Murdock's Castle & Cook Properties.
The Hawaii holdings may be an enticement for investors in the eventual IPO, who "are looking at companies like Dole not as an agricultural company, but a company with a lot of real estate holdings," said Ray Wang, principal analyst for Constellation Research. "They see a lot of unlocked value in real estate."
But real estate sales ahead of the offering "are not likely to move the needle" on the eventual share price because they don't address fundamentals such as the company's slim margins and declining revenue, Smith said.
Dole's 12-month operating margin, less than 1%, trails that of its most comparable competitor, Fresh Del Monte Produce, which posted a 4.4% operating margin over the same period, according to Morningstar.
Dole owns and operates some 124,000 acres worldwide, according to its prospectus. But precious little of the vast acreage it owns is in the mainland U.S. — just 1,600 acres spread across five states, according to the company filings. The rest of its U.S. farming operations is on roughly 19,000 acres of leased land in those states.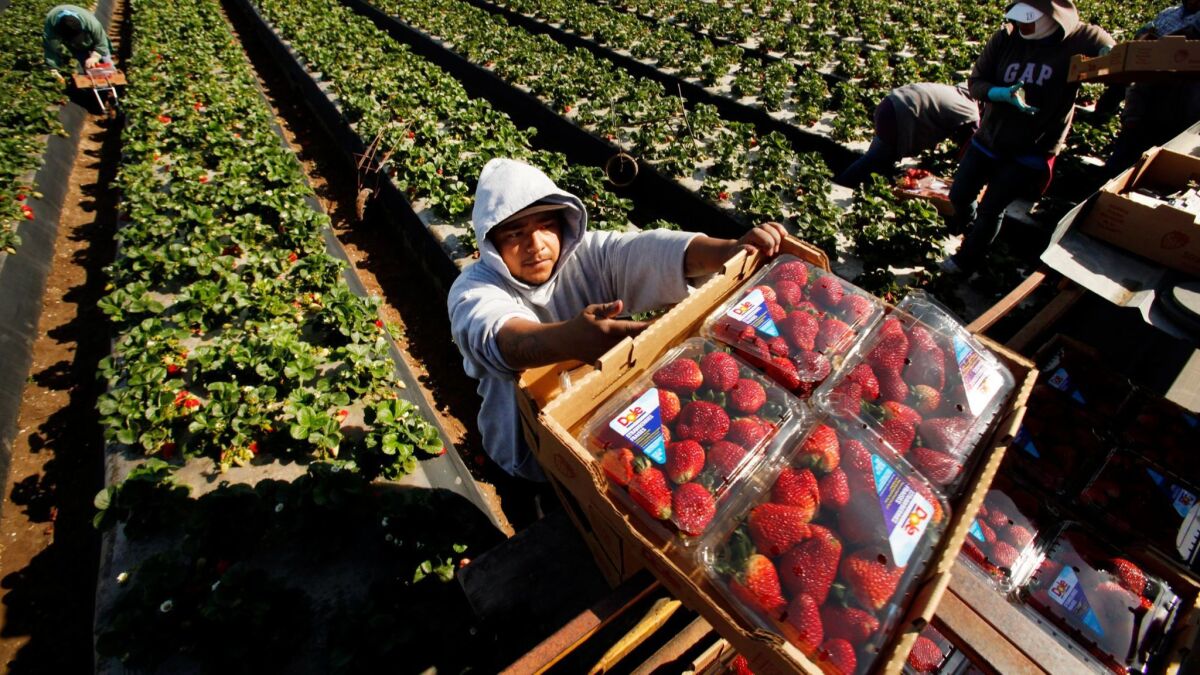 In Southern California, none of the acreage Dole would relinquish is likely to change to other uses, said Ventura County Agricultural Commissioner Henry Gonzales.
Dole, which holds permits to farm 814 acres on six ranches in the county, could merely be shifting to vegetable crops, which are less labor intensive, Gonzales said. He noted that the company has advertised for a manager of vegetable production in Oxnard, even as it has said it will close its berry-processing plant there.
Most of Dole's workers will easily find employment elsewhere amid a statewide shortage of agricultural workers, Gonzales said.
Ventura County lost more than 800 jobs in strawberries last year as major companies such as Hiji Brothers and Mandalay Berry Farms shut down their operations there.
Berries are far more sensitive to saltwater intrusion, a growing problem in Ventura's coastal plain. In addition, state regulators have imposed serious restrictions on pesticide use, while raising the minimum wage and changing the threshold for overtime pay, straining growers' margins.
Dole has a much larger growing and packing footprint in Northern California's Salinas Valley and in the Imperial Valley, near the Mexican border.
The company has largely retreated from Asia and the Pacific, selling off $1.7 billion of its assets there to Japanese trade conglomerate Itochu in 2012, the same year it sold virtually the entire island of Lanai to Oracle founder Larry Ellison for $500 million.
Since then, the company has increased its acreage in Latin America, where it grows bananas, pineapple and other fruit.
Beyond real estate enticements, investors will have to consider other issues, including Dole's relationship with Murdock, a self-made businessman whose net worth is estimated at more than $2.6 billion by Forbes.
Murdock acquired Castle & Cooke, which owned Dole, in 1985. By 2001, the company was nearly bankrupt. Murdock resuscitated the company before taking it private in 2003. In 2009, he went public once more.
Then, in 2013, Murdock took Dole private again, buying back the 60% of Dole he didn't own, at $13.50 a share, a deal that sparked a fraud lawsuit from investors.
A Delaware judge ruled in 2015 that Murdock and former Dole executive C. Michael Carter had colluded to underestimate the value of savings associated with the Itochu deal, depriving the board of information that could have affected the share price in the buyback.
Murdock reached a settlement for an undisclosed sum, while Dole paid out $82.4 million and an additional $74 million to settle a related class-action case.
Dole and Murdock's businesses under the Castle & Cooke umbrella have kept a close relationship — Dole lent $34 million to Murdock-controlled businesses in 2015, a loan that has been extended twice and was partially repaid by unnamed Dole affiliates, according to filings.
Dole also paid more than $8 million last year to rent truck chassis and generator sets from Murdock-owned companies, according to the filings. Dole also pays to rent space in Murdock's 350-acre research campus, founded in Kannapolis, N.C., in 2008.
Among other facilities, the campus houses the David H. Murdock Research Institute and the Dole Nutrition Institute, which investigates health benefits of fruit and vegetables — including chia seeds and vitamin D derived from portobello mushroom powder.
Follow me: @LATgeoffmohan
ALSO
Private-sector job growth accelerates to 237,000, ADP says
Uber reportedly cooperating with U.S. investigation on possible overseas bribes
Santa Monica fitness brand Beachbody is fined $3.6 million over automatic renewals
---
UPDATES:
1 p.m.: This article was updated with a spokesman stating that Dole had no plans to move its headquarters staff out of its current Westlake Village location.
This article was originally published at 3 a.m.
---
Sign up for the California Politics newsletter to get exclusive analysis from our reporters.
You may occasionally receive promotional content from the Los Angeles Times.