As new apartments flood downtown L.A., landlords offer sweet deals
Something is happening downtown that would shock many renters living in an increasingly expensive Los Angeles: Some landlords are letting tenants live for free.
At the recently opened 263-unit Hanover Olympic apartments on Olive Street, new residents can get a free month's rent when they move in. So can new tenants at Sares-Regis Group's new 240-unit Wakaba LA in Little Tokyo.
Developer Carmel Partners is offering an even sweeter deal.
"Summer savings for a limited time," says the website for its new Eighth & Grand complex, where a studio starts at $2,300 and residents can get four to five weeks of rent free and up to 12 months of free parking.
The downtown development boom that's transformed the region's civic and commercial center into a vibrant residential neighborhood has been so great that it's raising questions about how long the heady times can last.
Some construction lenders are growing more cautious, while a handful of landlords are cutting deals to lure tenants who increasingly have more options in what is still one of the priciest neighborhoods in the city.
Although concessions such as a rent-free month aren't widespread, market watchers said they're greater than in other neighborhoods and should only become more prevalent as more buildings open up.
"Concessions have been virtually nonexistent across L.A. for several years. Demand had been so high there just wasn't any need for them," said Steve Basham, senior market analyst with CoStar Group Inc.
The new dynamic, Basham said, can be chalked up to simple supply and demand. In the last year and a half, more than 3,700 apartments have opened downtown and an additional 6,260 are currently under construction, according to real estate firm Transwestern.
When those apartments are finished, they'll boost the number of downtown residences — both for sale and rentals — by about 15% to more than 40,000. Thousands more apartments are planned, as well.
"Landlords don't have the leeway to push rents as they did in the past," said Basham, who thinks downtown is at risk of becoming oversupplied from a developers perspective. "Renters have many more options than they did even six months ago."
As a result, tenants like Will Mendelson are benefiting.
The entertainment journalist moved downtown from Marina del Rey in May looking for a more urban environment, which he found at Carmel's 700-unit Eighth & Grand, which has a Whole Foods on the ground floor. To sign a 12-month lease for a roughly $2,200 studio, Mendelson said he got a month's free rent and six months of free parking.
Later, when he wanted to switch units, he was able to negotiate free parking for a year — after living rent free for the month of June.
"I didn't think I could afford it," the 29-year old recalled thinking, when he first heard of the building. "I was shocked it was in my price range, and I was shocked they were also giving out concessions."
In other Los Angeles neighborhoods, where development has been more subdued, rents are climbing faster and deals are few and far between.
According to real estate website Zillow, the median rent for all multifamily units citywide rose 7.2% in June to $2,446, compared with a year earlier, while the median climbed 3% downtown to $2,437 a month, where many units are studios.
Slowing rent growth is a dynamic playing out in major cities across the country, especially New York City and San Francisco, where there's been a flood of luxury construction.
Softness in those two markets even caused nationwide landlord Equity Residential to cut its revenue expectations for the year. By comparison, rent growth in Los Angeles is stronger and the slowdown appears largely concentrated downtown.
That's because vast swaths of the district are zoned for high-density housing and existing residents have largely welcomed new housing projects, especially when compared with other highly desirable neighborhoods in the city.
"Downtown is one of the few places that stuff goes up relatively rapidly," said Mark Vallianatos, an urban planning expert and co-founder of advocacy group Abundant Housing LA.
Among the large downtown complexes to open recently is the 320-unit Garey Building complex in the Arts District, built by Lowe Enterprises.
Although Lowe isn't offering free rent, it is offering another perk: free parking for the length of a lease — something that would normal run $100 a month, according to a leasing consultant.
Tom Wulf, senior vice president for Lowe, said the decision was made to remain competitive with new buildings nearby in Little Tokyo and the Arts District, including the massive 438-unit One Santa Fe project, which until recently offered new tenants one month rent-free.
"There are a lot of units coming online — that's why you see some of the concessions," Wulf said.
Leasing, though, has been robust since move-ins started last month, Wulf said, noting there are fewer new units in the Arts District than other downtown neighborhoods. "We are not doing [free rent] and I don't need to do that — at least not yet."
Hanover Co. is also offering deals of a month free rent at two new projects, including its Hanover Olympic building, where it has "rooftop skydecks" and a courtyard with a pool and cabanas.
Ryan Hamilton, development partner at Hanover, however, called the free rent offers a "common practice" to fill up new projects — something they offered at a third downtown building a year and half ago when supply was less of an issue. Leasing has also been brisk at its two new projects, Hamilton said.
But lenders are wondering how long that will continue and have grown more selective in the projects they fund.
"Are there that many people that can afford the $3,000 a-month rents?" Chris Casey, a managing director in JLL's real estate investment banking group. "People are looking around and asking themselves: Are we in the seventh inning, the eighth inning" of the development cycle?
If the boom does end, it wouldn't be the first time for downtown.
Amid last decade's housing bubble, developers focused heavily on new condominiums, only to slash prices, mothball their plans or turn the buildings into rentals when the financial crisis and recession turned boom to bust.
This time developers are focusing on apartments and at a much greater scale. The 6,260 apartments now under construction are 1,000 more than all the new apartments and condos that opened downtown from 2002 to 2009, according to Transwestern.
Carol Schatz, president of the Downtown Center Business Improvement District and Central City Assn., called the number of coming apartments "a big number to absorb in a very short period of time" but noted there is far more demand for downtown living than a decade ago.
"It was a very different era. The whole concept of living downtown was foreign — certainly to most Angelenos," she said. Since then there's been "this explosion of restaurants, explosion of clubs and explosion of residents."
Developer Sonny Astani agreed and predicted softness not bust.
Concessions should grow more common, but he said there's plenty of demand to fill units in an increasingly lively downtown that's adding jobs and new office space.
"There will be pockets, in maybe six months to a year, of a lot of concessions and ultimately lower rent," said Astani, who is building a large apartment complex at 12th Street and Grand Avenue. "You are not going to have foreclosures and unfinished buildings and bankruptcies."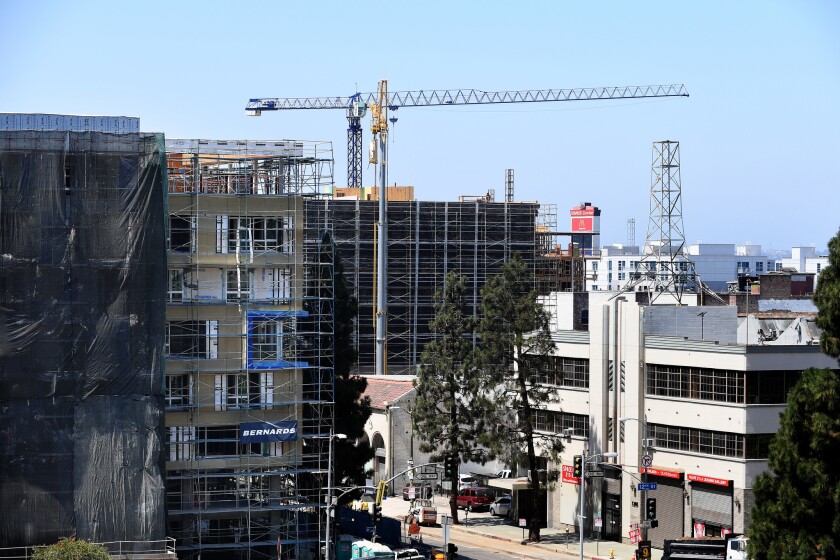 Case in point, many are still interested in building apartments, in large part because there are far more jobs downtown than housing units.
According to the business improvement district, more than 500,000 people come into downtown on a given weekday, but there are only 36,000 housing units and 61,600 residents.
"The jobs-housing balance is still way out of whack," said Michael Shustak, a broker with CBRE Group, who in March handled the sale of a historic jewelry district building to a developer that wants to convert it into apartments. "We still don't have enough housing in downtown."
Indeed, although rents have leveled off at the upper end since the end of last year, they have kept climbing in older, less expensive properties, according to Co-Star.
Downtown rental agent Robyn Joy of the Rental Girl said she couldn't think of incentives being offered at any older complexes, noting that although it's becoming easier to find a high-end apartment, more affordable digs are nearly impossible to track down.
"Trying to find anything under $2,000, even as a studio, is hunt and peck," she said.
Joy's client Jack Rotticci was one of the lucky ones. The 27-year old graduate student recently signed a $1,850-a-month lease for a studio in a historic building on Broadway.
Still, Rotticci said his apartment search was competitive. Before he signed his lease, he wanted a unit in another building but took a day to submit the application.
He waited too long.
"It was already rented out to someone else," he said.
Follow me @khouriandrew on Twitter
ALSO
'A sense of panic is rising' among Republicans over Trump
Supreme Court grants emergency order to block transgender male from using boys' restroom
Millennials are having less sex than any generation in 60 years. Here's why it matters
---
Must-read stories from the L.A. Times
Get the day's top news with our Today's Headlines newsletter, sent every weekday morning.
You may occasionally receive promotional content from the Los Angeles Times.