Downtown not the center of it all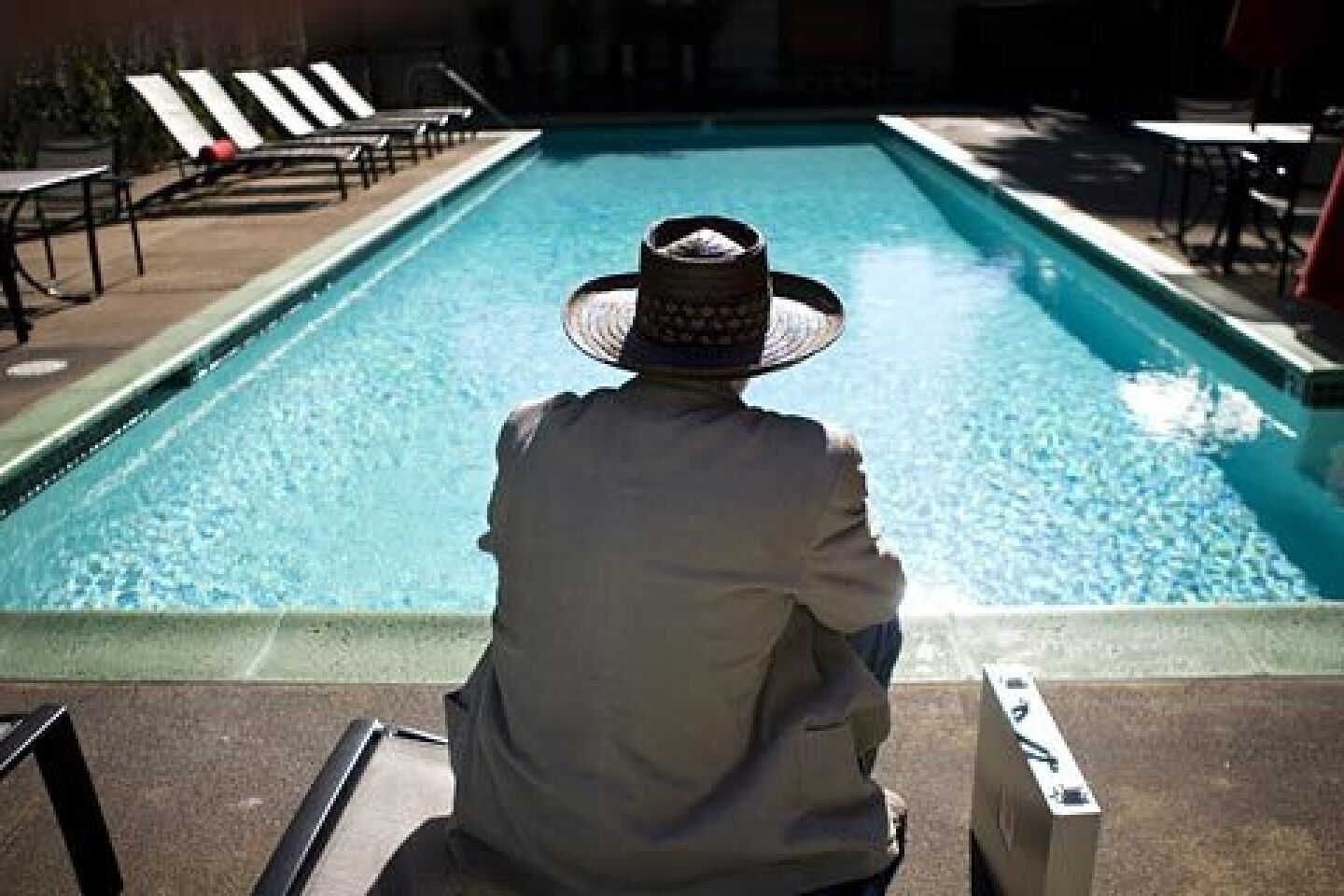 Real estate broker Stephen May has been showing lofts that have been heavily discounted in the once red-hot downtown market. He says the crash has left him with virtually no business.
(Liz O. Baylen / Los Angeles Times)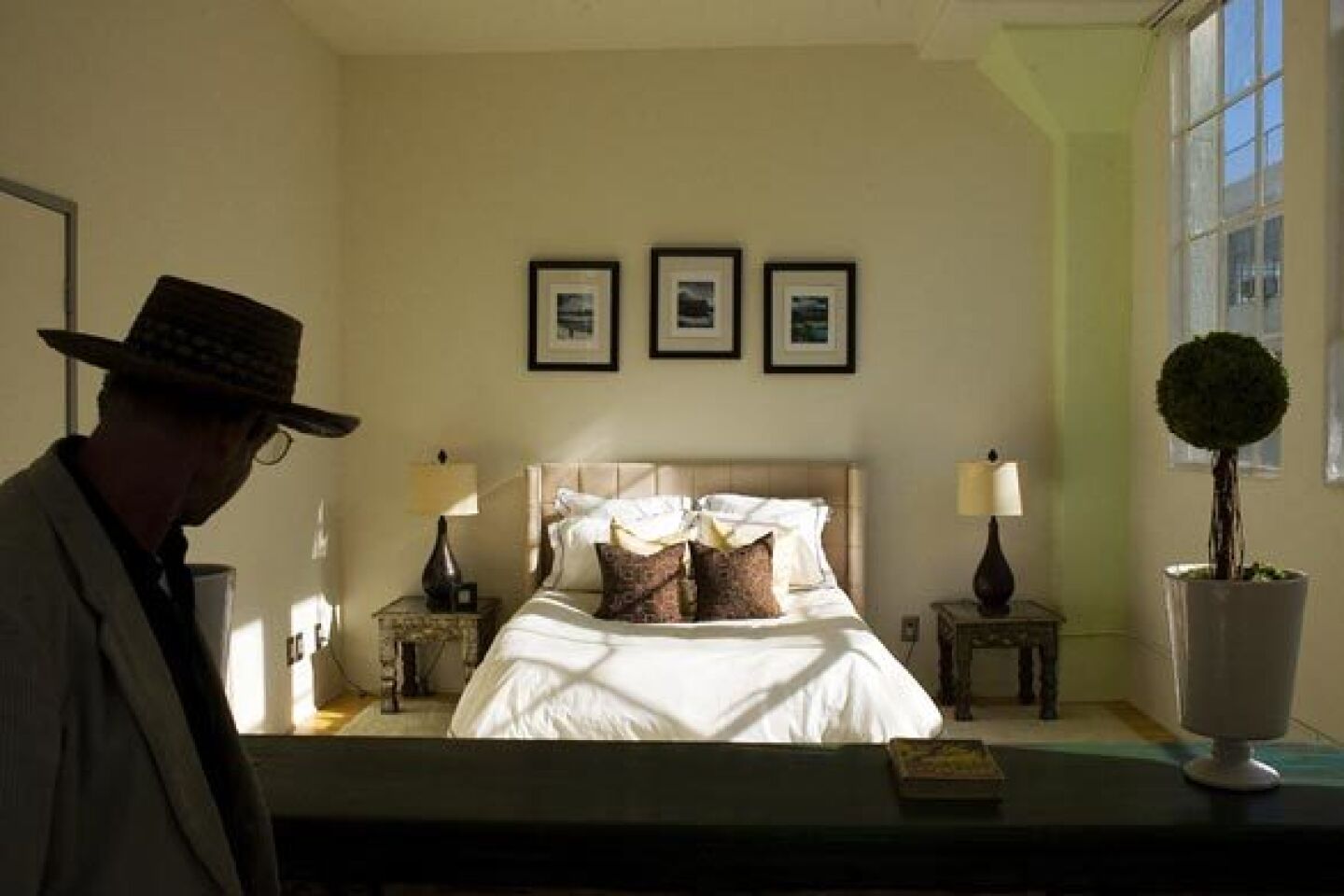 The median sales price for homes sold downtown, almost all of which are condos, fell to $497,360 for the fourth quarter last year, 16% below the 2007 peak, according to DataQuick. Left, real estate broker Stephen May shows a unit dressed to sell at Little Tokyo Lofts, where he lives and works in downtown Los Angeles.
(Liz O. Baylen / Los Angeles Times)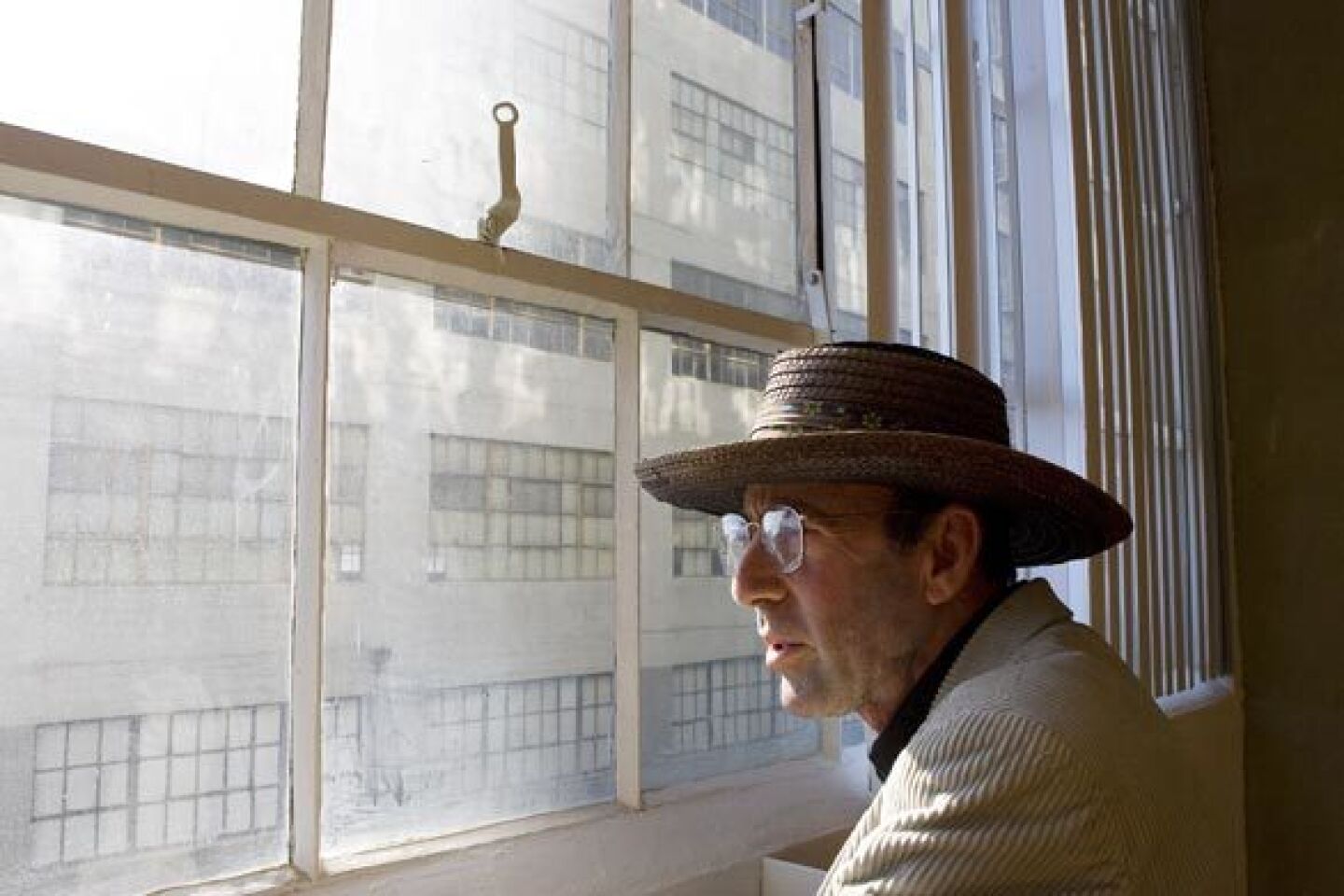 Some real estate analysts say developers overestimated downtown's appeal as a place to live. Developers counter that steadily worsening traffic will increase demand for housing downtown among people who work there. Left, real estate broker Stephen May shows an empty unit at Little Tokyo Lofts.
(Liz O. Baylen / Los Angeles Times)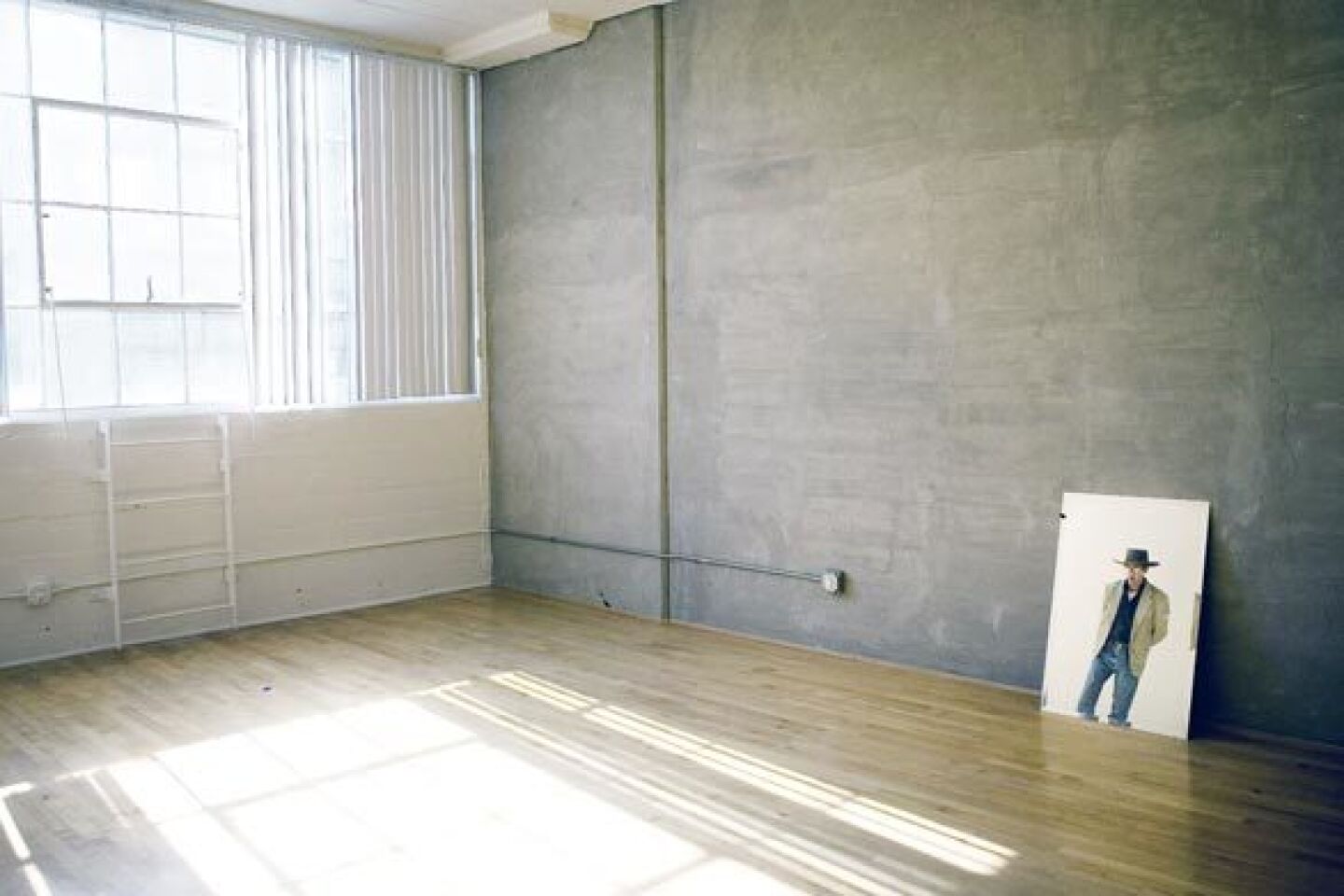 The wide-open layouts and spare look of lofts, with concrete floors and exposed pipes, have been popular with buyers. Left, real estate broker Stephen May shows another empty unit at Little Tokyo Lofts.
(Liz O. Baylen / Los Angeles Times)
Los Angeles Times Staff Writer
Downtown Los Angeles has seen a much-heralded revival in the last few years, with thousands of people moving in and a flock of new restaurants and upscale stores opening to serve them. Attractions such as Staples Center and the Nokia Theatre are helping support premium eateries and a lively club scene.
But there are signs that downtown's residential boom is slowing, if not stalling out altogether.
Prices of condominiums, which dominate the downtown market, have fallen more sharply here than in Los Angeles and Orange counties overall, according to DataQuick Information Systems. More than one-third of the residential projects approved by city officials have been sidelined.
Downtown's defenders say the area simply is suffering from the same housing slump that has slowed sales to a crawl and depressed prices across the country.
But some real estate analysts believe downtown's housing troubles run deeper. They say developers and planners miscalculated its appeal as a residential community, leading them to build far too many projects for the demand.
As a result, the housing market downtown could fall more sharply and take longer to recover than it might in established residential areas.
"There was great hype," said Fred Sands, a veteran real estate broker who sold his namesake firm and now invests in commercial properties. "There was sort of a mania that fed on itself. People said downtown was the future, and young people bought into it. Some of those buildings should not have been built."
Downtown developers counter that argument, saying there are too many people working downtown and not enough places for them to live. Traffic gets worse every year, they point out, which will drive up demand for housing closer to where people work.
"I think it is absolutely inevitable more and more people will live in downtown-type locations," saidJames A. Osterling, a developer and the former chief financial officer of Shea Homes. "I don't think [the real estate slump] is going to kill off downtown."
Home sales data, however, suggest that the downtown market is faring worse than the region overall.
The median sales price for homes sold downtown, almost all of which are condos, fell to $497,360 for the fourth quarter of last year, 16% below the peak reached in early 2007, according to DataQuick.
By comparison, condo prices fell 7% from their peak in Los Angeles County during the same period and 11% from their peak in Orange County, DataQuick said. The median sales price for condos in both counties in the fourth quarter of 2007 was $410,000.
Downtown's residential expansion began in 1999, when the city relaxed parking, zoning and seismic safety rules, making it easier for developers to convert aged office buildings into apartments. The wide-open layouts and spare look of the lofts, with concrete floors and exposed pipes, quickly proved popular with an adventuresome crowd.
Within a few years, developers began to offer units in the rehabbed buildings for sale, and luxury buildings were constructed from the ground up, with rooftop pools and sky-high prices.
So far, however, demand has not kept pace with ambitions, as several downtown boosters concede.
Developers of nearly completed condominium buildings have been pulling out all the stops to move their units. Until recently, one complex offered to lease a Mini Cooper car for buyers. It has now upped the ante: $60,000 in upgrades and discounts. Another developer was giving away paid vacations at a Mexican resort to loft purchasers.
Despite declining values, many downtown lofts are still listed for sale at more than $600,000, comparable to houses in easy commuting distance to downtown.
Osterling, who is developing a residential project in Chinatown, is well aware of the challenge. Though he calls himself "a huge believer in the renaissance in downtown Los Angeles," he likes his Altadena house just fine.
If he did downsize, "I'd probably get a condo in Pasadena," he said. "It has the theater, restaurants and culture without the rough edges of downtown."
Real estate experts say those rough edges -- including pockets of homeless people and areas that still appear run-down -- remain an obstacle.
Sands said he was seriously considering buying apartment buildings in the downtown warehouse district three years ago. He said he changed his mind after seeing "an attractive young woman pushing an infant in a stroller, with winos all around her."
Paul Park, 34, a marketing manager for an architecture and design firm, said he and his partner considered moving their office and residence downtown several years ago. Instead, they set up an office in West Hollywood and remained in their Hollywood house.
Park said he found the well-publicized new night life and shopping downtown wasn't as abundant as he would like.
"We weren't ready to homestead," he said.
Architect Ken Lewis and his wife, Patricia, moved downtown in 2001 to live closer to work and join what they saw as an exciting urban revival.
But after two years of living in a converted office building near City Hall, they abandoned downtown for suburban Burbank.
"I really needed a garage," said Lewis, 51, an avid woodworker. He added: "Patricia really loves to garden; she wanted a small yard."
USC professor Peter Gordon said the loft movement was an outgrowth of the flood of high-rise office buildings that shot up in Bunker Hill in the 1980s.
The new skyscrapers rented at rates low enough to draw tenants from the older buildings downtown, emptying them out. Developers saw an opportunity to convert these vacant, often run-down office spaces into lofts.
It's a good idea that might make sense on paper, Gordon said, but they were trying to create a market where one didn't exist.
"There's a sort of faddishness" to the demand for downtown lofts without doors on the bedrooms and bathrooms or dedicated parking spaces, Gordon said. "I don't think it extends deeply."
He anticipates a long period of high vacancies and deeply discounted rents for downtown's loft buildings.
Despite skeptics such as Gordon, downtown has seen a big increase in its residential population. According to the downtown Business Improvement District, the total has grown 42% in the last three years, based on a formula that figures 1.6 persons per housing unit.
The city, using U.S. census data, estimates more modest growth of 20% downtown from 2000 to 2006. But that still outpaced L.A.'s growth of 8% for that period.
"We have created a desirable place to live," said Carol E. Schatz, president of the Central City Assn., a downtown business advocacy group.
Schatz said slowing condo sales downtown simply reflected the national real estate downturn.
"As the whole region comes out of the downturn, we will speed ahead," she said. "There's no other place you can go to the opera, a Lakers game or a world-class concert" in the Los Angeles area, she said.
Downtown's growth coincided with the creation of several landmark developments, such as Staples Center and the Walt Disney Concert Hall. Coming up: the Grand Avenue project, with its hotels, offices and condos in the Civic Center. The recently opened Nokia Theatre near the Los Angeles Convention Center marked the first phase of L.A. Live, an ambitious hotel, retail and residential complex.
Even skeptics like Sands see South Park, the area around Staples Center, as promising. "South Park eventually is going to be great," Sands said.
James Atkins, whose development firm, Portland, Ore.-based Williams, Dame & Atkins, has built two major projects downtown, is bullish on the area but acknowledges that its transformation is not complete.
From his developments elsewhere, Atkins has learned that younger people will live in edgy new neighborhoods. But a neighborhood becomes firmly established when older, more affluent people are willing to move in -- a sign that the area's safety and amenities match that of the suburbs where they'd been living.
Downtown needs even more restaurants, stores and parks for that to happen, Atkins said. "When the Westside empty-nesters arrive, that's when we'll see the real jump in the market," he said.
He added: "That process took 20 years in Portland."
Sign up for the California Politics newsletter to get exclusive analysis from our reporters.
You may occasionally receive promotional content from the Los Angeles Times.