Come for the food, stay to buy clothes? To attract shoppers, retailers add restaurants to their stores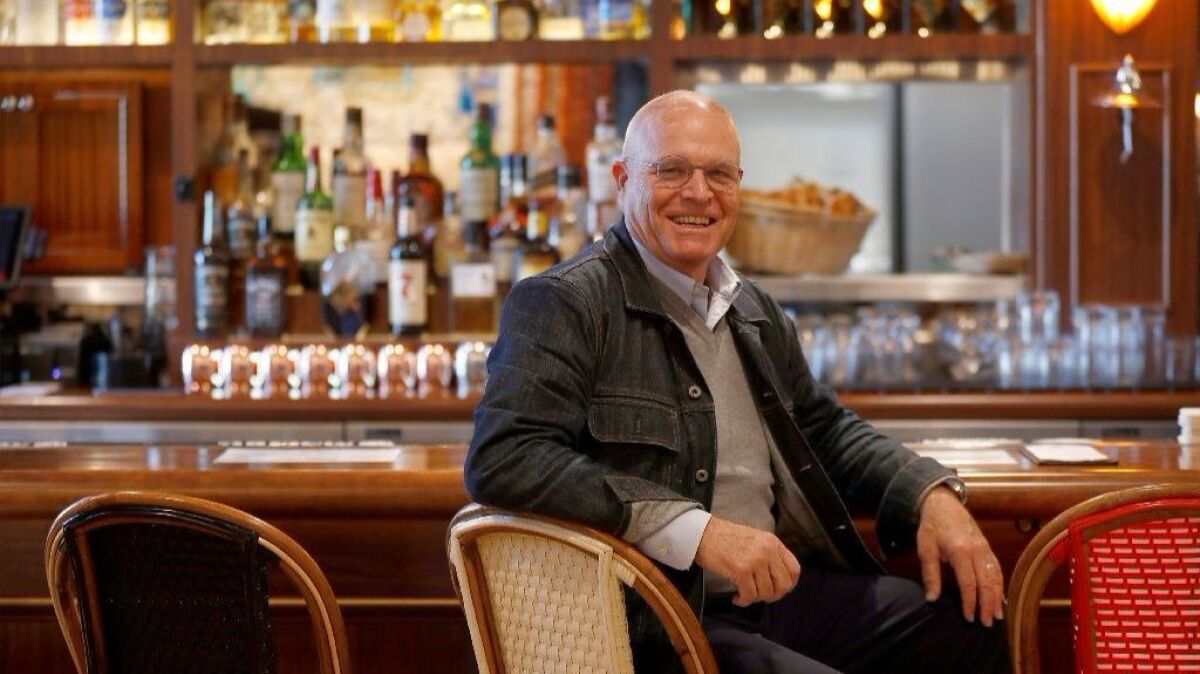 Retailer Mark Werts was dining in a Hong Kong restaurant a few years ago when he noticed most people were doing more than chewing.
"Of about 130 people, 129 people were on their phones," said Werts, who owns the brands American Rag Cie clothing and Maison Midi home goods. "So it struck me that there's an enormous opportunity while you're eating to combine selling decor in a restaurant."
The epiphany led him to create Beau Soleil Kitchen & Bar in Huntington Beach, where people can buy home goods on display, colorful mismatched tiles on the floor and even the tables and chairs. The Maison Midi website is posted throughout the restaurant, giving diners tacit permission to keep their eyes glued to their phones in case they feel the urge to order something besides food.
"The whole experience is for sale," Werts said.
Werts' restaurant-retail hybrid is perhaps the ultimate example of the eating-shopping mash-up working its way across the merchandising landscape.
As retailers try to capitalize on the millennial generation's interest in doing things with friends rather than buying things at malls, there's been a proliferation of restaurants inside grocery stores, shops inside eateries and even snack bars near the dressing rooms. Adding food to the equation is a way for retailers to make shopping an experience and tap millennial consumers' love of eating out, analysts said.
Barnes & Noble was an early adopter when it opened its first location with a Starbucks in 1993, said Neil Saunders, a retail expert with Global Data. And you've always been able to get a Swedish meatball fix inside Ikea stores.
Today, coffee kiosks or full-service restaurants are common inside bookstores. (Furniture retailers, not so much.)
The idea, experts said, is to sell where the potential shoppers are hanging out, and, increasingly, that place is a restaurant.
"They're eating, drinking, posting on social media, hopefully with your product in that picture as well," said Joseph Schmitt, a retail expert with AlixPartners. "That's the ideal situation."
Department store stalwart Nordstrom Inc. is combining personalized service with food to combat online shopping competition in its new concept store in Los Angeles called Nordstrom Local.
There, customers can pick up and try on items they bought at Nordstrom.com or visit with a personal stylist who has culled a collection of store products. Meanwhile, shoppers can linger at a bar stocked with wine, beer, coffee and pressed juice.
In 2007, Eataly introduced the idea that you can eat and shop in the same place. The marketplace gives customers the option of dining at one of several restaurants or buying the ingredients to cook meals at home.
The concept has proved so popular that the company has opened 13 marketplaces worldwide, including its most recent in the Westfield Century City mall, which brought in an average of 3,600 people a day during its opening weekend in November.
Even grocery stores are striving to compete by giving customers more reasons to walk through their automatic glass doors. The eat-in option is popping up so often that the industry has invented a portmanteau: grocerant.
Whole Foods has offered customers hot foods and seating areas since it was founded but more recently has been incorporating full-service restaurants and bars inside its markets.
In 2016, Gelson's added a wine bar at its Los Feliz market and offers a "You sip, we shop" program allowing customers to imbibe while a store employee does the shopping.
It was the small Southern California chain's second foray into bartending — the first was in Long Beach in 2013 — and customer response has been so strong that the company plans to roll out nine more in the next several months, Chief Merchandising Officer John Bagan said.
"Lines between grocery stores and restaurants are blurring," Bagan said, noting that the stores have prepared food counters and delis to augment the wine and beer. "It fits perfectly with consumers' desire to have fresh foods when and how they want it ... [so to] have someone do the heavy lifting for them with the shopping adds to the relaxing aspect."
The food concept is one that retailers love, but it's not easy in practice, said Garrick Brown, vice president of retail research at real estate brokerage Cushman & Wakefield. Retailers should know how to operate a restaurant and have to find the right location, not tucked away, but in a walkable location open to the public.
"The tricky thing about retailers jumping into the restaurant business is that unless they know a partner that knows what they're doing, the restaurant business is tough," he said.
For Werts, running a restaurant to benefit his retail operation has been evolving since 1988, when he opened Cafe Midi next to his American Rag Cie and Maison Midi stores on La Brea Avenue.
In the '80s, it was unusual for stores and restaurants to be paired together, Werts recalled. City officials kept ticketing him and removing his chairs and plants, but he took every citation to the mayor's office and fought to keep the sidewalk cafe, he said.
With Beau Soleil, which opened in September, Werts couldn't find a restaurant software system that allowed him to track retail purchases, so he is having a system designed from scratch. Right now, it's difficult to tell how much product people are actually buying from the restaurant, he said.
"It's a concept for the future," Werts said. "Everybody uses the cliché that people are more about experience than product; this is a marriage of both."
Beau Soleil Kitchen & Bar is more immersive than other restaurant-retail store combinations, Saunders said. Customers can try out products they might want to buy and develop a connection with the brand through their experience in the restaurant, which would make them more likely to purchase in the future.
"The two should cross-pollinate, which is the best of both worlds," Saunders said.
Dorian Holley, who has been a customer of American Rag and Maison Midi for 31 years, said he often goes to eat at Cafe Midi and ends up walking out of one of the stores with something he didn't intend to buy.
Holley's explanation for the crossover appeal: "People like to look at beautiful things."
alejandra.reyesvelarde@latimes.com
Twitter: @r_valejandra
---
Sign up for the California Politics newsletter to get exclusive analysis from our reporters.
You may occasionally receive promotional content from the Los Angeles Times.