U.S. economy has its strongest back-to-back quarters of growth since 2014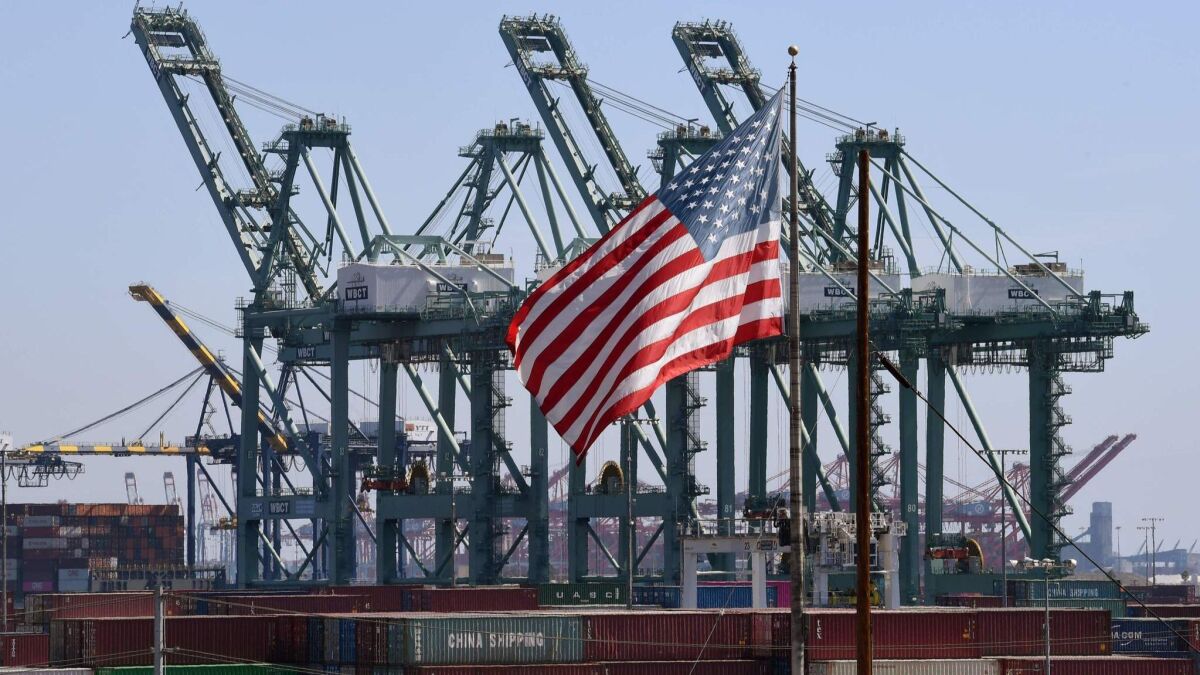 Bloomberg
The U.S. economy expanded at a 3.5% pace in the third quarter as consumers opened their wallets, businesses restocked inventories and governments boosted spending, marking the strongest back-to-back quarters of growth since 2014.
The annualized rate of gains in gross domestic product was brisker than expected — a Bloomberg survey showed a median estimate of 3.3% — and followed a 4.2% pace in the prior quarter, according to Friday's report from the Commerce Department.
Consumer spending, which accounts for about 70% of the economy, unexpectedly accelerated to a 4% increase — the best since 2014 — while the 0.8% gain in nonresidential business investment was the weakest in almost two years. In two volatile categories, inventories provided the biggest contribution since early 2015, while the drag from trade was the largest in 33 years. Government spending rose by the most since 2016.
The data indicate that a robust job market and lower taxes continued to propel demand, giving President Trump an opportunity to showcase his policies heading into the midterm congressional elections. At the same time, tariff-related bottlenecks and the U.S.-China trade war are headwinds for the nation's second-longest economic expansion on record. And the weakness in business investment suggests that the boost from corporate tax cuts may be wearing off.
The pickup in private and public consumption is "what you would expect" from fiscal stimulus, but the burst in business spending "looks to be fading," said Michael Gapen, chief U.S. economist at Barclays Plc and a former Federal Reserve official. "What we're trying to ascertain is, is fiscal stimulus transitory or will it help sustain economic growth longer-term? This report shows the fiscal stimulus has a transitory response."
Investors have become less sanguine on the outlook amid the latest run of U.S. company earnings reports. U.S. stocks and Treasury yields fell Friday, with shares dragged down by disappointing earnings reports from technology bellwethers Amazon.com Inc. and Alphabet Inc. on Thursday.
Amazon gave lower-than-expected forecasts for revenue and operating income in the fourth quarter. Shares of Caterpillar Inc. tumbled this week after the maker of mining and construction equipment said rising material and freight costs drove up its manufacturing costs.
More broadly, this month the International Monetary Fund cut its global growth forecast for the first time in two years, blaming escalating trade tensions and stresses in emerging markets. World GDP would fall further if Trump follows through on all his trade threats, including global duties on cars, the IMF said.
Final demand
Excluding the volatile trade and inventories components of GDP, final sales to domestic purchasers increased at a 3.1% pace, slowing from 4%. Economists monitor this measure for a better sense of underlying demand. Excluding government spending, the measure of private demand also rose 3.1%.
Consumer spending compared with projections for a 3.3% advance, and followed the second quarter's 3.8% gain. It contributed 2.69 percentage points to growth. Purchases rose across most major categories including motor vehicles, recreational goods, food and clothing, in part reflecting the support from steady hiring and the lowest unemployment rate in about five decades.
Hurricane Florence, which made landfall in North Carolina on Sept. 14, "disrupted consumption and business activities, including utilities," while emergency and other services "likely increased in response to the disaster," the Commerce Department said. The government said it couldn't estimate the overall impact of the storm on third-quarter GDP.
Talking point
Even so, the GDP figures give Trump a timely talking point during campaign rallies and yet another chance to claim the robust expansion for his own following the biggest tax overhaul since the Reagan era. GDP rose 3% from a year earlier, the most on that basis since 2015 and matching the administration's goal.
Yet growth is expected to moderate in 2019 as the effects of the tax cuts wane, while tariffs and a strong dollar weigh on the economy. Borrowing costs also may keep rising, as investors project the Federal Reserve will raise the benchmark interest rate for a fourth time this year in December.
Even with growth and employment above what most analysts and central bankers see as the economy's sustainable capacity, inflation remains contained. Price data in the GDP report showed inflation at a 1.6% annualized pace last quarter, below the Fed's 2% goal. Excluding food and energy, the central bank's preferred price index also rose at a 1.6% rate.
Business investment
Nonresidential fixed investment — which includes spending on equipment, structures and intellectual property — contributed just 0.12 of a percentage point to growth, following 1.15 points in the second quarter.
Within that category, spending on structures shrank 7.9%, the biggest drop in almost three years, following a 14.5% surge in the prior period that partly reflected investment in oil production. Equipment investment cooled to a 0.4% advance, the slowest since 2016, and the rise in intellectual-property spending eased to a three-quarter low of 7.9%.
Housing remained a weak spot, posing the third consecutive drag on GDP growth, with a contraction of 4%. Recent reports indicate the industry is slowing amid higher prices and rising mortgage rates, as well as a lack of affordable listings.
Inventories and trade
GDP growth last quarter benefited from a rebuilding of inventories, which dragged down expansion in the prior period amid tariff-related supply-chain disruptions and steady demand. The third-quarter increase was broad-based and led by wholesale trade, particularly farm products, and manufacturing, according to the Commerce Department.
The trade component reflected a widening deficit, with a 3.5% decline in exports and a 9.1% increase in imports. That was driven by an unwinding of the hefty boost from net exports in the second quarter when U.S. exporters of soybeans and other products accelerated shipments to beat retaliatory tariffs from abroad.
Solid domestic demand and some front-loading of imports ahead of a January rise in levies on Chinese goods may further widen the trade gap.
Other details
• Government spending increased at 3.3% rate, contributing 0.56 of a percentage point to growth.
• Federal outlays rose 3.3% amid a 4.6% gain in defense spending, while state and local outlays increased at a 3.2% rate, the most since 2016.
• The savings rate fell to 6.4% from 6.8%.
• The GDP estimate is the first of three for the quarter, with the other releases scheduled for November and December when more information becomes available.
Dmitrieva and Chandra write for Bloomberg.
Sign up for the California Politics newsletter to get exclusive analysis from our reporters.
You may occasionally receive promotional content from the Los Angeles Times.