Trump's economy is booming. But for voters, it's crowded out by Trump himself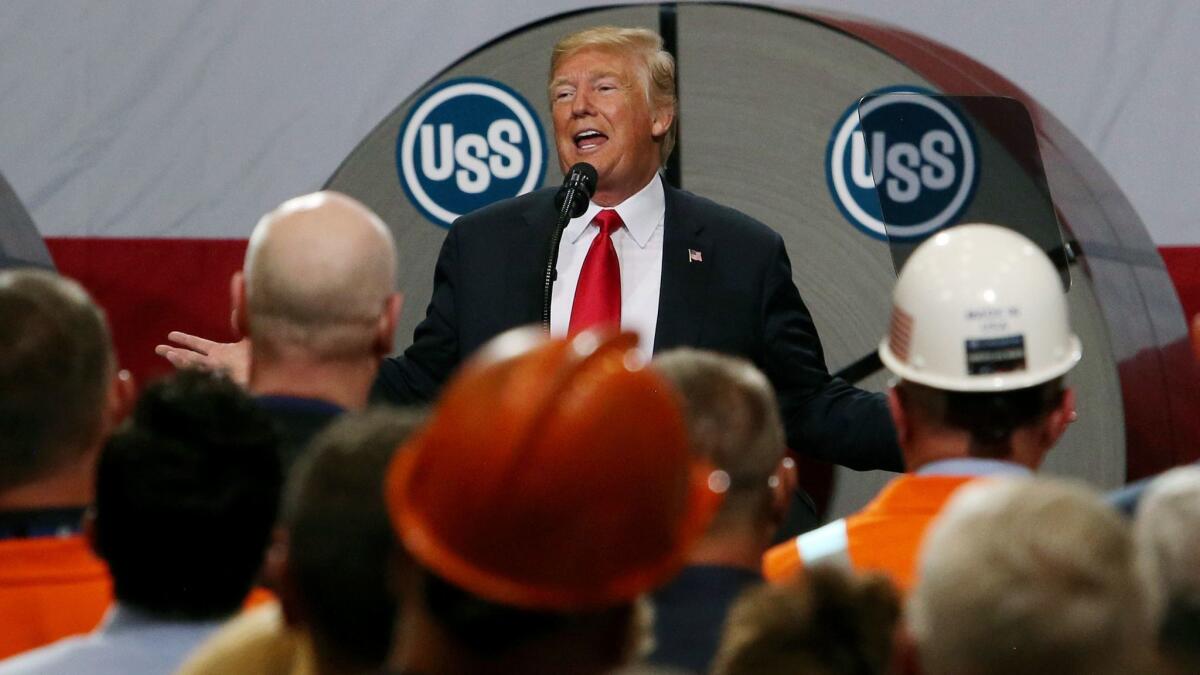 The U.S. economy sure seems to be booming. But as a campaign issue, it can't compete with Donald Trump.
Unemployment is at 3.7% nationwide, a 49-year low, according to Friday's new U.S. Department of Labor report. And though wages have stagnated, the number of jobs created has grown for more than eight years straight following a brutal recession.
California employers added 44,800 net jobs in August, and the unemployment rate held at a record low of 4.2%.
But that may not give the expected boost to Republicans going into November's midterm elections, according to political strategists and pollsters in both parties. Campaign messages trumpeting economic expansion have largely been drowned out by the noise surrounding the president.
"The GDP could be growing at 4%," said Charlie Cook, publisher of Cook Political Report, a nonpartisan handicapper's guide to elections around the country. "It could be growing at 10% and my wife and daughter would still hate him."
"People who are angry or afraid are disproportionately more motivated to vote than those who are happy, satisfied and complacent, " he added.
A recent USC Dornsife-Los Angeles Times poll of 5,045 Americans — including 2,513 likely voters — found that 1 in 5 likely voters, both Democrats and Republicans, still list the economy as a top issue.
Asked to pick from a list the one issue they considered most important, Democratic voters put healthcare at the top, followed by the economy and jobs. Republican voters put the economy and jobs at the top, followed by taxes and spending and illegal immigration.
But the poll showed all issues paled as a motivator when compared with their view of Trump.
Roughly 3 out of 4 likely voters said they saw their vote this fall as an opportunity to express a view of Trump. Those planning to register their opposition outnumbered Trump supporters, 45% to 29%.
"I can't think of an election in which the economy was driving the vote less," said Robert Shrum, co-director of USC's Center for the Political Future and a longtime Democratic strategist.
Other financial issues have great potency, though. "Regardless of the jobs numbers, people still feel enormous anxiety both around healthcare and housing," said Bill Carrick, a longtime Los Angeles political strategist who represents Sen. Dianne Feinstein (D-Calif.) in her race against a more progressive Democrat, Kevin de León. "And they're wondering, will this economy lead to higher wages?"
The partisan divide over those issues surfaced in an exchange between Republican Rep. Steve Knight of Palmdale and Democratic challenger Katie Hill at a September debate sponsored by the Palmdale Chamber of Commerce.
"The tax system needs to be more equitable," Hill said. "There's massive income inequality. The vast majority of benefits are not going to people who are struggling with poverty, or to the middle class."
Knight offered a different view. "We are going to try and continue this booming economy," he said. "Taxes 2.0 and 3.0 are following the tax cut we already did."
As Hill decried "wage stagnation," Knight distanced himself from Trump's recent announcement of a freeze on federal employee wages, saying, "We oppose this.… We shouldn't have that freeze. It is a small item that we can absorb in the budget that makes a world of difference to people."
Hill hammered on healthcare. "It's incredibly expensive for employers and individuals," she told the Palmdale chamber. "When you have a sick workforce, unable to get healthcare, it's not good for business…When people are spending thousands on healthcare, they're not investing it here."
In California, Carrick said, many voters are upset that the Republicans' recently passed tax law caps deductions for state and local taxes at $10,000 a year. Taxes are a major issue in the Orange County race between Republican incumbent Rep. Mimi Walters and Democratic opponent Katie Porter, a UC Irvine law professor.
A Walters ad said Porter supports higher gas taxes, and a counter-ad from Porter called it "a straight up lie," citing Walters' vote for the GOP tax bill. "Mimi Walters votes with Donald Trump 99% of the time, and Mimi Walters raised taxes on middle-class Californians," Porter asserts in the ad.
Walters punched back in a spot sponsored by House Speaker Paul D. Ryan's Congressional Leadership Fund super PAC. "Mimi Walters cut middle-class taxes, saving families $5,000 a year," it said. "Now California has record low unemployment. Katie Porter would take us backward. Porter joined Pelosi to oppose the middle-class tax bill."
Mark Z. Barabak, Michael Finnegan and David Lauter contributed to this report.
Twitter: @margotroosevelt
---
UPDATES:
3:40 p.m.: This article was updated with details of recent congressional debates.
This article was originally published at 2 p.m.