State regulators approve electric vehicle charging station pilot program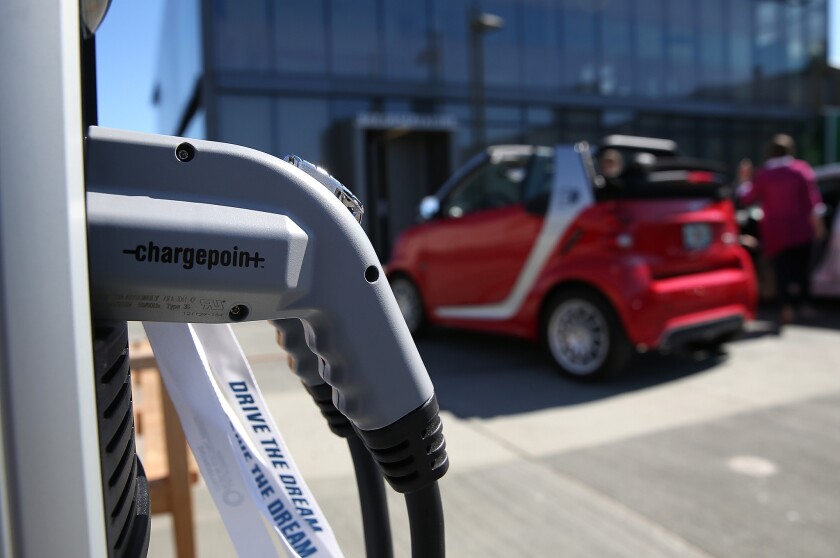 Southern California Edison won approval from state regulators Thursday to develop a $22-million pilot program that will increase the number of electric vehicle charging stations by as many as 1,500.
Edison plans to place charging stations at locations where drivers typically leave their cars parked for four hours or more: workplaces and fleet facilities, multi-unit dwellings and destination locations such as parks and shopping malls. Single-family homes are not eligible.
Ratepayers will fund the cost of all paneling, conduits and wiring.
Those who participate in the program will own and operate the charging station. They will be responsible for all related operating costs, including maintenance and electricity usage.
Edison also will provide rebates for charging-station owners to cover a predetermined amount of the system's cost.
"This decision takes bold action in support of transportation electrification, while simultaneously preserving competition and exercising prudence on behalf of ratepayers," said California Public Utilities Commissioner Carla J. Peterman, who oversaw the issue.
As an incentive to participate in the program, SCE will offer rebates of 25% to 100% of the base cost of the charging stations and their installation.
At the end of the pilot program, Edison plans to seek approval for expansion of the program to increase the total number of charging stations to about 30,000 at an estimated cost of $355 million.
The program also provides funding for education and outreach to develop awareness about the benefits of electric vehicles and charging from the power grid.
"A major barrier to electric vehicle ownership is that there aren't enough charging stations where people normally park their cars," said Caroline Choi, Edison's vice president for energy and environmental policy.
"We believe that by giving electric vehicle owners more options to charge their vehicles, this program can actually help to accelerate the market in Southern California," Choi said.
Pasquale Romano, chief executive of ChargePoint, which operates the largest vehicle charging station network in the world, said Edison's program is the kind of program the state needs.
"For California, we believe it will accelerate the market and respond most effectively to the governor's urgent call for electric vehicles to address climate change," Romano said.
For more energy news, follow Ivan Penn on Twitter: @ivanlpenn.
---
Must-read stories from the L.A. Times
Get the day's top news with our Today's Headlines newsletter, sent every weekday morning.
You may occasionally receive promotional content from the Los Angeles Times.