Lawmakers urge regulators to delay plans for Oxnard power plant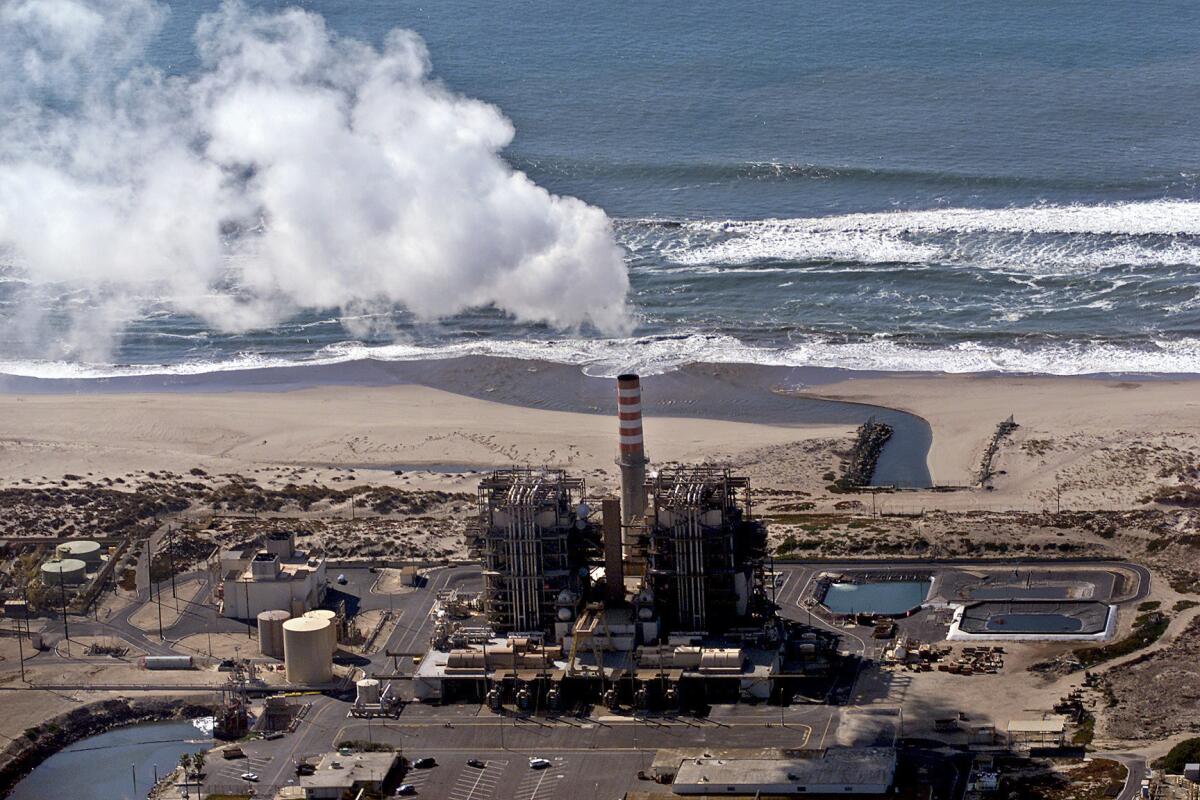 Three state lawmakers on Tuesday urged regulators to reconsider a controversial natural gas project proposed for Ventura County, citing environmental concerns and questions about whether the state already has too many power plants.
The lawmakers asked the California Energy Commission "to pause and reevaluate the need for the plant" in light of a report published by the Los Angeles Times that detailed how the state has created a glut of electricity capacity over the last decade at the expense of ratepayers.
The commission is holding a public hearing in Oxnard this week before it votes on whether to approve the Puente Power Project. The plant, proposed by Southern California Edison, would provide power during peak use and replace two older gas-fired steam turbines in Mandalay Bay that cause more pollution.
They were barely used in 2015, operating at about 6.5% of their capacity, according to federal data.
"We should not rush the Puente Power Project until the California Public Utilities Commission and the California Energy Commission can adequately justify the need for this plant ... and address the serious environmental and environmental justice concerns raised by the community," Sen. Hannah-Beth Jackson (D-Santa Barbara) wrote to the commission Tuesday.
A recent Los Angeles Times investigation found that the state's power plants are on track to be able to produce at least 21% more electricity than needed by 2020, based on official estimates.
Regulators continue to approve more plants and increase electricity rates, even though some plants have even been forced to shut down because their power is not needed. Californians, meanwhile, are footing the $40-billion annual bill, paying $6.8 billion more than in 2008.
Jackson, state Sen. Henry Stern (D-Canoga Park) and Rep. Monique Limón (D-Santa Barbara) joined a chorus of consumer advocates and environmental groups who have been calling on regulators to reject the Oxnard project and several other proposed natural gas facilities. They say there are cleaner alternatives and that many existing plants are underused.
"While California claims to be the Golden State example for the nation on environmental policies, we're in fact a laggard," Jamie Court, president of Consumer Watchdog, said during a news conference Monday as his organization and other groups called for a moratorium on the building of new natural gas plants.
Commission spokesman Albert Lundeen said the agency welcomes public input as they conduct their "open robust discussion of the merits or lack of merits of the project."
Ron Nichols, Edison's president, said the plant will help ensure that Ventura County has reliable power during heat waves or cold snaps.
"What we have in terms of power generation on a statewide level, and what is needed locally, are two different things," Nichols said.
The Puente plant would sit on 3 acres of the existing Mandalay Generating Station. It would replace two older units and wouldn't tap ocean water for its operations, projected to start in 2020.
Though the new plant would create less pollution, environmentalists have complained that the state should not continue to build industrial operations on environmentally sensitive beaches.
Despite those objections, the California Public Utilities Commission has already approved Southern California Edison's contract with Houston-based NRG Energy Inc., which would build the plant.
An energy commission staff report found no significant environmental impact.
The Puente project is one of a series of plants proposed in Southern California from Oxnard to Carlsbad.
Regulators say the plants are needed to rid the region of old, inefficient power plants that pollute communities.
The additional power will also provide stability to the electric grid as the state continues ramping up renewable energy sources to reach its mandated goal of 50% clean energy by 2030, regulators say.
But the lawmakers urged caution.
"In light of new technological advances in clean energy, storage and efficiency, mounting environmental safety concerns and looming ratepayer risks," Stern said, "we need to step back and take a fresh look at our approach to providing energy to Southern Californians."
For more energy news, follow Ivan Penn on Twitter: @ivanlpenn