Elon Musk's security clearance is under review after he smoked pot, source says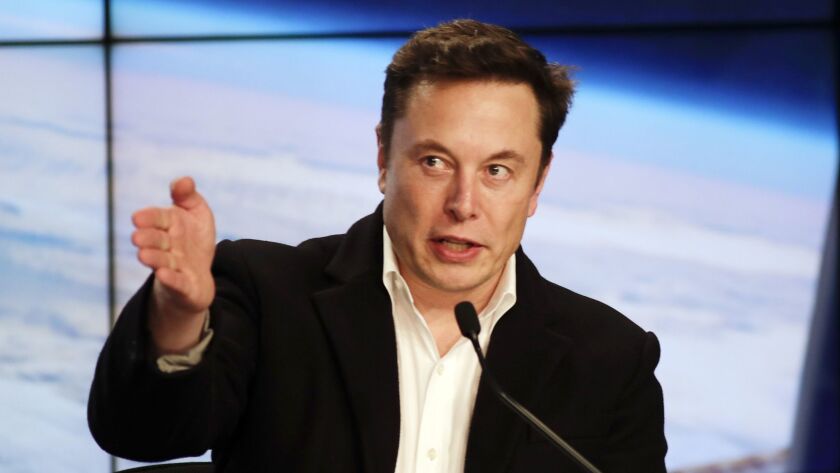 SpaceX Chief Executive Elon Musk's Pentagon security clearance is under review after he infamously smoked marijuana live on YouTube in September, according to a U.S. official.
Musk has refiled his SF-86 security form, which requires a federal employee or contractor seeking a clearance to acknowledge any illegal drug use over the previous seven years, according to the official, who asked not to be identified. SpaceX has contracts to launch satellites for the U.S. military.
Musk's "adjudication" review by the Defense Security Service continues with no decision yet, the U.S. official said. Typically during an adjudication, a person keeps his or her security clearance but loses access to information classified as secret, according to the official. If the drug use involves minor issues or doesn't appear to contain any serious security concerns, the unit reviewing the case could just close it and update Musk's record.
The Defense Department said it does not "publicly discuss individual clearance status" but said in a statement that it "is following its normal process when information which may affect an individual's clearance eligibility is brought to our attention." SpaceX declined to comment.
There can be serious consequences for breaching security protocols.
Smoking marijuana is "absolutely grounds for termination or loss of a clearance if a federal employee or contractor currently uses" it, said Mark Zaid, an attorney who specializes in federal whistleblower cases and representing clients facing clearance challenges. Zaid doesn't represent Musk and was not aware of the details of his case.
It "totally would make sense" for the Defense Security Service to ask Musk to update his application and to investigate the situation further, he said.
About two months after Musk smoked pot on "The Joe Rogan Experience" podcast on YouTube, NASA said it would conduct a safety review of Hawthorne-based SpaceX and another of its contractors, aerospace giant Boeing Co., to "ensure the companies are meeting NASA's requirements for workplace safety, including the adherence to a drug-free environment." The Washington Post reported that NASA's safety review was spurred by Musk's pot-smoking on the podcast.
SpaceX and Boeing have been awarded separate NASA contracts to build capsules to transport astronauts to the International Space Station. SpaceX's first test flight of its Crew Dragon capsule, without humans aboard, launched last week. The capsule is set to return to Earth and splash down in the Atlantic Ocean on Friday morning.
Crewed test missions in the SpaceX and Boeing capsules are expected this summer or later.
NASA Administrator Jim Bridenstine said last month that the safety review is "just making sure that all of our contractors have the culture that is appropriate to a human spaceflight program."
"I have no reason to doubt that that culture exists both at SpaceX and at Boeing," he said. "But I want to make sure that before we put humans on rockets, we have a really good assessment as to [the companies'] culture. NASA has had to learn some very tough lessons on culture in the past. We want to make sure that those lessons have been learned not just by NASA, but also by our contractors."
In December, weeks after NASA announced its safety review, a U.S. Air Force official said his service did not have similar qualms about SpaceX.
The Air Force relies on SpaceX and on United Launch Alliance — a joint venture of Boeing and Lockheed Martin Corp. — to launch sensitive national security satellites. SpaceX has been certified to compete for U.S. national security launches since 2015. It has been awarded nine total national security space launch missions.
"We actually do not have a concern about their processes," Col. Robert Bongiovi, director of the Air Force Space and Missile Systems Center's launch enterprise systems directorate, told reporters in December.
A SpaceX official, who asked not to be identified, said Thursday's news hasn't had an effect on the company.
News of the security refiling comes during a tumultuous time for Musk, who is also CEO of electric-car maker Tesla Inc. In the last two weeks, Musk has gotten into another spat with the U.S. Securities and Exchange Commission over his tweets about Tesla, unveiled a cheaper version of Tesla's Model 3 sedan and caught investors — and members of his own staff — by surprise with plans to close most of Tesla's showrooms.
Capaccio writes for Bloomberg. Masunaga is a Times staff writer.
Twitter: @smasunaga
---
Your guide to our clean energy future
Get our Boiling Point newsletter for the latest on the power sector, water wars and more — and what they mean for California.
You may occasionally receive promotional content from the Los Angeles Times.