Automakers hope to avoid market disruption in the latest Trump vs. California fight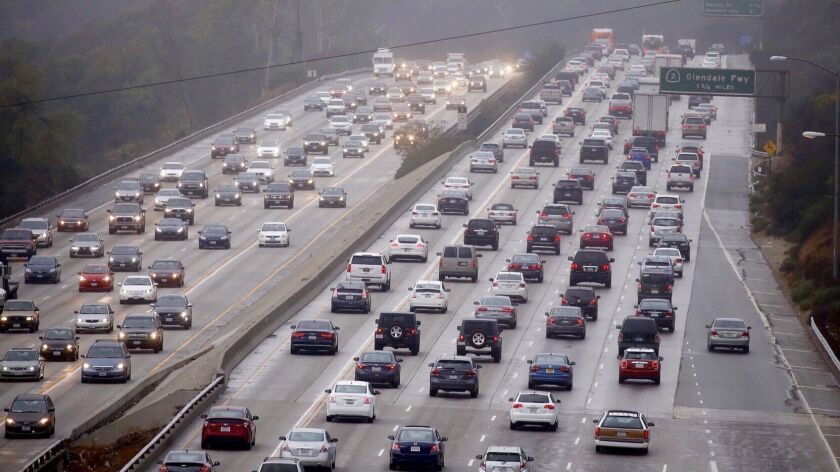 A possible clash between the U.S. government and California over future fuel-economy standards raises the knotty question of whether automakers one day might have to build two different sets of the same vehicles for various parts of the nation.
Even though automakers pushed the Trump administration to loosen standards, they will work to avoid such a costly and complicated scenario — one that probably would lift vehicle sticker prices as the companies pass some of those costs along to consumers — analysts said Friday. "Automakers do not want to build two sets of cars, for sure," said Jessica Caldwell, director of industry analysis at Edmunds.com.
Still, there's a good chance that the Environmental Protection Agency and California could be locked in court for years over the EPA's expected plan to scale back mileage targets that the Obama administration had drafted in tandem with California.
The targets aimed to boost average fuel economy for passenger cars and sport utility vehicles to 55 miles per gallon by 2025. But the agency plans to replace those targets with a weaker standard that would be unveiled soon, according to people familiar with the plans.
Officials in California, whose standards have been adopted by a dozen other states, vowed to challenge any rollback by EPA chief Scott Pruitt.
"California has its own authority under the Clean Air Act to fight pollution," Sen. Dianne Feinstein (D-Calif.) said in a statement Friday. "I fully support California, the largest auto market in the country, to use that authority to retain the achievements being made that will likely result in fuel efficiency of more than 50 mpg by 2025."
The EPA's plan "will create confusion for the industry because manufacturers will have to meet two separate standards," Feinstein said. "The years of litigation and investment uncertainty will be far harder on the auto industry than simply living up to the fuel-economy standards they once embraced."
Assuming California prevailed in court, "if we got to two standards, the consumer is going to suffer," said Rebecca Lindland, executive analyst at Kelley Blue Book. "Nobody wins, including the environment, in this scenario."
That's why Caldwell speculated that ultimately the manufacturers "would try to meet the mandate" in the state. "They would produce one set of cars compliant in California and sell them everywhere else," she said.
The Alliance of Automobile Manufacturers, a trade group representing a dozen major automakers including General Motors Co., Ford Motor Co. and Toyota Motor Corp., "would prefer to have one standard for the entire country," said spokeswoman Gloria Bergquist. "We think that's better for consumers, the auto industry and California."
She acknowledged that while the automakers currently have vehicles that could meet the rising fuel-economy standards — namely hybrids and other vehicles using electric power — there would be disruption in the marketplace if California's legal fight was upheld and there suddenly were two sets of mileage standards in the country.
Those vehicles with full or partial electric power, and thus higher energy efficiency compared with those running with internal-combustion engines, account for only 3% of the nation's auto sales, Bergquist said.
"Companies wouldn't be able to sell certain vehicles in California," she said. "California would have reduced choice."
For now, the automakers want a government-industry review of the situation "to gather all the current data — what the sales are, what the cost of [automotive] technology is, what gas prices are — crunch it together and propose [new] standards for the future," Bergquist said.
After President Trump was elected, automakers lobbied for him to rewrite the fuel standards and to pressure California to scale back its efforts.
"They're investing a ton of money in autonomous vehicles and electrification, and they're not likely to see a return on those investments for some time," said Alan Baum, whose Baum and Associates tracks the industry. Costs savings from relief on the rising fuel standards "helps offset those investments," he said.
California's aggressive stance toward smog and anti-pollution standards is found in other sectors as well, notably in automotive emissions and in the gasoline market where the state requires special blends of fuel.
But fuel prices have remained in check in recent years. That plus shifting buyer tastes toward car-like SUVs have prompted many consumers to keep buying fuel-burning vehicles. Despite improvements in their gas mileage, trucks like the best-selling Ford F-150 pickup — whose 2018 model gets 18% better mileage than the 2008 model did, according to real-world driving data compiled by the Fuelly website — are less fuel-efficient than hybrids and electrics.
The result is a mismatch between what people are buying on dealers' lots and the current overall goal for emissions standards, analysts said.
"The only way to meet those standards is through some sort of electrification," Lindland said. "But when you're developing models that nobody's buying, that's a problem."
That might change if California prevails in the fuel-standards fight.
"We understand California is suggesting it might go it alone," the auto alliance's Bergquist said. If the state chooses that route, "we have a lot of vehicles on sale that would meet higher standards," she said. "They are energy efficient and certainly we would want to sell them in greater numbers."
Staff writer Evan Halper contributed to this report.
Twitter: @PeltzLATimes
---
For reporting and exclusive analysis from bureau chief John Myers, get our California Politics newsletter.
You may occasionally receive promotional content from the Los Angeles Times.