Former House Majority Leader Eric Cantor takes job on Wall Street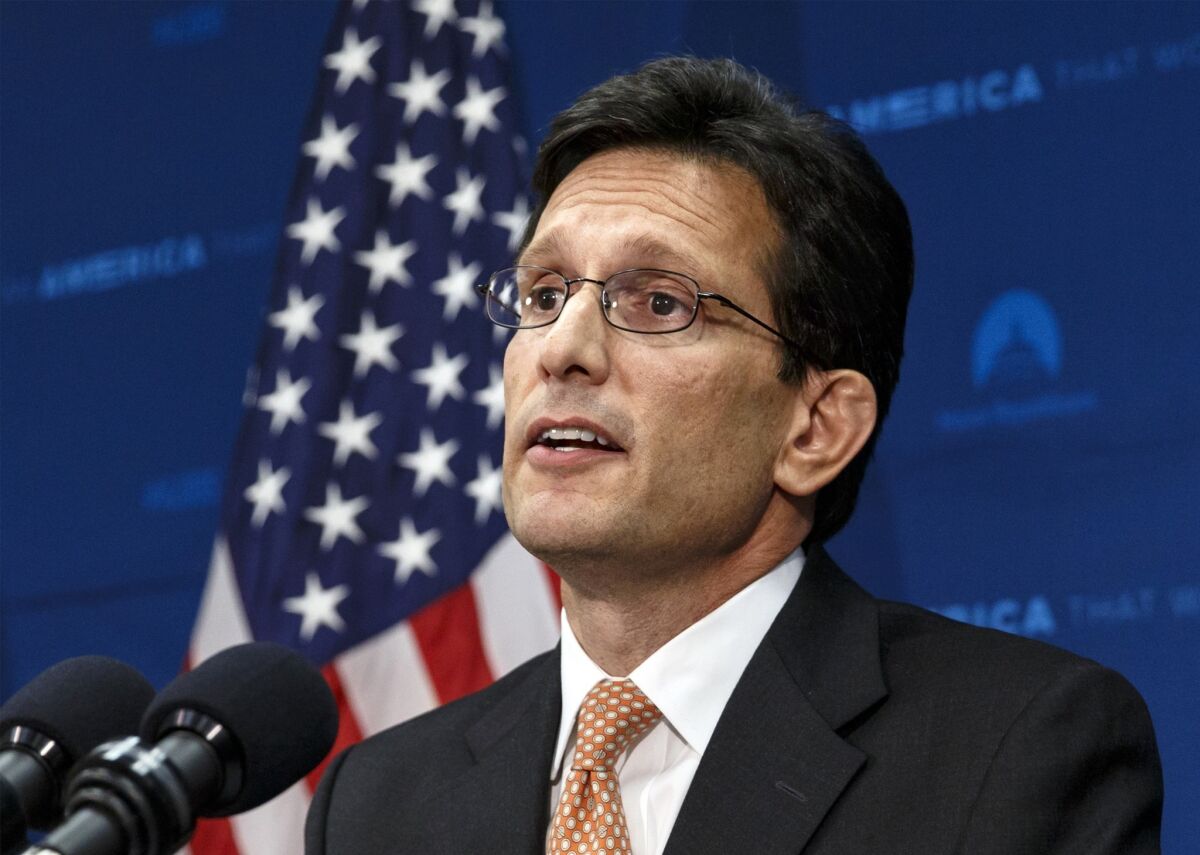 Reporting from Washington —
Former House Majority Leader Eric Cantor is moving to Wall Street, taking a job with investment bank Moelis & Co., the firm said.
Cantor, 51, who resigned last month after an upset loss in a Republican primary in June, will be vice chairman and managing director at the 7-year-old company founded by longtime Southern California investment banker Ken Moelis.
-----------
FOR THE RECORD
Sept. 2, 2:46 p.m.: An earlier version of this post said Cantor was first elected to Congress in 2001. He was elected in 2000 and began serving in 2001.
-----------
The veteran lawmaker "will provide strategic counsel to the firm's corporate and institutional clients on key issues," the company said in a news release Monday night. Cantor also "will play a leading role in client development and advise clients on strategic matters," it said.
"Eric has proven himself to be a pro-business advocate and one who will enhance our boardroom discussions with CEOs and senior management as we help them navigate their most important strategic decisions," said Moelis, chief executive of the firm.
The boutique investment bank began in Century City and has been involved in some major financial deals, including the sale of the Los Angeles Dodgers to Guggenheim Partners. Moelis, whose headquarters are now in New York, went public last year.
Cantor becomes the latest official to cash in on Wall Street after working in Washington. Last year, former Treasury Secretary Timothy F. Geithner joined private equity firm Warburg Pincus.
The new job is a significant bump in pay for Cantor, who earned $193,400 a year as majority leader.
Moelis will pay him an annual $400,000 base salary, according to a filing Tuesday with the Securities and Exchange Commission. Cantor also received a $400,000 cash payment and $1 million in restricted stock that will vest after his third, fourth and fifth anniversaries with the company.
In 2015, Cantor will receive a minimum incentive payment of $1.2 million in cash and $400,000 in restricted stock, the filing said.
Cantor was first elected to the House from a Richmond, Va., area district in 2000. A strong business advocate, he rose through the leadership ranks and became majority leader when Republicans took control of the House after the 2010 elections.
But Cantor became the first congressional leader in a generation to lose his seat in an election when he was upset in the GOP primary by Dave Brat, who had strong backing from the tea party.
A local college professor, Brat criticized Cantor for working on immigration reform and drew strong support from tea party supporters unhappy that House Republican leaders were not more forcefully opposing President Obama.
With no chance of winning reelection in November, Cantor stepped down as majority leader and was replaced by Rep. Kevin McCarthy (R-Bakersfield). Cantor left Congress on Aug. 18.
Wall Street was a logical landing spot for Cantor.
During his congressional career, he raised more money -- $3 million -- from the securities and investment industry than any other sector, according to the Center for Responsive Politics.
"When I considered options for the next chapter of my career, I knew I wanted to join a firm with a great entrepreneurial spirit that focused on its clients," said Cantor, a lawyer and former small businessman.
"The new model of independent banks offering conflict-free advice, in a smaller, more intimate environment, was a place where I knew my skills could help clients succeed," he said.
For breaking economic news, follow @JimPuzzanghera on Twitter.
---
Sign up for the California Politics newsletter to get exclusive analysis from our reporters.
You may occasionally receive promotional content from the Los Angeles Times.