Disney to invest big money on a struggling Euro Disney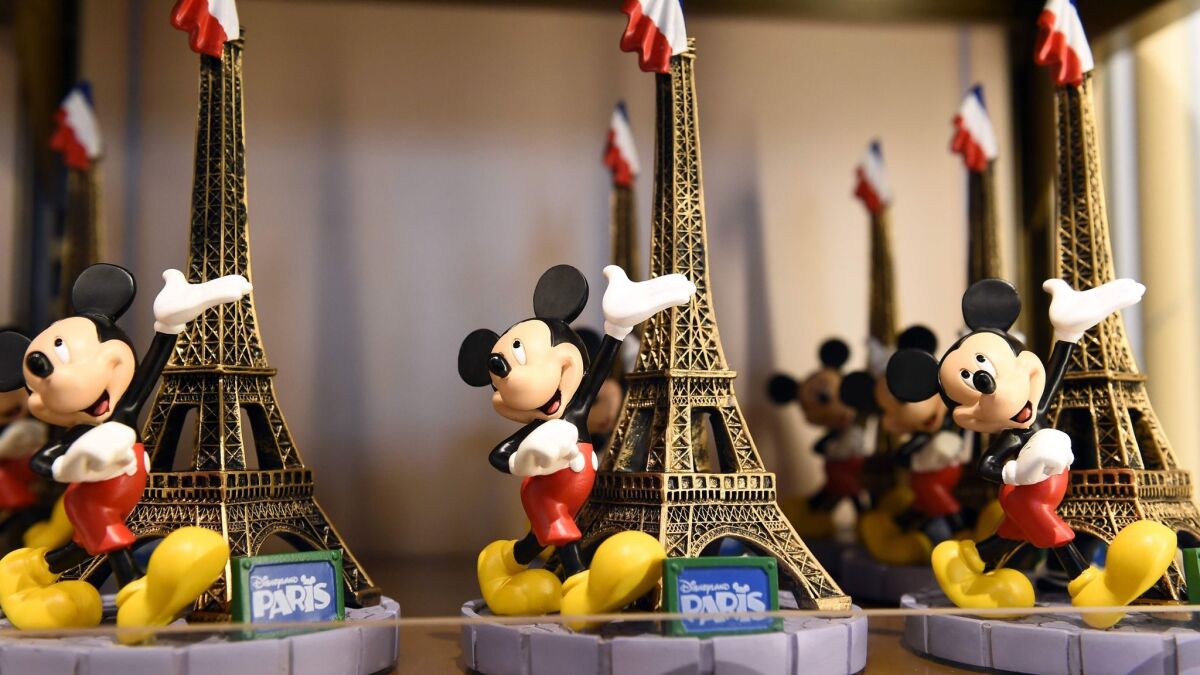 Hoping to turn around a struggling Euro Disney, the Walt Disney Co. announced plans Friday to buy out all other shareholders and invest $1.6 billion in the Paris resort.
The financial bailout is the second in three years for the European theme park, which has reported weak financial results and sluggish attendance numbers amid terrorism fears in France.
"Today's announcement reflects the Walt Disney Co.'s continued confidence in Disneyland Paris and in France and will enable Euro Disney to continue improving and investing in the resort," the company said in a statement.
Disney representatives declined to elaborate on improvement plans, except to say that the resort had been reporting strong attendance and spending numbers until the November 2015 terrorist attacks in Paris, which forced the park to close for four days.
"After a difficult year, the Paris tourism environment remains challenging, with the yearlong state of emergency still in place," Catherine Powell, president of Euro Disney, said Friday after releasing the company's latest earnings report.
Under the financial plan, Disney would boost its shares of Euro Disney from 76.7% to 85.7% by buying most of the shares held by Kingdom Holding Co., a Saudi holding company led by Prince Al-Waleed bin Talal. Disney plans to acquire those shares Feb. 15 through a swap for Disney stocks, a transaction valued at about $155 million.
In addition, Disney will make an offer in April to buy all outstanding shares of Euro Disney for $2.13 a share, with plans to control more than 95% of the shares. Under European rules, once Disney surpasses the 95% threshold, the company triggers a mandatory buyout of all shares, allowing Disney to delist the resort from Euronext Paris, the European stock market, and operate the resort as a subsidiary.
In total, Disney is expected to spend about $240 million to acquire the 14% of shares not already owned by Disney and Kingdom Holdings. The $2.13 price represents a 67% premium over the stock's closing price Thursday.
On top of that, Disney's $1.6-billion investment will go toward improvements, reducing debt and increasing liquidity at the resort.
Disney's stock declined 23 cents to $109.26 on Friday.
Theme park experts say the infusion of funds will probably be used to add new attractions, unique to the Paris park, and upgrade existing facilities to boost attendance and spending.
"Every time they have dumped a hell of a lot of money everywhere else it has paid off," said Martin Lewison, a theme park expert and business management professor at Farmingdale State College in New York.
Euro Disney, a 5,510-acre project in Marne-la-Valle, about 20 miles outside of Paris, got off to a rocky start when it opened in 1992. Labor disputes and complaints that the park was not infused with enough European flavor dragged down attendance and spending for the first few years.
After Disney invested $1.3 billion in 2014, attendance and revenue began to rebound. Among the improvements were renovations to attractions like Big Thunder Mountain, It's a Small World and Peter Pan's Flight.
But the resort took hit after the 2015 Paris terrorist attacks. Attendance dropped nearly 10% to 13.4 million visitors in the fiscal year that ended Sept. 30, 2016, resulting in a loss of about $260 million.
In the last few months, the park has reported marginal improvements, with a 3% increase in attendance and a 5% jump in revenue for the three months that ended Dec. 31 compared with the same period in 2015.
Lewison, who has visited the resort three times since 2008, said the park is heavily patrolled by police and security officers, so further security measures may not be needed.
"The perception of the threat of terrorism is always much worse than reality," he said.
Instead of additional security measures, Disney probably will put some of that new money into upgrading existing attractions and making them more appealing to French visitors, said Naveen Sarma, a senior director at Standard & Poor's who follows Disney.
"I don't think they've made the kind of investments and upgrades in the past 25 years that they should have," he said.
Moody's Investor Services said in a report Friday that Disney's financial move lets the company take control of the park to "improve current operating fundamentals with the goal of performing on par with that of other Disney extremely strong brands and resorts around the world."
Euro Disney operates Disneyland Paris, the Walt Disney Studios Park, seven themed hotels with about 5,800 rooms, two convention centers, golf courses and Disney Village, a dining, shopping and entertainment area.
Theme park performance was a bright spot in the quarter that ended Dec. 31, in which Walt Disney Co.'s overall net income dropped 14% from a year earlier to $2.48 billion.
During a conference call with analysts Tuesday to discuss earnings, Chief Executive Bob Iger boasted about the success of Disney's newest international theme park, Shanghai Disneyland, which opened in June. Iger said the nearly 1,000-acre, $5.5-billion development in Shanghai had welcomed 7 million visitors so far and could surpass 10 million by this summer.
"One of our biggest success stories in 2016 came from parks and resorts, with the opening of Shanghai Disneyland," he said. "The park recently proved to be enormously popular with guests celebrating the Chinese New Year — operating at maximum capacity for virtually the entire holiday period."
To read more about the travel and tourism industries, follow @hugomartin on Twitter.
---
UPDATES:
4 p.m.: This article was updated with the value of the transactions, Disney's closing stock price and analysis from theme park and financial experts.
This article was originally published at 11:40 a.m.