State is on track with its health sign-ups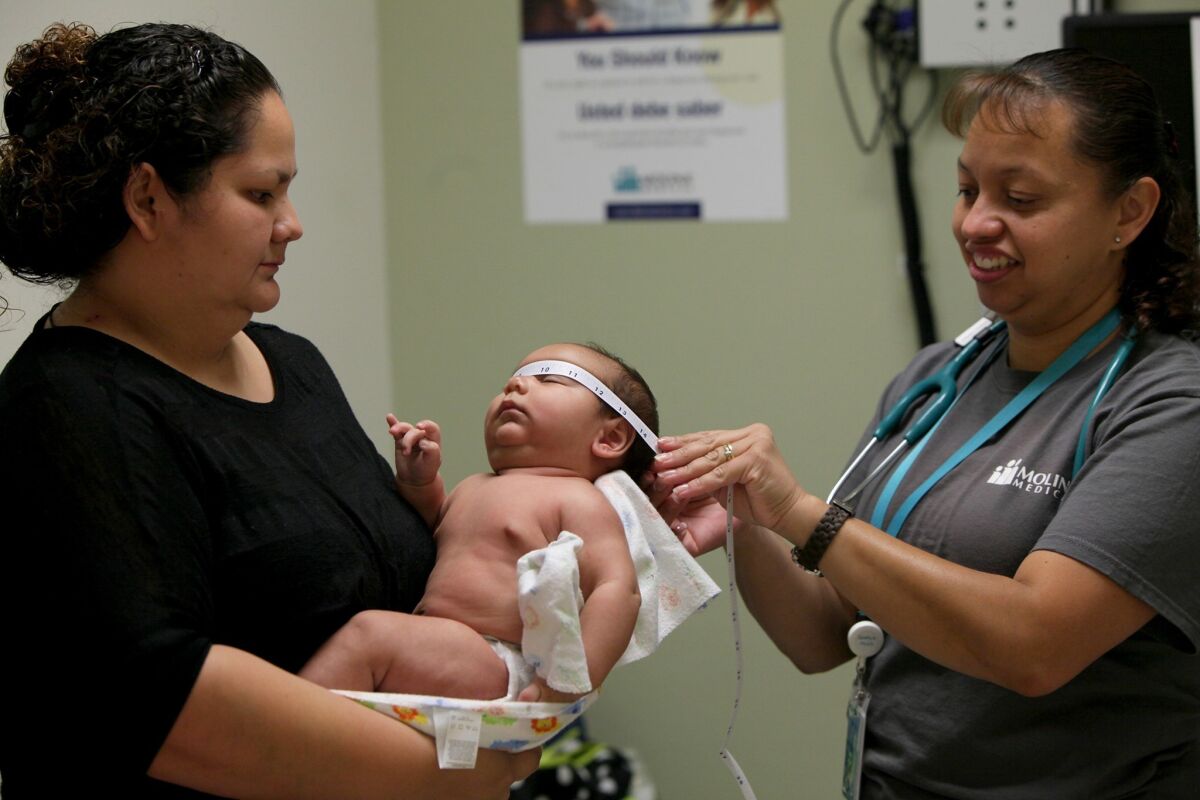 In contrast to lackluster results so far in the troubled federal exchange, California said it remains on track to reach its enrollment goals by having signed up 131,000 people in private health insurance or Medicaid through the state's marketplace.
California's first enrollment figures, released Wednesday, marked a rare bright spot for the Obama administration as it faces intense criticism over its error-prone enrollment website and millions of consumers getting insurance cancellation notices because their coverage doesn't meet requirements of the Affordable Care Act.
The state-run exchange, Covered California, said 59,000 residents have enrolled in private health insurance through Tuesday and 72,007 were deemed eligible last month for an expansion of Medi-Cal, the state's Medicaid program for the poor.
Federal officials announced slightly different numbers for California and other states based on a shorter period through Nov. 2. Based on that data, California accounted for a third of all health insurance enrollment nationwide and 20% of new Medicaid enrollees.
"I think California is on the right trajectory," said Glenn Melnick, a health-policy professor at USC. "California shows people will enroll nationally if the federal exchange could solve its technology problems. This gives you a better test of the real response to the program."
Still, even California must pick up the pace to hit its goal of signing up more than 1 million people in subsidized health insurance or Medi-Cal by March 31, the end of the six-month open enrollment period. Medicaid enrollment is year-round.
About 500,000 to 700,000 of them are expected to buy health plans using federal subsidies. California's enrollment website suffered some early technical glitches, but for the most part it has run far better than the federal site, healthcare.gov.
Peter Lee, executive director of Covered California, said about 2,000 people have been enrolling daily this month, double the rate the exchange saw last month.
"We are very pleased with our numbers and the momentum," Lee said. "I hope this puts to rest the drumbeat of stories about glitches and website problems."
Experts say the bigger issues ahead for California are training more enrollment counselors and insurance agents to assist people with enrollment and signing up enough young people to balance out the costs of older, sicker enrollees who have flocked to the website.
The state won't release details on the age of enrollees and other demographic trends until next week. Lee said the initial enrollment does tilt toward older customers with existing medical conditions who were eager to get guaranteed coverage under the healthcare law.
In one indication of that, the state said 84% of its health plan enrollees last month didn't qualify for subsidies to make coverage more affordable.
"Those are individuals who have been waiting a lifetime for health coverage," Lee said.
Officials at the exchange and in the insurance industry say that pool of customers must improve in order to keep future rates in check.
"It is important for the exchange to achieve a balance in enrollment between the old and young and the sick and healthy to allow for costs to be spread among all people," said Patrick Johnston, president of the California Assn. of Health Plans, an industry trade group.
Los Angeles resident Paul Matthis, 31, tried signing up on the state website for two weeks before he successfully enrolled. He encountered numerous error messages early on, but he got a little further in the application process each day he tried.
He said he hasn't been able to afford health insurance on his income of $18,000 a year as a composer and part-time legal assistant. His low income qualified him for a $173 federal premium subsidy, leaving him to pay only $5 a month for a policy from L.A. Care Health Plan.
"Five bucks a month is crazy cheap, " he said. "It's unimaginable."
Matthis said he was curious how the healthcare law would affect him after following it closely in the news, and he was eager to placate his parents' desire for him to get coverage.
"Now my nagging mother can stop hounding me about what if I get in a car accident. That was a major motivator right there," he said.
Patricia Wills, 54, was among the new Medi-Cal enrollees in Los Angeles. County workers helped her sign up at a recent free clinic where she went for a flu shot and dental cleaning.
Willis said she has been uninsured since getting laid off from a job as an administrative assistant two years ago. She said the enrollment process took less than an hour.
"It was very smooth, especially for a first time," she said. "In and out."
In a survey of Californians who completed enrollment during the last three weeks of October, officials said, nearly 70% found the application process easy to complete. That survey omitted Covered California's first week, when it was plagued by website errors and long wait times at its call centers.
Some consumers have also expressed frustration at their inability to find out what doctors and hospitals are included in certain health plans, putting their application process on hold.
The state said Wednesday it still faces a backlog of enrollment counselors and insurance agents waiting to be trained and certified to handle applications. Officials estimate 80% of consumers will want in-person help to figure out their new insurance options.
Covered California said 1,043 enrollment counselors are in place now, but 4,450 are still waiting to be authorized. The state has said it needs 16,000 enrollment counselors overall to cover such a large and diverse population. Only a third of nearly 18,000 insurance agents who have offered to help have received state approval.
"In California, at least, we've had a successful test run," said Micah Weinberg, a senior policy advisor at the Bay Area Council, an employer-backed nonprofit group. "Now it's an all-hands-on-deck moment."
Sign up for the California Politics newsletter to get exclusive analysis from our reporters.
You may occasionally receive promotional content from the Los Angeles Times.