Exxon scores win against Venezuelan oil company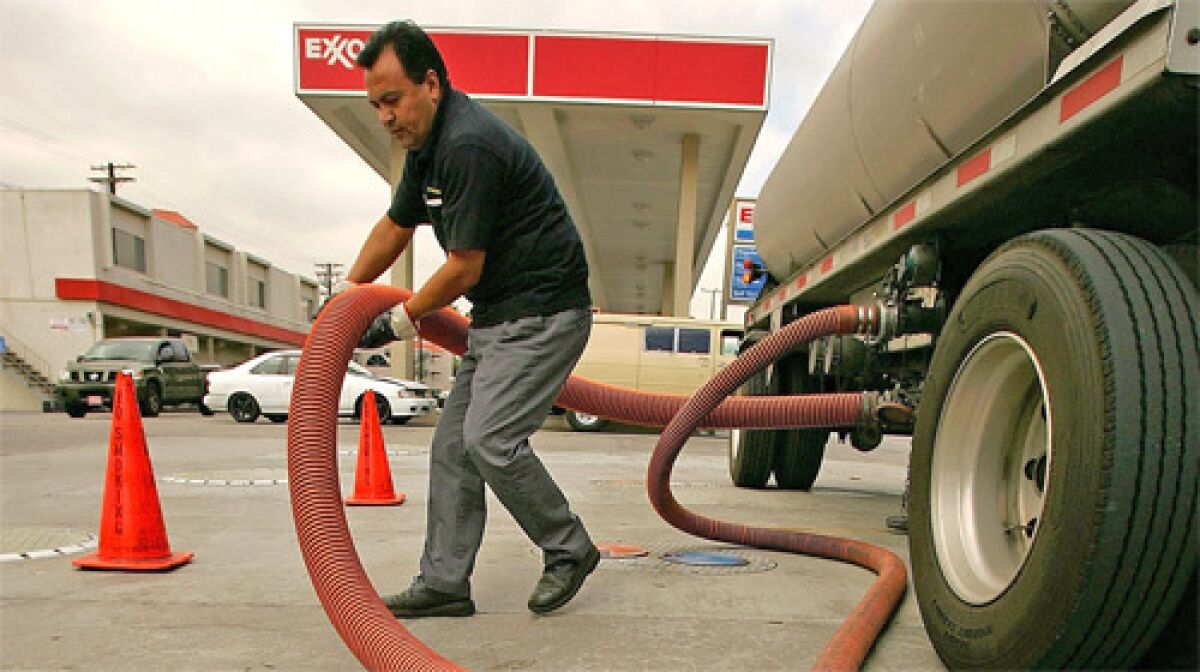 Los Angeles Times Staff Writer
CARACAS, VENEZUELA —
Exxon Mobil Corp. won a round in its bitter fight against Venezuela's state oil company Thursday as courts in several countries said they would freeze $12 billion in international assets held by Petroleos de Venezuela.
Last year, Venezuelan President Hugo Chavez nationalized a heavy oil field in eastern Venezuela, and Exxon Mobil has been seeking to recover the value of its investment in the site ever since. Exxon Mobil, as well as ConocoPhillips, abandoned projects in the country rather than agree to Chavez's demands to cede majority ownership to Petroleos de Venezuela, known as PDVSA.
Irving, Texas-based Exxon Mobil said Thursday that U.S., British and Dutch courts had approved its request to block the Venezuelan oil giant from "disposing of its assets worldwide valued at $12 billion." The action comes amid reports that the oil company that is Chavez's chief source of money is short of cash and could be looking to sell assets.
News emerged this week that Petroleos had to renegotiate a $1.1-billion loan arranged by the French bank BNP Paribas that was due at the end of 2007. Analysts say the oil company may be in a cash crunch because of rising overhead and declining production. Petroleos officials did not respond to a request for comment Thursday.
Despite historically high oil prices in recent months, Petroleos is feeling the effects of an expanded payroll, mounting debt, subsidized gasoline and costly government social programs that the state oil giant's revenue funds, said Gustavo Garcia, an economist at the institute of superior administrative studies in Caracas, Venezuela's capital.
"This problem makes me conclude that PDVSA not only needs high prices, but rising prices," Garcia said. He estimates Venezuela's oil production has slipped to about 2.45 million barrels a day, down from as high as 3.4 million in 2002. With about 1.1 million barrels in daily exports to the United States, Venezuela is the fourth-largest foreign energy supplier behind Canada, Saudi Arabia and Mexico.
Exxon Mobil's announcement Thursday caused Petroleos bond prices to tumble. Yields on some issues rose to 9.5%, reflecting investor fears about the company's ability to stay current on $16 billion in outstanding debt.
Chavez has used revenue from Petroleos to fund an array of health, education and discount food programs in an effort to redistribute the nation's oil wealth to the poor. At the same time, he has asserted Venezuelan "sovereignty" by taking control of the many oil fields that once were majority-owned and operated by foreign oil companies.
Exxon Mobil's Cerro Negro field was producing an average of 115,000 barrels a day in the months before Chavez nationalized it. Although the field represented only about 2% of the company's worldwide production, it had spent billions to pump and process oil with the consistency of tar. Exxon Mobil is now seeking compensation through arbitration, but apparently is skeptical about its prospects and is seeking action by U.S., Dutch and British courts to freeze Petroleos' international assets. The courts' decisions could allow Exxon Mobil to pursue control of Petroleos' foreign assets.
The steep rise in oil prices has masked the effect of production declines in Venezuela. But costs are rising fast.
Chavez is shipping an estimated 200,000 barrels of oil daily to Cuba and members of PetroCaribe, an association of Caribbean nations. Chavez has not made public how much the recipients pay, Garcia said.
Beyond that, domestic gasoline subsidies are costing the company dearly as more Venezuelans buy cars. Drivers pay about 18 cents a gallon for gas, less than the cost of refining it.
---
Sign up for the California Politics newsletter to get exclusive analysis from our reporters.
You may occasionally receive promotional content from the Los Angeles Times.