Key congressional committee asks Facebook's Mark Zuckerberg to testify about Cambridge Analytica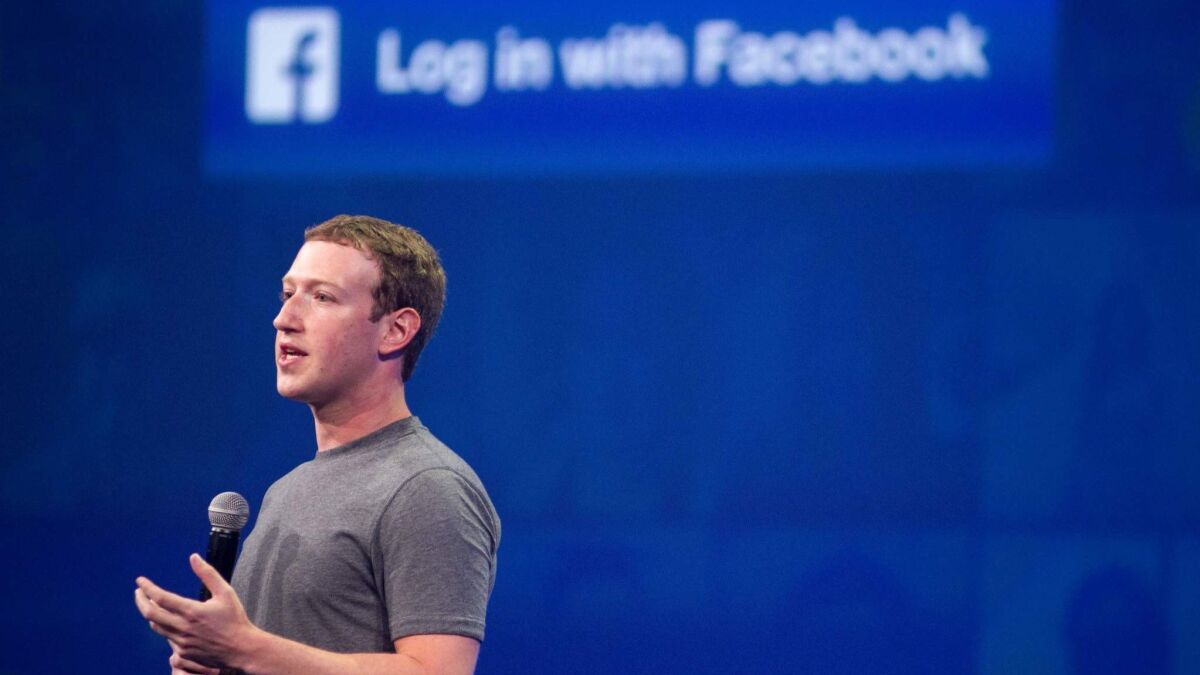 Congressional lawmakers have formally requested that Facebook Chief Executive Mark Zuckerberg testify at an upcoming hearing in response to reports that a data analytics firm used by the Trump campaign had improperly accessed the names, "likes" and other personal information of about 50 million users on the social site.
The request officially came Thursday from the House Energy and Commerce Committee, a powerful panel that oversees Facebook and its tech peers, and arrives a day after Zuckerberg said he would be "happy" to appear on Capitol Hill to address lawmakers' lingering questions about Facebook's privacy protections.
"The latest revelations regarding Facebook's use and security of user data raises many serious consumer protection concern," said Rep. Greg Walden (R-Ore.), the panel's chairman, and Rep. Frank Pallone of New Jersey, the committee's ranking Democrat. "After committee staff received a briefing yesterday from Facebook officials, we felt that many questions were left unanswered."
"Mr. Zuckerberg has stated that he would be willing to testify if he is the right person," they added. "We believe, as CEO of Facebook, he is the right witness to provide answers to the American people. We look forward to working with Facebook and Mr. Zuckerberg to determine a date and time in the near future for a hearing before this committee."
A spokesman for Facebook did not immediately respond to an email seeking comment.
The upcoming hearing comes in response to a controversy with Cambridge Analytica, a firm that aided Trump and other Republican political candidates by building psychological profiles of voters.
To do that, the firm commissioned an app that, when authorized, siphoned information about its users as well as their friends — a practice that Facebook had allowed until it changed its developer policies in 2015. Facebook said it had received assurances that Cambridge Analytica had deleted the data, but recent revelations from Christopher Wylie, a former employee of the political firm, suggest that it continued to use it anyway.
In response, multiple state attorneys general have opened investigations of Facebook. So has the Federal Trade Commission, which is looking into whether the mishap means that Facebook violated a 2011 settlement with the federal government that was supposed to improve the company's privacy practices. If the agency ultimately finds that Facebook broke that consent decree, it could face massive fines well beyond millions of dollars.
On Capitol Hill, meanwhile, Facebook faces another onslaught of scrutiny. At least five other panels of lawmakers have spoken with the tech giant in the wake of the Cambridge Analytica controversy. And they could follow in the footsteps of the House Energy and Commerce Committee, asking Zuckerberg to appear — or forcing him through a subpoena if he tries to resist.
For his part, Zuckerberg has suggested a willingness to appear before Congress.
"If it is ever the case that I am the most informed person at Facebook in the best position to testify, I will happily do that," he told Wired in an interview Wednesday. "But the reason why we haven't done that so far is because there are people at the company whose full jobs are to deal with legal compliance or some of these different things, and they're just fundamentally more in the details on those things."
Earlier Wednesday, Zuckerberg broke days of silence, pledging to proffer a number of changes to the site — including an audit of all third-party apps and notifications to those whose data was swept up by Cambridge Analytica.
"I started Facebook, and at the end of the day I'm responsible for what happens on our platform," he wrote. "… While this specific issue involving Cambridge Analytica should no longer happen with new apps today, that doesn't change what happened in the past. We will learn from this experience to secure our platform further and make our community safer for everyone going forward."
Yet Zuckerberg's public comments left some of his company's congressional overseers unconvinced.
"They say "trust us,'" said Sen. Amy Klobuchar (D-Minn.), "but Mark Zuckerberg needs to testify before the Senate Judiciary Committee about what Facebook knew about misusing data from 50 million Americans in order to target political advertising and manipulate voters."
---
Sign up for the California Politics newsletter to get exclusive analysis from our reporters.
You may occasionally receive promotional content from the Los Angeles Times.