Next steps for SpaceX's Falcon Heavy — Air Force qualification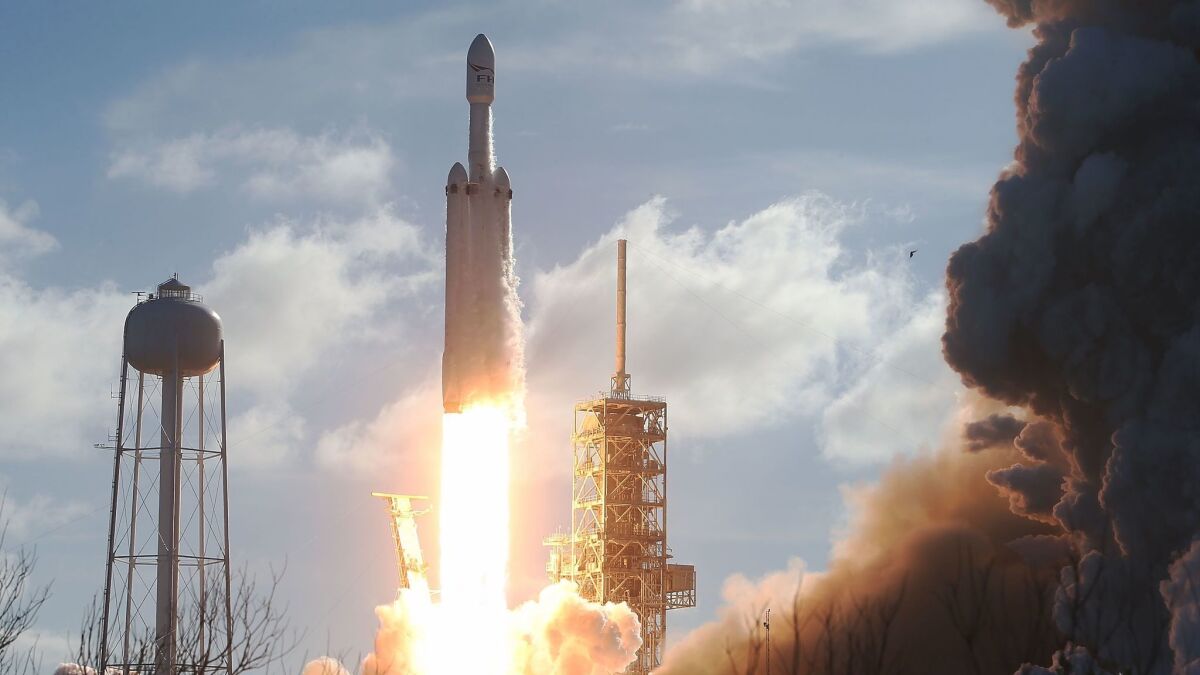 With the first flight of the Falcon Heavy rocket successfully in the books, SpaceX can start turning its sights to its next endeavor — getting certified by the U.S. Air Force to carry the heaviest national security satellites.
The Hawthorne space company has said it intends to seek qualification for its powerful Falcon Heavy rocket to launch classified payloads for the U.S. government.
In 2015, SpaceX's workhorse Falcon 9 rocket was certified by the Air Force to carry such satellites, but the Falcon Heavy's larger carrying capacity will allow the company to compete for additional contracts.
The Falcon Heavy can lift more than 140,000 pounds to low-Earth orbit, compared to about 50,000 pounds for the Falcon 9.
The certification process for the Falcon 9 should help streamline the overall process for Falcon Heavy based on the commonality between the two systems, according to the Air Force Space and Missile Systems Center at the Los Angeles Air Force Base in El Segundo. Falcon Heavy is made of three Falcon 9 engine cores, which are intended to land back on Earth after liftoff.
As part of the certification process, the Air Force will also do a technical evaluation and detailed analysis of the rocket and review the company's manufacturing and systems engineering processes.
Data from the rocket's flight history is also evaluated to make sure it performs as expected. The Space and Missile Systems Center said it could require anywhere from two to 14 flights during the certification process.
One of Falcon Heavy's upcoming tests will be the launch of the Air Force's STP-2 mission, which is intended to demonstrate the rocket's capability by hoisting several satellites and spacecraft into different orbits.
SpaceX's last national security mission was in January, when its Falcon 9 rocket launched the classified Zuma satellite built for the U.S. government. After launch, reports said the satellite had been lost. SpaceX repeatedly defended the performance of the rocket, and Air Force officials expressed confidence in the company and its launch capabilities.
The satellite was manufactured by Northrop Grumman Corp., which has said it does not comment on classified missions.
Falcon Heavy launched for the first time on Tuesday, taking SpaceX Chief Executive Elon Musk's Tesla Roadster into space as its test payload. After launch, the rocket's two side boosters landed simultaneously, but its center core booster hit the Atlantic Ocean at about 300 mph and about 328 feet away from its intended target of a floating platform.
The Air Force mission assurance team monitored that demonstration launch from El Segundo and Cape Canaveral Air Force Station in Florida.
Twitter: @smasunaga
---
Sign up for the California Politics newsletter to get exclusive analysis from our reporters.
You may occasionally receive promotional content from the Los Angeles Times.