Strawberry grower fined $2.4 million, demanded kickbacks from Mexican workers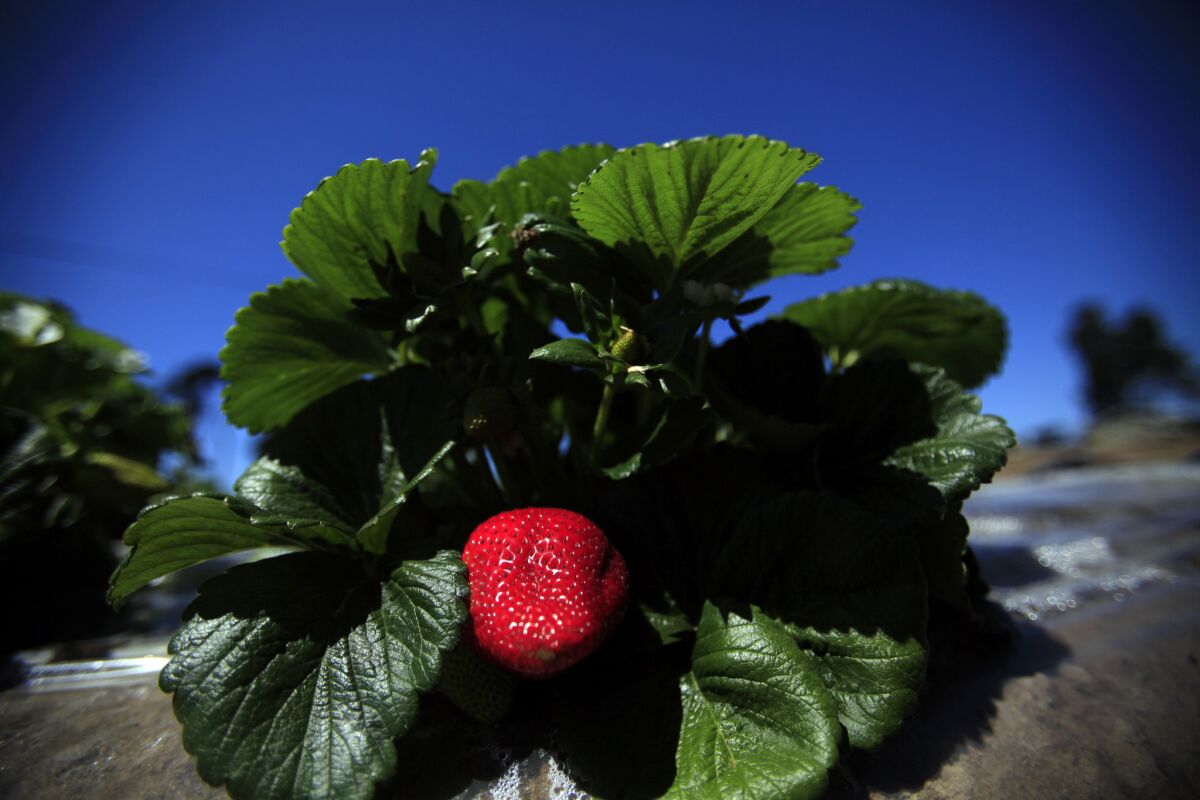 A Northern California strawberry grower has been fined $2.4 million and ordered to repay kickbacks and rent he demanded from Mexican workers he hired under a federal visa program for agricultural employees, according to the U.S. Department of Labor.
Gonzalo Fernandez, who operated Fernandez Farms Inc. on about 50 acres southeast of Watsonville, demanded payments of more than $1,600 apiece from several hundred foreign workers over two picking seasons as reimbursement for transportation and other costs of bringing the laborers from villages in Mexico, according to a decision issued last week by Administrative Law Judge Richard Clark.
Under the federally supervised H-2A work visa program, which was designed to help offset seasonal shortages of domestic workers, employers must pay all of those costs and provide free housing.
"If you really need foreign workers, this is a cost you should be bearing," said Abigail Daquiz, senior trial attorney in the Labor Department's Seattle office, who worked on the case. "We're finding that in lots of different ways, employees are having to pay that back, being forced to kick it back."
In this case, Daquiz said, "They would go and cash their paycheck at the cafeteria right on site, and they would get in another line and pay back $100 or $200 a week until their debt was paid."
The violations affected more than 400 workers over the 2010 and 2011 seasons, according to the decision, which outlined $1.29 million in reimbursement to the workers. Fernandez also must pay a fine of $1.1 million, according to the decision.
Fernandez charged each worker $125 to $150 per month for a bunk in cramped trailers shared by as many as six workers, Daquiz said. He also failed to pay proper piece rates and overtime for strawberries the workers picked, intimidated those who complained, coerced workers to give misleading or false statements to U.S. Department of Labor investigators and otherwise impeded the investigation, according to court documents.
Fernandez also turned away five local workers, a violation of rules that require employers to try to fill positions from the local labor force before resorting to the visa program.
Fernandez, who sold strawberries to Dole, has been barred from participating in the federal program for three years. He and his attorneys were not immediately available for comment Tuesday.
In court proceedings, Fernandez Farms denied soliciting or accepting kickbacks, contested the amount of wages owed, and argued that some of the workers were "domestic workers" not entitled to the H-2A minimum wages.
Clark found Fernandez's statements during the hearing "implausible" or "unsupported," and found him to be "not credible." Clark made similar judgments of Fernandez's sister and nephew, who were also implicated in the wage theft case.
In his decision, Clark noted the "substantial business, economic and social ties" among the three.
Fernandez Farms Inc. filed for bankruptcy protection in 2013 under a provision allowing family farms to reorganize; the company's assets wound up being liquidated two years later under Chapter 7, according to federal Bankruptcy Court records.
In 2013, Celia Fernandez, Gonzalo Fernandez's sister and a former supervisor at Fernandez Farms, incorporated CFE Farms at the same address as Fernandez Farms, according to the California secretary of state's office.
She was accused of collecting or ordering the money to be collected from the workers, and telling workers to lie to investigators about the payments, according to the decision.
Her company has been approved for 30 H-2A workers this year, according to the U.S. Office of Foreign Labor Certification. CFE Farms has had several contracts to sell to Driscoll's, one of the nation's largest strawberry packing and distributing companies.
A company run by Gonzalo Fernandez's nephew, Juan Escobar, also has employed H-2A workers — and purchased tractors from the Fernandez Farming liquidation, according to court documents.
Celia Fernandez denied all allegations. She did not respond to requests for comment.
Nationwide, the certification of H-2A workers has risen by roughly 18% from 2011 to 2014, the last year for which complete data were available, according to the Office of Foreign Labor Certification's most recent report.
California had 6,043 H-2A workers in 2014, according to that office. So far this year, 9,141 workers have been certified in California, more than two-thirds of them in the Salinas Valley and predominantly in the lettuce industry. Top employers include Fresh Harvest, which operates in the Salinas and Imperial valleys, Elkhorn Packing in Salinas and Foothill Packing in Salinas.
Abuse of H-2A workers, including allegations of wage theft and failure to pay overtime, have drawn increased scrutiny from the Labor Department as the program has expanded.
"We recognize that the H-2A program is being considered in many commodities, from lettuce to wine grapes in Napa and Northern California," said Alberto Raymond, assistant district director for the Labor Department's Wage and Hours Division in San Francisco. "So the agency is taking a proactive approach."
State officials likewise have been focusing on the broader issue of pay for farm laborers. Last year the state labor commissioner ordered another Monterey County grower to pay $2.6 million in damages to workers, largely for violating overtime pay rules.
The state Assembly this week passed a measure that would require overtime pay after an eight-hour workday for the estimated 829,000 farmworkers who earn more than $11 billion in wages tending and picking California's fruit, vegetable and nut crops. Agricultural workers are entitled to overtime after working 10 hours in a day or 60 hours in a week under current law.
AB 1066, written by Assemblywoman Lorena Gonzalez (D-San Diego), would slowly reduce the overtime threshold to eight hours per day or 40 hours per week by 2022. It is headed to Gov. Jerry Brown after it was approved Monday, 44-32.
Follow me: @LATgeoffmohan
ALSO
Uber hires a president after Alphabet exec leaves its board
Apple must pay $14.5 billion in back taxes to Ireland, the EU says
Cisco and others slash a combined 1,500 jobs in Silicon Valley
---
Sign up for the California Politics newsletter to get exclusive analysis from our reporters.
You may occasionally receive promotional content from the Los Angeles Times.